The troubling case of the vanishing signs
by C.S. Hagen | .(JavaScript must be enabled to view this email address) | News | October 17th, 2018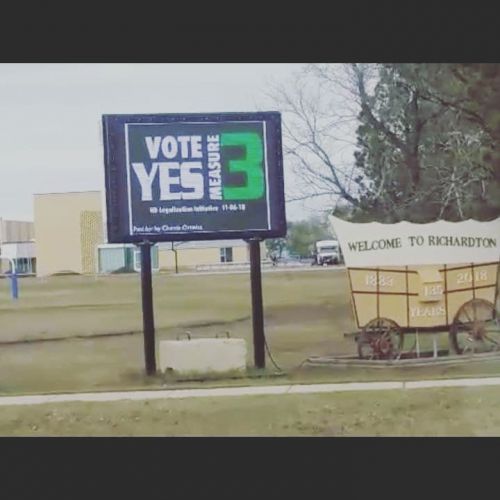 RICHARDTON – As if partisanship issues aren't enough this midterm election year, political signs are vanishing across the state. From Richardton to Enderlin, Valley City to Jamestown to Fargo, and across the Red River into Moorhead, billboards have been pulled down and yard signs have vanished with hardly a trace.
Bad weather or overheated partisans? There are a few clues that imply Old Man Winter doesn't care about state politics.
Chente Ornelas paid $50 to put a sign up in support of Measure 3 on recreational marijuana on the Lions Club digital sign in Richardton on October 4. Four days later the digital advertisement at the intersection of Highway 10 and Highway 8 was taken down without anyone alerting him.
"This isn't right," Ornelas said. "You can't take somebody's money for an ad run and then change your mind because somebody got upset."
Richardton is a small town of approximately 543 people 20 miles east of Dickinson.
The North Dakota Century Code states that the North Dakota Department of Transportation is responsible for overseeing many sign issues, and has the authority to take signs away if they are placed in a right of way.
"Just compensation must be paid upon the removal of any outdoor advertising sign, display, or device lawfully erected and maintained under state law… a municipality, county or local zoning authority, or political subdivision may not remove or cause to be removed any advertising structures, except when structures that encroach upon the right of way, without paying compensation…" the North Dakota Century Code states.
"They can't be placed in the right of way and we do remove them if they get placed there," Jamie Olson, NDDOT communications personnel said.
Removing a sign is against the law if it's a permanent fixture, Olson said. "It sounds like this is vandalism and this should be a law enforcement issue," Olson said.
Ornelas has heard rumors of who became upset by the sign, but doesn't yet have the necessary proof. Saying his First Amendment rights are being violated, he's looking into legal avenues, and will be meeting with the Lions Club Wednesday night to discuss possible resolutions.
He is determined to get his sign back up, he said. "I don't want a refund."
The Lions Club could not be reached for comment.
In Valley City, Amanda Myhre spent more than two hours replacing yard signs on October 12. As vice chairperson for Democratic NPL's District 24, she has delivered signs to Valley City, Enderlin, Casselton, and Fargo.
"So far Valley City, Enderlin, and Fargo areas have been hit with Heidi signs being taken from yards," Myhre said. "The majority of them have been Heidi signs, however this has been happening for about a month... I was just hoping it was just a few disgruntled neighbors, but as the pattern has increased to the region and the number of people asking about missing Heidi signs."
She volunteers her time to replace the signs.
"I'm in disbelief and utterly annoyed by these childish acts," Myhre said.
The North Dakota Republican Party communications director Jake Wilkins did not return telephone calls or reply to emails, but personnel in the Bismarck office said they had not heard any reports of GOP candidate signs missing this year, but noticed missing signs in 2016.
Elizabeth Kapp, director of campus safety at the University of Jamestown who is running for Stutsman County Sheriff, purchased approximately 500 yard signs and has had more than 50 stolen. Some of the signs were taken from yards, others were ripped from fence posts in rural areas along highways.
She too doesn't know who is taking her signs, but said she's noticed that her opponent has also had signs stolen. She warned against retaliation saying she wants to run a clean race.
"I really honestly don't know who is responsible, and I hate to make an accusation without the facts," Kapp said.
At about $6 a sign, she's slowed investment of campaign funds into yard signs, and has turned more toward social media, T-shirts, hats, and other paraphernalia to raise funds.
"I think it's very important to enforce the law because number one, I have supporters that are giving me money from all social classes, and I am taking the money that I receive and putting it toward advertisement. I want to get the message out of who I am and be visible, but it has really got to the point that all my signs were missing in certain areas so I can no longer take money from certain areas.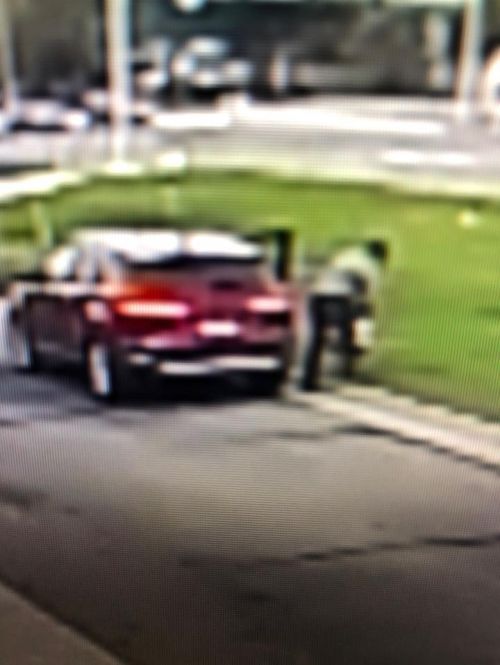 "If this is a trend that is happening right now signs being pulled and stolen, well you have businesses that made these signs, and people will spend money in different areas, it's hurting the candidates but also the business too," Kapp said.
In Moorhead, Brenda Elmer is running for mayor and she posted video evidence on Facebook of a maroon SUV, possibly a Lincoln, driving around town on September 23 along Eighth Street stealing her mayoral yard signs.
"Despicable," Elmer posted to Facebook. "People steal political signs that don't belong to them either because [they] don't want a particular candidate to be promoted or they think it's funny, a prank. Or who knows what is motivating them. Either way, it's stealing and it's wrong and against the law."
In Facebook discussions about how the yard signs are disappearing, some people blamed the phenomenon jokingly on inclement weather, while noticing the strangeness of timing.
"I wouldn't rule weather completely out, but it's hard to come to that conclusion when other state candidate signs are still there and the only signs that are missing are Heidi signs," Amanda Myhre said. "Additionally, one person asked me to drop off three Heidi signs and they were all gone a few days later."
Others are making hour-long special trips to Fargo simply to obtain new signs to replace old ones.