​There is a rise in violent speech and threats made to silence women leaders
News | March 7th, 2019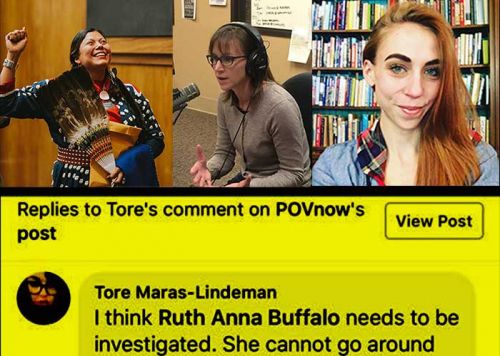 BISMARCK to FARGO – Two progressive female legislators and a writer have been threatened or harassed in North Dakota recently in conversations, social media posts, and telephone calls.
On Thursday, Representative Ruth Buffalo, the state's first elected female Democratic-NPL Native legislator, said she was threatened on Facebook after Valley New Live POVnow questioned Buffalo's stance of supporting Minnesota Representative Ilhan Omar, who some say is anti-Semitic.
"I think Ruth Anna Buffalo needs to be investigated," Tore Maras-Lindeman wrote. "She cannot go around advocating for a woman we've discovered committed immigration fraud. She may be Native American but the Native American children go missing all the time… I hope Ruth knows that is my forte… because one thing I've realized is that EVERYONE has a price. #onit."
The post was hidden, but not before a screenshot was taken.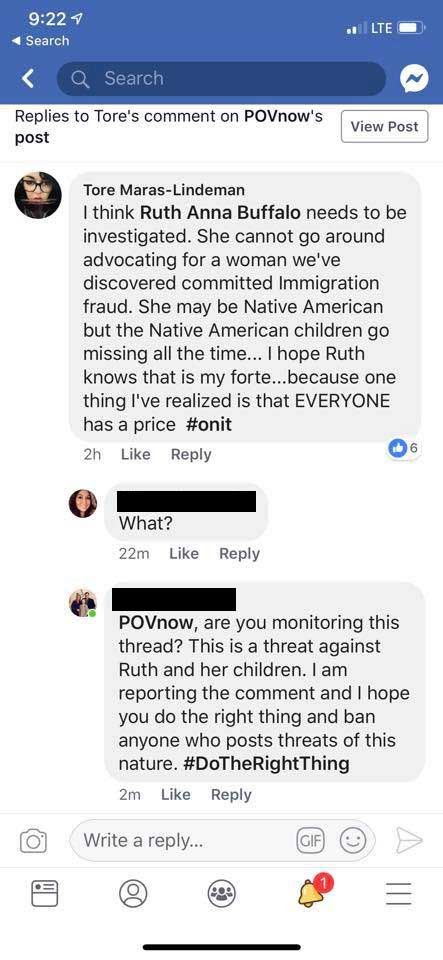 Buffalo took Lindeman's comment to mean that her children's lives were at risk. She called the North Dakota Highway Patrol who sent troopers to Maras-Lindeman's residence.
North Dakota Highway Patrol Sgt. Wade Kadrmas said dignitary protection services, troopers within the Highway Patrol, responded to the perceived threat.
"She [Maras-Lindeman] said she did feel sad, if that's the right word, and I don't know if that would have caused her to take down the post or not," Kadrmas said. "After talking with her and reporting back to Representative Buffalo, we didn't feel there was any direct threat from what occurred today."
Online anger is a growing problem in an increasingly divided nation, but personal threats will always be taken seriously, Kadrmas said. There are no charges pending in this case.
"That's what is unfortunately happening these days, and it can be interpreted by people in several different ways," Kadrmas said. "If a representative feels there is a threat there, especially against a family member, we're going to follow up on that."
Buffalo, a member of the Mandan, Hidatsa, Arikara Nation, originally from Fort Berthold, represents District 27 in South Fargo. She said that the threat frightened her because her children were targeted. Missing and murdered Indigenous women, and men, [MMIW] is an issue that she has taken to heart and has successfully introduced multiple bills seeking change with how government and police respond to Native issues during the state's 66th Legislative Session.
"The First Amendment is one of the many things that makes America special," Buffalo said. "While we may not agree with what others say, we live in a country that encourages civilized debate that should be free from unwarranted personal attacks. I will continue to stand against injustice as Martin Luther King Jr. once stated, 'Injustice anywhere is a threat to justice everywhere.'
"Particularly given the history of MMIW, this statement was alarming and taken seriously. You don't joke about things like that, especially when it comes to children. Threats will be taken seriously and authorities notified as needed."
Maras-Lindeman said she is a strong critic of Omar, and heard that the Minnesota legislator, a graduate of NDSU, was involved in trafficking children, but that she did not mean to threaten Buffalo. Maras-Lindeman lists herself as a syndicated radio host at Red State Talk Radio.
"It was a comment taken out of context," Maras-Lindeman said. "Instead of hitting reply I posted as separate comment as I wasn't paying attention so it was taken out of context completely. Keep in mind I'm not a Democrat or per say Republican, I am a centrist and support POTUS 100 percent."
Highway Patrol troopers escorted Buffalo to her car after she finished work Thursday afternoon.
Nearly two weeks ago while Fargo Representative Karla Rose Hanson was pitching House Bill 1537, she too was threatened. The bill she sponsored known as the "Red Flag" bill would have authorized police to confiscate weapons from people if a judge ruled they were a threat to others or themselves. Her bill failed, but parts of the legislation may still survive in other legislative proposals.
"I think there was a lot of misunderstanding of what the bill is and what it could do and because of that misunderstanding there was a lot of fear," Hanson said.
"I received a high number of voicemails and emails, and some of the voicemails and direct conversations I had with people were concerning. Some of them were very concerning, but they were investigated."
Hanson declined to go into detail about whether she felt her life was at risk, or if she had to alter her lifestyle because of the threats.
"Some of them were very concerning, and the security at the Capitol looked into them," Hanson said. "I felt very safe with Capitol Security. It's unfortunate that we can't have a civil conversation on policy."
A third woman, Josie Danz, a writer and the manager for Zandbroz Variety in Downtown Fargo, said she does not fall into the same category as Buffalo and Hanson.
She was harassed, not necessarily threatened, but the attempt was to try and intimidate her to stop writing, Danz said.
On March 5, Danz posted to Facebook that she just received a telephone call from an anonymous person who asked for her as: "That stupid, ugly, liberal b*tch Josie Danz."
"I hung up and I started laughing," Danz said.
"I love when people really bring home the message of the columns I've been writing," Danz posted to Facebook. "Thanks for proving my point, anonymous caller. Coward."
Senator Tim Mathern, a Democrat from Fargo, replied saying: "Speaking to public issues has its risks for repercussion, it also is the hallmark of democracy. Thank you for expressing the higher range of citizenship."
"I feel weird saying I was threatened," Danz said. "What happened to me I would say was being harassed, but I didn't feel threatened, it was more annoying. I didn't fear for my safety."
Danz has been active writing editorials criticizing the current political climate. In 2018, Danz also challenged the City Commissioners to address liquor laws in Downtown saying the area is over-served and under-regulated with 52 bars. Danz has also written editorials for the Inforum pertaining to a lack of empathy in today's society, fingering President Donald Trump as a major concern.
"I guess I've been harassed because of some of the things I've written, but none of it has been threatening," Danz said. "To me, it just makes me want to keep writing more.
"I think a lot of people are doing the threatening because they feel threatened. They're afraid they will lose all the power that they've had forever, they're afraid of change. It's just really awful."
The North Dakota Human Rights Coalition Board of Directors offered their support for Buffalo and her family, saying the language used against her was hateful.
"We, the members of the North Dakota Human Rights Coalition Board of Directors, stand firmly behind Representative Ruth Anna Buffalo in her support of Representative Ilhan Omar," the board of directors' statement said. "The attacks Reps. Omar and Buffalo face as women of color in our current political climate are a distraction to the work they are trying to do for the betterment of not only underrepresented communities but our world community. Ms. Buffalo previously served the NDHRC board as its chairwoman. Her leadership is exemplary. The hateful language used towards Ms. Buffalo and, more specifically, her children is shameful to our state and the media platform on which it was presented. We would condemn any persons using this dangerous language in place of civil conversation on a political issue on which there is much divide. Ms. Buffalo is serving her community and state with her tireless work aimed towards the Missing and Murdered Indigenous Peoples crisis and Human Trafficking. NDHRC supports Rep. Omar and Rep. Buffalo."