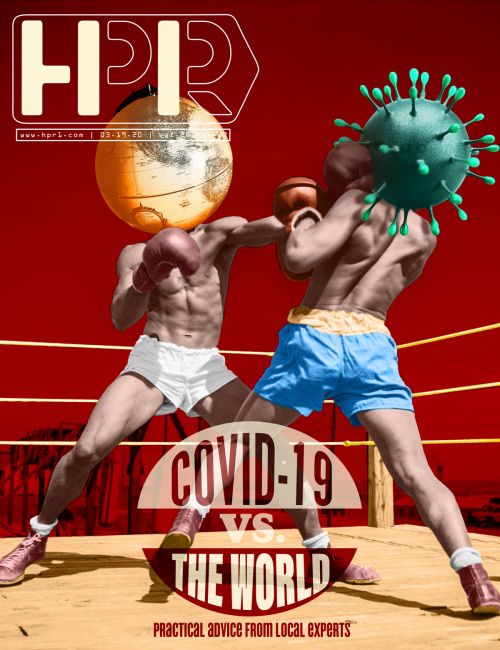 There are a lot of myths out there. People are scared, maybe they should be. How do we separate fact from fiction in the information age? Our administration says one thing, then another, and then an about face. It's clear we need sober facts that can guide us through these turbulent times. That's why HPR turned to Dr Nathan Kobrinsky, hematologist. Dr. Kobrinsky has a unique sense of humor that he uses to defuse the heavy seriousness of his work. And although he did start our conversation with a classic "why did the chicken cross the road" joke. The conversation immediately took a turn to deadly serious.
Dr. Nathan Kobrinsky: One hundred years ago, there was the great flu. It was the last pandemic. We are now facing a pandemic one century later. This pandemic has features which are more virulent, and yet with attenuating factors. Worse is that travel is more available now. People are going back and forth between city, country, continent, than was ever possible 100 years ago. So it truly is a pandemic because traveling across the world was not available then.
Second, this virus survives for days on a surface, which means that if you are at a restaurant and you put your hand down, or you lift up your fork, and then you wipe your eye with it or your face, and it gets in your eye or your tongue, you can get it.
Furthermore, it can be transmitted by coughing. So, the transmissibility is very high and surfaces are a risk. Washing surfaces and washing faces and washing hands is incredibly important.
The virus is spreading exponentially, meaning that it goes from two to four to eight and it just explodes from there to thousands in a very short period of time. Our response to the virus is way behind the response necessary to contain it. We're playing a catch-up game, where we're playing catch-up against a rocket.
HPR: So at this point, do you think that containment or mitigation is the best response?
NK: You want to be out of reach of airborne contact and you want to avoid contact with surfaces. So, what is the response? Stay six feet or more away from anybody, always and wash everything in sight with an alcohol-based disinfectant.
HPR: What if you don't have access to that? I mean would bleach sani-water work, like they use in a restaurant?
NK: I think that's good. I don't actually know the percentages of what is adequate or what is not adequate. [editor's note: ⅓ cup of bleach to one gallon of water] I do know that 60% alcohol is required for dissolving the membrane or the virus and killing it. That takes a high concentration of alcohol 60% which by the way is higher than any of the available liquor store alcohols except for Everclear
HPR: Wow, are you suggesting we get some Everclear and have that as a backup?
NK: You mean and mix it with aloe vera? That'd be fine except you can't get it because people are hoarding. People are hoarding toilet paper. They're hoarding hand sanitizer. They're hoarding Everclear.
HPR: What about rubbing alcohol?
NK: That you also can't get. So the best you can do is just whatever you can get, soap, water, hand sanitizer if it's available. Completely avoid crowds. The newest recommendation is to gather with no more than ten people. The virus can only survive if it goes from one person to the next and to the next. Because when it's stagnant, it will die between three and fourteen days. If the whole world separated by six feet, in fifteen days, it would be done.
Because it would die before it can transmit, it can only survive by transmission. That's why people who congregate are not only putting themselves at risk but are part of the problem of the progression of the disease. So it's not just a matter of putting yourself at risk, it's a matter of social responsibility.
People who just say I want to go to the bar and do are increasing the chances that other people are going to die. And people who say, I'm kind of healthy, I think if I go out that'd be okay. That may be true, but they are also putting at risk their uncles, brothers, fathers whose immune systems are suppressed, and the elderly.
So yeah, they may survive, but they are spreading it, so they're part of the problem. People who are socially irresponsible are part of the problem. If you pass on your illness to one other person, it will quickly infect untold others
The responsibility comes down to us personally, and regrettably, many people do not look at the big picture. They look at themselves, maybe their family. But if we don't look at the big picture, we are going to face what we faced 100 years ago.
HPR: What are the best steps for people who think they've contracted Covid-19 other than getting in touch with a doctor or hospital? How do they keep themselves alive?
NK: First of all, if you have symptoms, which include sore throat, cough, fever and ultimately shortness of breath you may have it. You should phone the emergency room at whatever health care facility you're using and say, "I have these symptoms. I am concerned that I may have Covid-19 What should I do?" They would tell you to come in and they would be prepared for an isolation situation. You do not want to infect other people. When you come in and say, "I'm the guy or the woman that called." Hopefully, that would mean that they would isolate you from others so you would not be putting others at risk.
What can they do for you? There is no specific treatment for the virus. The only thing that we can do, medically, is to treat the symptoms of the disease.
What can happen with the disease? Mainly it comes down to respiratory failure. If that happens, the treatment is putting you on a ventilator, breathing machine, until you either die or get over it and recover. Most people will have respiratory problems and will then get better. In the meantime they spread it to others.
Who's at risk? The elderly, those who have an immune-suppressed situation or underlying lung disease, those are the most at risk.. If you feel you have it, call, go in, get assessed. If you have a life-threatening respiratory breathing problem they will do what they can do. Otherwise, they can't do anything really, except tell you to isolate yourself and to protect others from you until such time as you can't function and then you'll be admitted for care and hopefully that will save you.
Most people will do well, 90 plus percent are going to do fine. The problem is that 90%, in the interim, while they're infected, will be first infecting others. The ultimate effect will be that the elderly and those with lung problems, including heavy smokers, will be at risk.
HPR: So heavy smokers should try to refrain from smoking?
NK: They need to accept the fact that they are at risk. Asthmatics, smokers, people who've had recurrent pneumonia, all of the people who had lung problems in their life are the ones the virus will target and will potentially kill. More than 90% of people will get through it. But They will also be spreading it to those who are not so fortunate.
HPR: So a personal question. My mother is in Mexico right now, just in Puerto Vallarta, which is kind of a tourist area, but she's not around all kinds of tourists. I think she's keeping herself isolated as much as she can. Her flight will be coming this next week and I'm wondering should she come home or should she stay there?
NK: She should not come home. She should stay where she is protected. She's going to go to an airport. She's going to go into a cab. She's going to go into lineups. The airports are packed with people who are trying to get home. There's confusion. She'll be there for two days in an environment where there are all kinds of people, some of whom are infected. Travel itself is dangerous.
Janeen, [my wife], was supposed to go and visit our newborn grandson in New York City. That has been canceled.
She is immunosuppressed. She is not going because it is not worth putting her health and their health at risk. She gets there, she gets in a cab, the cab driver coughs, she gets the virus. You have no way of knowing. Every home should have a thermometer at the front door and a bottle of hand sanitizer. And if someone comes in you take their temperature first. And if their temperature is 100 or more you do not let them into the house. If they're fine, you let them in, with sanitizer. If they are higher than a hundred you say go see a doctor. You do not travel, you do not go to restaurants, you do not go to games, you do not go to see your cousin in Saskatoon.
You don't travel. No travel, no travel, no travel. Stay at home. Isolate yourself and protect yourself and the world.
HPR: What are some best practices for airports if you absolutely need to travel? Do you need a mask, is a mask valid?
NK: Of very unclear, unlikely benefit. If you have coughing problems, yeah. The main thing is going to be hand sanitizer, face washing. If you have a fever, you should not be traveling both for yourself and for others. Before getting on a plane, if you're 100 degrees, you don't go flying.
HPR: People are getting a lot of advice from random parts of the internet, things like holding your breath for a number of seconds and then seeing if it results in breathing problems or coughing. Is that useful? Should information like that be ignored? NK: Holding your breath should be ignored. The triad for the disease is fever, sore throat, dry cough and of course, the next step is difficulty breathing. By that point, most people would be seeking attention. If you want to intervene before then it's fever, cough, and sore throat.
Now, does the virus spread before all that? That's the problem. You may be entirely asymptomatic, without any symptoms at all, and still spread it to other people and kill them. Isolation is really the best thing you can do.
If you look back at all of the pandemics, for that matter, all crises in humanity, the primary cause is usually secondary to the impact that it has on people's response. It is the crime, the chaos, the hoarding, the going out in the streets in the rioting, the epidemics of secondary infection, the starvation.
This is all which kills people more than the virus itself. People really have to do their best to follow social regulations. If everyone takes matters into their own hands, many more will die. If you go into the streets and say they're not doing enough and start having riots, more will die.
It's counterintuitive but it is a time for people to toe the line. Do what they're told. And more will survive. Following civil ordinance is the best that can happen. If you take matters into your own hands more will die, it will become chaos.