​'This was a play straight from hell'
by C.S. Hagen | .(JavaScript must be enabled to view this email address) | News | September 27th, 2018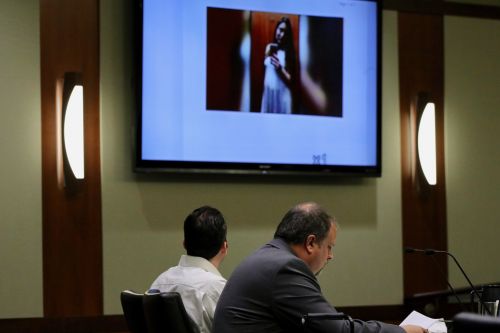 FARGO – "My life has been repeated loss of everything," William Hoehn said to his mother over a jailhouse phone recording. He sounded frustrated, angry. "Repeatedly and totally."
Hoehn, 33, was warning his mother to stay away from a previous fiancée, Tanith McCloud on September 16, 2017. A month after his final arrest, facing charges of conspiracy to murder Savanna Lafontaine Greywind, unsure at the time if he would be facing the death penalty, his concern was to tell his mother that McCloud was trouble. Never in any of his testimony before trial, or even when he took the stand, did he ever express true concern for anyone but himself, or his dream of having a family.
"She doesn't want to come to see me anyway," Hoehn said. "She's not hurt because Savanna left this world, she's hurt because I chose Brooke over her.
"Don't keep giving out that information… that b*tch," Hoehn said. His mother was mostly silent. "She spent four minutes screaming at me. She doesn't want to hear it; she just wants to scream at me. She wants to act like Savanna was a blood sister."
With Greywind's corpse hidden in his apartment for two days, Hoehn also felt as if he was the one being terrorized after family began suspecting his involvement in Greywind's disappearance. He cursed the Greywind family over recorded phone conversations, revealing deep-seeded racism.
"I don't f*cking think twice about Savanna or how Savanna was going to be bringing that baby up," Hoehn said.
He had sadistic fantasies, enjoyed choking his girlfriends during intimacy, both McCloud and former girlfriend and co-conspirator Brooke Lynn Crews testified. Hoehn claimed his dream was to have a family, but Crews said he also dreamed of kidnapping women, raping them, killing them, and that the ages of the women he wanted to hurt continuously grew younger with time.
While in police interviews, Hoehn repeatedly said he didn't want to throw Crews under the bus, that he loved her, but once the baby was found he quickly changed his tune, saying he had to protect himself now.
With months of lies from Hoehn, truth is at best difficult to grasp. Crews, is currently serving a life sentence without the possibility of parole after pleading guilty.
On Thursday following closing remarks, District Court Judge Thomas R. Olson called attorneys into his chambers asking about a tip pertaining to one member of the jury blogging information during the proceedings. The tip was false. No jurors are allowed cellular phones, and all jurors were in plain view of attorneys and onlookers.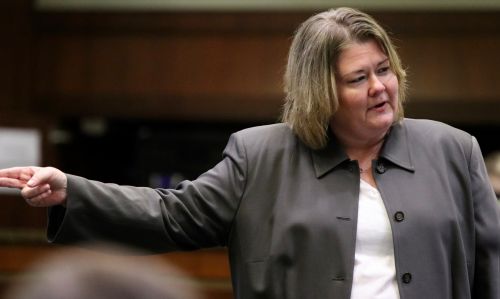 Up to the jury
The prosecution and the defense have rested their cases, and Hoehn's fate is now in the jury's hands. The weight of deciding a defendant's fate, most likely facing life in prison if the verdict comes back guilty, was tangible as both sides made their closing arguments.
The prosecution gave jurors two options in which to find Hoehn guilty: one was that he had an implicit agreement to murder Greywind, or two, that he walked in on the murder and engaged in conduct showing agreement.
"You don't cast a play in hell and get angels for actors," prosecuting State's Attorney Leah Viste said in closing remarks. "This was a play straight from hell."
Viste further pointed out Hoehn's reactions to finding Savanna – dead or dying – on the couple's bathroom floor.
"These aren't the actions of a man shocked by the fact that his woman cut a baby out of another woman," Viste said. "He was ready to go."
Instead of calling for medical assistance or police, he immediately began the cleanup, a fact Hoehn admitted to. Together with Crews they deceived police, wrapped Greywind in black garbage bags, hid her body first in a bathroom cabinet and later after hollowing out a dresser. The couple kept the ruse going until after the third police search on August 24, when baby Haisley Jo was found on the couple's bed, wrapped tightly in a blanket.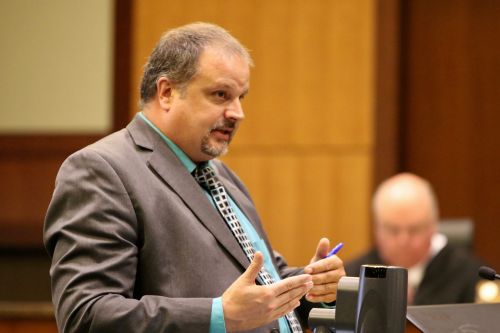 Defense attorney Daniel James Borgen pointed to the timeline, saying the evidence points to the fact that Hoehn arrived home around 2:30 p.m., slightly less than an hour after Crews lured Greywind up 24 steps to her apartment.
"You can't enter into a conspiracy of the murder of someone who has passed away," Borgen said. "I'm not up here saying Mr. Hoehn is a saint by any means, he himself has admitted it."
Hoehn already has pleaded guilty to charges related to conspiracy to kidnap and lying to police.
Medical examiners say Greywind's death could have been slow, up to 45 minutes, and that probable cause of death was her bleeding to death or exsanguination. Possible cause of death was asphyxiation; a roped formed into a type of garrote was found around her neck after he body was fished from the Red River.
Many details of the case cannot be pinned down, such as the exact time Crews began the argument with Greywind that led to her death. Did they first talk for minutes or more? A question the prosecution, the defense, and Crews herself could not answer. Approximate times for Hoehn returning home early from his job at a roofing company may place him at the scene, but the prosecution could not prove decisively he was there before her death.
"Believe the facts not in dispute, and use commons sense for the rest," Viste said. "We don't have a blueprint but the plan has been shown to you time and time again."
Borgen said the state failed to prove their case, and asked the jury for a verdict of not guilty.
"Determine if each piece of evidence is before or after Savanna's murder," Borgen said.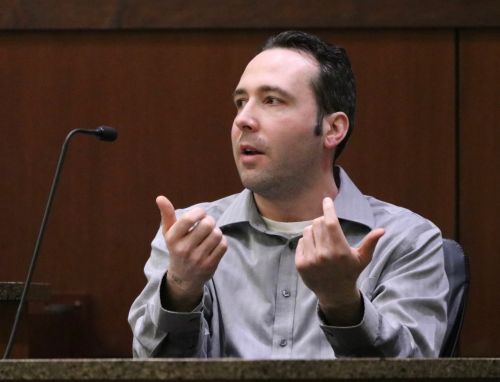 Hoehn's story
Hoehn testified to his innocence by taking the stand Thursday morning. He met Crews after she returned from Australia, where she was legally married to Andrew Murray, a chef in Katoomba, New South Wales, for six days, according to separation papers.
Crews moved in with him in April 2016, he said, describing the relationship as "up and down, tumultuous.
"She made me feel like king of the world, man of the house, king of the castle," Hoehn said. "But when they were bad it was terrible."
Hoehn described himself as intelligent, the breadwinner, and had dreams of raising a family after two failed marriages. His criminal record, however, was an obstacle, as he pleaded guilty to child abuse and neglect during his first marriage.
"It was an easy thing for Brooke to throw at me," Hoehn said. "I remember seeing that on the news and thinking someone should break his skull," he said of the news anchor.
"We didn't decide we should have a baby, we were going to have a home birth," Hoehn said. "We were terrified that us having a baby and bringing in the authorities and having them come in and crucify us, because of the history."
And yet, after Crews told him she was pregnant in January 2017, he told his friends and coworkers. Tricked into believing Crews was pregnant, he said he never didn't believe she wasn't pregnant. She had body changes, started growing a belly, he said.
A police picture of the couple taken at Cashwise grocery store shows Crews, who looks nothing like a woman in her third trimester.
A contentious point between the prosecution and defense came with a letter Crews wrote to Hoehn on his personal computer, a letter he claimed to have never read before his arrest. She wrote the letter on August 7, a day after they had a fight and Hoehn told Crews he knew she wasn't pregnant.
Hoehn said he never told her she wasn't pregnant, and when he entered the apartment the day Greywind was murdered, he heard a baby and thought his dream had come true.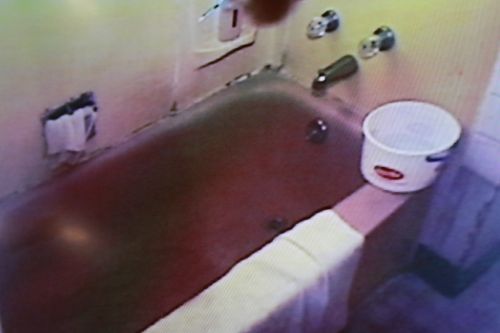 "When I walked into the living room it was quiet," Hoehn testified. "The TV was off, I didn't see Brooke. I peeked my head into the kitchen, I didn't see her. I imagine I said 'Honey, I'm home, or something to that effect. I started to walk into the bedroom and she opened the door and she said, 'Will? I need you.'
"I heard the baby. It wasn't a wail, like a cry, it was a baby sound. I remember feeling elated like 'Oh my God, she had the baby while I was at work and it went that easy. Maybe I have to help clean her up, maybe she was bleeding.'"
But he found Greywind stretched out on the linoleum floor in pink, watery blood.
"Savanna wasn't moving," Hoehn said. "I didn't know if she was alive. Lips were blue. She was pale. She wasn't moving. I didn't immediately see the incision in her. She was lying there very pale, blue lips, like she had had a piece of blue candy.
"That was the first time I asked her if she was even pregnant, and she grabbed her belly and said 'I think so.'"
He made the decision to help Crews then, he said.
The prosecution disagreed, saying Hoehn manipulated Crews by telling her she needed to "get a baby by any means."
Hoehn also admitted to hollowing out a dresser, hiding Greywind inside before traveling -- with Crews -- down to a bridge on Harwood Road. Together, he said, they dumped the dresser into the Red River.
Savanna's body was found further north by kayakers eight days after she was murdered.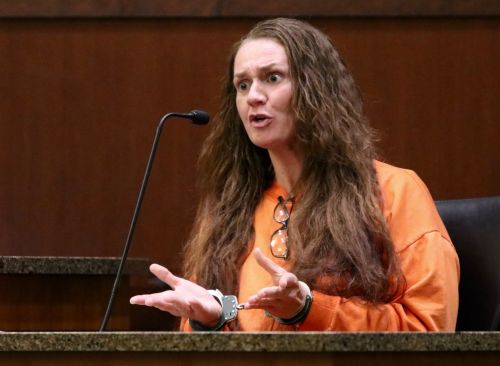 A cellmate
Earlier in the day the defense called a cellmate of Crews from Dakota Women's Correctional Facility named Jennifer Robinson to the stand. With a long criminal record of drug charges, assault, lying to police, and assaulting police with a knife, Robinson said Crews – a "very good friend" – told her she strangled Greywind and cut the baby out in less than three minutes.
She became angry when she was cross-examined by assistant State's Attorney Ryan Younggren, who asked her about her request for a transfer.
"I will do my time," Robinson said. "Brooke Crews does not scare me, sweetheart. Just get that right. She is a devil in disguise, a manipulator, and a liar. I shivered in my skin when she told me she wrapped a rope around that woman's neck and ripped a baby out. Disgusting."
She knew about Crews's statements for five months, but didn't tell anyone, Younggren said.
"You're just pissing me off," Robinson said. "Instead of helping me, you're just pissing me off."
Crews denied that the two were "very good friends," and said their conversations were short, and she never told her the story of what happened.
Ashton Matheny
On Wednesday, Greywind's longtime boyfriend Ashton Matheny took the stand. He met Greywind, a young Native woman, when he was a freshman in high school; she was a year ahead. Because Greywind's family was protective, they didn't agree to the courtship because they were both too young, he said.
Over time, however, the family began to soften to him. The first time he went to their house he was grilled extensively on what kind of a future he had planned.
At the time, he wasn't sure.
Greywind's curfew was 8 p.m. She was never allowed to go out alone. Parents watched over her closely. Greywind asked him to the prom her senior year, but didn't like it, so he snuck her out, almost getting caught while driving down a road in Devil's Lake.
"She wasn't supposed to leave prom," he said. He smiled at the memory.
He ended up bringing Greywind back to the prom, and no one was the wiser.
Matheny took three months to work up the courage for their first kiss.
Greywind was a certified nursing assistant, but at home she was a caretaker.
"She wanted to help everybody, she would help everyone else before she helped herself," Mathany said.
They had plans for the future, already paid the down payment on a new apartment. Greywind was against drugs, and unlike rumors that Hoehn and Greywind had a relationship, he said that was impossible. He had never met Hoehn, and the couple was in constant contact when he was away.
During the summer of 2016, Greywind told him she wanted a baby. He took some time to reach the "baby fever" Greywind had, but on his 21st birthday, he agreed. Not long after she told him she was pregnant.
He never did propose to Greywind, but plans were underway.
"I never brought it up to anyone," Matheny said. "It was a thought in my head, after we were settled into our apartment. I just wanted to surprise her. I was going to do it on our seventh anniversary."
Not long before the anniversary arrived, however, Greywind was murdered, her and Matheny's child stolen from her womb in what the prosecution described as "one of the state's most heinous crimes" and a "diabolical act."
The jury must now decide if Hoehn is guilty or innocent based on the facts.