Three heroin overdose deaths in seven days
News | March 17th, 2016
Three heroin overdose deaths in seven days
By John Strand & Tom Bixby
Law enforcement officials representing several agencies warned the public Sunday about an extraordinarily dangerous situation involving tainted or laced heroin in the FM area.
"The purpose of this press conference is to provide a public safety message in relation to several narcotic or opioid overdoses that have occurred in the FM area in the last several days," Fargo Police Chief David Todd stated at the outset. "At least four of these incidences are believed to be linked to opiate overdoses and those four instances have resulted in the deaths of three people in Fargo. However this is not just a local problem here. We've also had numerous recent reports of opioid related overdoses regionally."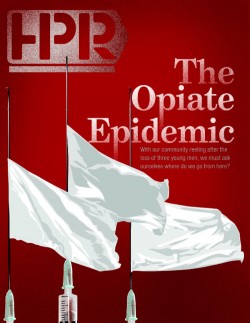 Opioids are a class of drugs that include heroin, opium and prescription pain relievers such as oxycodone, hydrocodone, codeine, morphine, Fentanyl and others, he explained.
Three individuals lost their lives due to suspected overdoses, including John Weed, 37, and Tyson Chaney, 24, on March 6, and Lucas Anderson, 26, on March 12.
Subsequently, three males were arrested in a vehicle outside a hotel and another female was arrested inside, the chief reported. About half an ounce of suspected of heroin was located in the hotel room along with a small amount of marijuana. One small child was placed into protective custody that was found in that hotel room at the time of the search warrant.
"It's possible that we have heroin out there laced with something such as Fentanyl or morphine or some other opiate making it even more dangerous than it already is. Fentanyl can be 40 to 50 times more potent than heroin and in some cases can be absorbed through the skin and can be deadly," Chief Todd said. "So I'm telling the public if you see what you suspect is heroin or an opiate derivative, do not touch it. Call us to handle it.
The police chief asked that members of our community who aware of family or friends who use illegal drugs such as opiates to closely monitor them for breathing difficulties, incoherence, unconsciousness, all indicators for the need of emergency medical treatment.
Moorhead Police Chief David Ebinger cited two overdoses, both what he called "narcan saves," referring to a nasal spray antidote that can reverse potentially deadly effects of heroin or opioids.
"One of the things I would love to reiterate here and really get across to the public is we don't have a lot of credibility with people who have an addiction. They don't want to listen to the police and they don't talk to police," Chief Ebinger said.
"The families and friends of these individuals really need to be aware… Talk to them to get out of drug use and to deal with (their) addiction. Now is a good time to do it. If not, please monitor them and get them the help they need if they see an indication of an overdose," Chief Ebinger said. "This is a great concern. Drug abuse is serious enough but when we start losing lives it's a public health concern."
West Fargo Police Chief Mike Reitan reported one death in a motel in 2015, 11 non-fatal heroin overdoses treated in a local emergency room since October, and five occasions officers responded to heroin related overdoses where those individuals were saved with the administration of narcan (naloxone). "There are a number overdoses that we are unaware of because they are either family or friends or they respond local emergency rooms and are treated there," Chief Reitan said.
Chief Todd expressed grave concern about heroin possibly laced with fentanyl. "Iit can be extremely dangerous. We don't want to have any more deaths out there," he said. "There's no such thing as good heroin. It's all bad. There's no such thing as a good batch. It's all bad stuff. Heroin can be extremely deadly. But if it has something in it like fentanyl or morphine or some other opiate derivative to make it even stronger, it can be extremely deadly."