By C.S. Hagen
cshagen@hpr1.com
CANNON BALL - As at Wounded Knee in 1973, the Federal Bureau of Investigation used informants to infiltrate the anti-Dakota Access Pipeline camps, according to government emails leaked to media outlet The Intercept.
The claim was widely believed true by activists in the Standing Rock camps against the Dakota Access Pipeline, but was never proven until now. Law enforcement from five different states, the North Dakota National Guard, the National Sheriff's Association, and TigerSwan security personnel hired by Energy Transfer Partners, the parent company of the Dakota Access LLC, also depended upon extracting information from social media feeds.
Leaked emails stemming from the November 21 standoff on Backwater Bridge after militarized law enforcement used water cannons to force back hundreds of activists in freezing temperatures, reveal government agencies' attempts to control the narrative. Hundreds of activists were reportedly injured, one seriously - Sophia Wilansky - was hospitalized with life-threatening injuries after an explosion nearly ripped off her arm."Everyone watch a different live feed," Bismarck Police Officer Lynn Wanner wrote in an email, which was seen by FBI agents, the Bureau of Indian Affairs, and the U.S. Attorney's Office.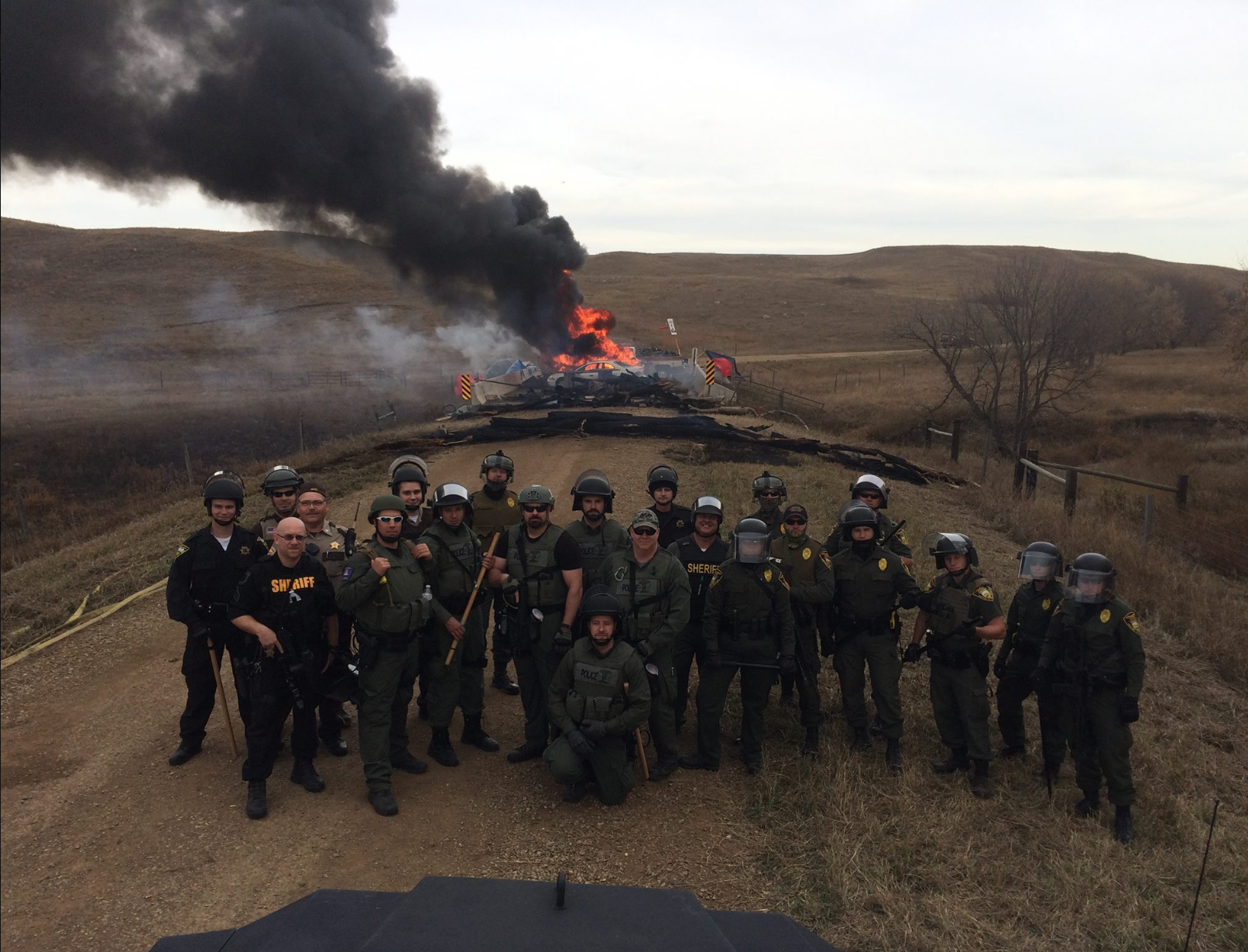 "FBI inside source reporting propane tanks inside the camp rigged to explode," Wanner, who according to records acted as an on-the-ground liaison between agencies, wrote in an email.
TigerSwan was quick to respond, worrying that activists would use the growing numbers of people injured as an "anti-DAPL propaganda," according to records.
Relying on information from the FBI's infiltrator and social media posts on Facebook, U.S. Attorney's Office National Security Intelligence Specialist Terry Van Horn sent out an email a day after the November 21 confrontation saying Wilansky was seen throwing a homemade Coleman-type gas canister bomb on Backwater Bridge.
"How can we get this story out? Rob Port?" Major Amber Balken, a public information officer with the North Dakota National Guard, said. "This is a must report."
Cecily Fong, a public information officer with the North Dakota Department of Emergency Services, replied saying she would "get with" the blogger for wider dissemination.
Wilansky was injured by an explosion from the activists' side, Morton County Sheriff's Department reported at the time, even after many eyewitnesses came forward saying that Wilansky was first struck with rubber bullets, and then targeted by a compression grenade while she was on the ground. Another eyewitness said she was hit first by a rubber bullet, and then by the grenade as she crossed the guardrail south of Backwater Bridge, approximately 30 feet from the frontline.
Lawyers working with Wilansky's father, Wayne Wilansky, denied the accusations citing government disinformation. Formal notices of claim were filed against the Morton County Sheriff's Department and Sheriff Kyle Kirchmeier and other law enforcement agencies in May for state tort claims, and for libel, slander, and defamation of character.
"This is outrageous that this happens in our country, and I'm afraid it's only going to get worse," Wayne Wilanksy said in a video interview.
In addition to the FBI's informant, at least one other person was sighted in the back of a pickup truck holding a fake gun wrapped in duct tape, and another attempted to infiltrate the camps.
Kyle Thompson, of Bismarck, was disarmed by activists then turned over to the Bureau of Indian Affairs on October 27, 2016. Thompson was later handed over to Morton County, and then released, called a victim. No charges were filed at that time, but Thompson was later arrested in an unrelated case on drug and weapons charges in April 2017 by Bismarck Police.
Thompson worked for Thompson-Gray LLC, listed under Silverton Consulting International by the Ohio Secretary of State, according to paperwork discovered inside his truck. The company was not authorized to work in North Dakota, and was owned by Charles Graham Clifton, a man who has at least three civil lawsuits filed against him.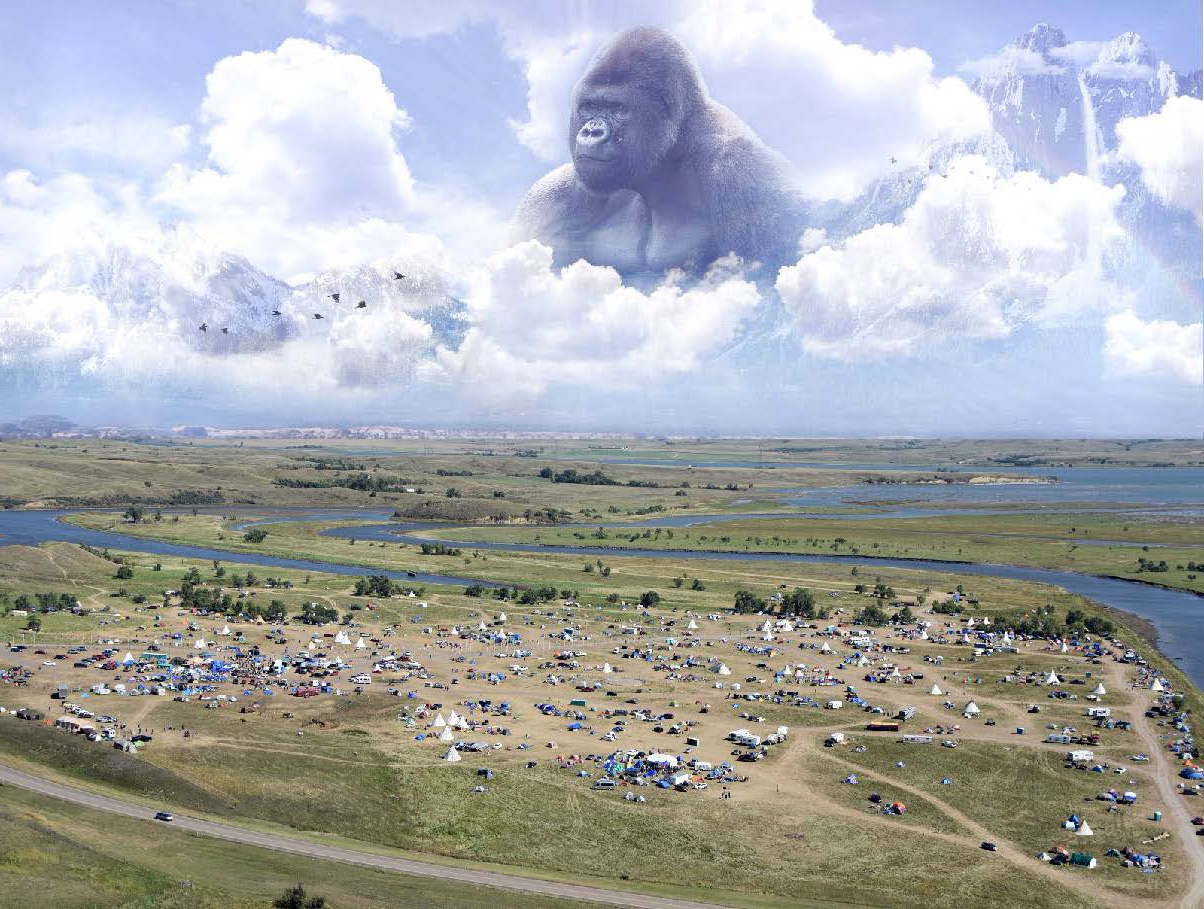 Forty-three years after Wounded Knee
In 1973, confrontations between Native Americans and government agencies at Wounded Knee, South Dakota, lasted 71 days, leaving two people killed during shootouts, 12 people wounded, including one FBI agent, and to the arrests of approximately 1,200 people. Forty-three years later, the anti-DAPL movement camped outside Standing Rock for nearly ten months with no casualties, but hundreds suffered from hypothermia under siege-like tactics, and were also hit with mace, rubber bullets, pepper spray, attack dogs, and percussion grenades. Approximately 761 people were arrested by law enforcement, whose efforts and intelligence were coordinated by TigerSwan Inc., the private security company hired by Energy Transfer Partners.
Starting soon after Ohio-based Frost Kennels admitted its involvement in altercations when the security company's attack dogs bit activists in September 2016, TigerSwan stepped in, and worked closely with law enforcement using military-style counterterrorism measures against the movement opposed to the Dakota Access Pipeline, according to documents leaked to The Intercept.
TigerSwan attempted to target Native Americans, especially those involved in the Red Warrior Society and the American Indian Movement, actress Shailene Woodley, even activists from Black Lives Matter, Veterans for Peace, the Catholic Worker Movement, and Food and Water Watch, according to records, and labelled activists outside of Standing Rock as "jihadists" involved in a religious uprising.
Aaron Pollitt, 28, from Indiana, was charged on October 22, 2016 by Morton County Sheriff's deputies for engaging in a riot and criminal trespass, and was also targeted by the FBI's Joint Terrorism Task Force after leaving Standing Rock.
"It was really eerie," Pollitt said. "It is really concerning to be investigated by a terrorism task force or state police, but I am not too concerned.This is an assault on the rights of people to be scaring us away from our right to protest and to free speech."
TigerSwan Inc., with offices in Iraq, Afghanistan, Jordan, Saudi Arabia, India, Latin America, and headquartered in North Carolina, has won more than 13 contracts with the U.S. Department of State, the U.S. Department of Defense, the Department of Homeland Security since 2014 worth more than $9 million, according toUSASpending.gov. The North Dakota Secretary of State holds one record for TigerSwan, LLC, established in Fargo on November 7, 2016, seven months after the controversy began.
Communication between the various agencies attempts to paint the activists - known as water protectors - as criminals, out of state troublemakers, and sexual deviants, a theme widely reported by the state's media, particularly on the Forum Communication Company's right-wing editorialist Say Anything Blog, managed by Port.
"We probably should be ready for a massive media backlash tomorrow although we are in the right. 244 angry voicemails received so far," Ben Leingang said on November 21. Leingang is listed as the director of the North Dakota Fusion Center, Bureau of Criminal Investigation, State of North Dakota, byLeadership Directories.
TheNorth Dakota Fusion Centerwas established by current Senator John Hoeven R-N.D., when he was governor in 2007, and began to serve as a industrial surveillance complex for communications between North Dakota law enforcement and National Guard with the federal government for information collections, analysis, and dissemination, according to the North Dakota Governor's Office.
Creating the government narrative
In an October 3, 2016TigerSwan document, security agents attempted to exploit internal divisions between Native Americans and "white allies," saying that drug use and sexual activity persist among the activists, which at the time was closing in on 10,000 people. What was uncertain to TigerSwan operatives was the "number and type of weapons within the camps or who has been providing military-style training sessions."
Nearly every mainstream North Dakota media outlet used more ink to publish stories pertaining to local anger and trash pileups than actual events occurring along the D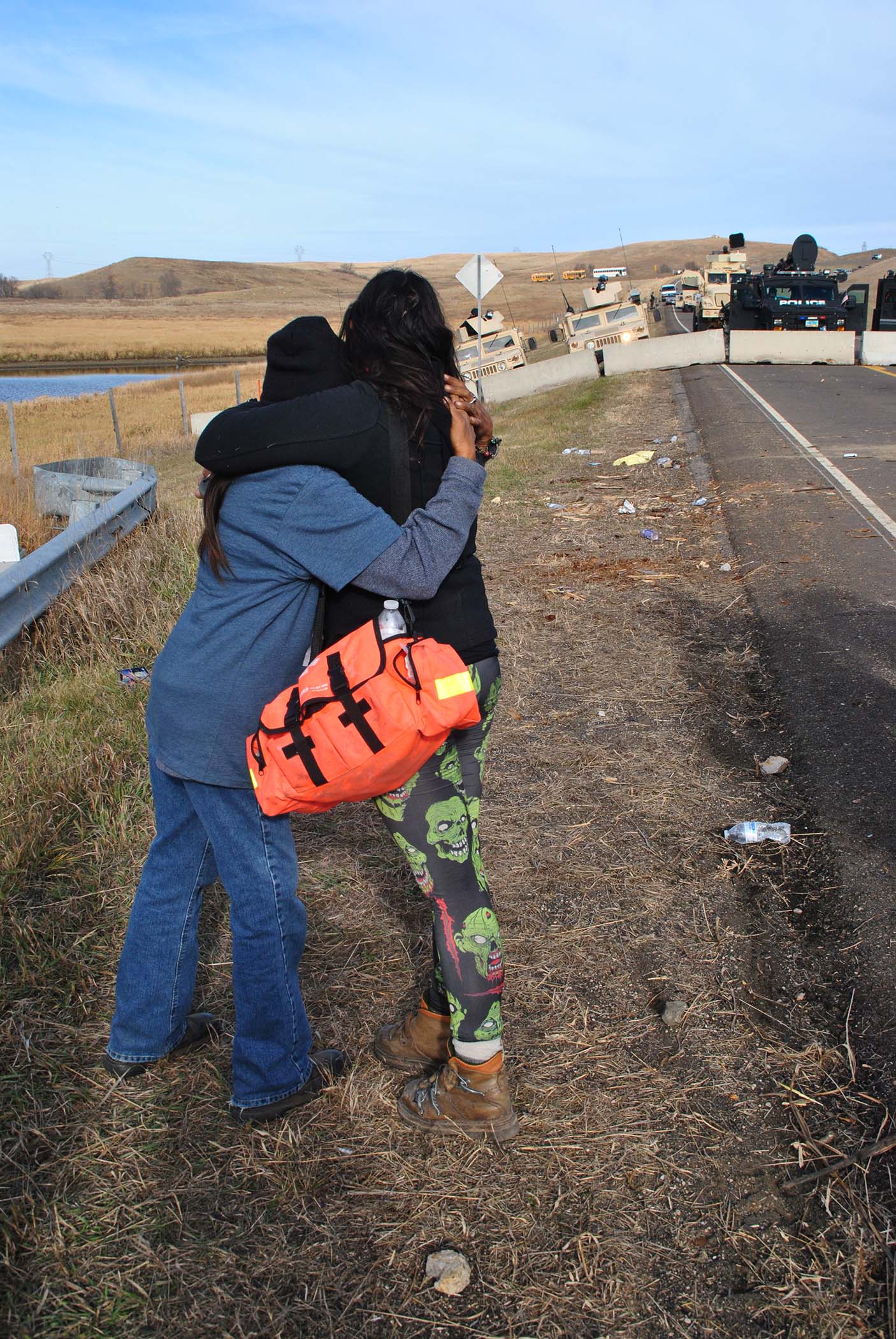 akota Access Pipeline. Additionally, law enforcement tried to exacerbate the story that a journalist was attacked inside the camps on October 18. Phelim McAleer, from Ireland, was given permission to enter the camps and soon began asking pointed question about activists being hypocritical, he said.
McAleer is known as a pro-oil public relations agitator, and 'professional character assassin' by many.
TigerSwan disseminated a Powerpoint report citing positive and negative aspects of the controversy.
"Positive - Sheriff's Association continues to publish positive news stories. Local news media is highlighting negative effects the protesters are having to the area."
"Negative - Protesters continue posting anti-law enforcement anti-DAPL content on social media in order to garner sympathy and support for their cause."
TigerSwan also became the law enforcements' 'weatherman,' posting the week's predicted weather patterns.
On the south side of the camps, activists held daily classes teaching newcomers about passive resistance tactics, incessantly stressing the importance of non-violent methods. Rules were posted on a large board outside the tent's entrance.
In the Sacred Stone Camp, medical massages were available for those suffering from muscle or bone injuries. Multiple kitchens were usually busy, either feeding those inside the camps or running food and coffee out to lookout sites.
Many people wore knives at their belt, a common tool for anyone living in the wilderness. Morton County Sheriff's Department reported no weapons were found within the camps at any time. Morton County Public Information Officer Maxine Herr added that the department received reports of weapons - other than survival tools - spotted in vehicles and elsewhere.
Early during the controversy, either due to faulty information from the FBI's informant, or due to a cultural misunderstanding, Morton County Sheriff's Department reported knowledge of pipe bombs, which turned out to be ceremonial pipes. When asked about the claim during an interview, Cass County Sheriff Paul Laney told reporters that tribal leaders said pipe bombs were being made inside the camps.
In 2016, Morton County law enforcement agencies received 8,033 reports, of which 5,257 were verified offenses, Herr stated.
"September to December, when protesters were her in mass, showed a significant uptick," Herr said.
Typically, monthly calls for assistance and crime reports average nearly 400 per month in Morton County, according to police records. In 2016, reports began increasing across the county in June, climaxing at 1,159 reports in September, and slowly decreasing until December with 895 reports called in. Numbers reflect all calls made to Morton County pertaining to any situation, not specifically related to the DAPL controversy.
Standing Rock Sioux Tribe Chairman Dave Archambault and other leaders insisted on peaceful protest and prayer. Signs were posted at the camps' entrances not allowing weapons or drugs. Although the camps temporarily became North Dakota's tenth largest community, few real crimes were reported from within the activists' camps.
TigerSwan also arranged meetings with the U.S. Army Corps of Engineers, according to documents. In October 2016, the security company also stated activists will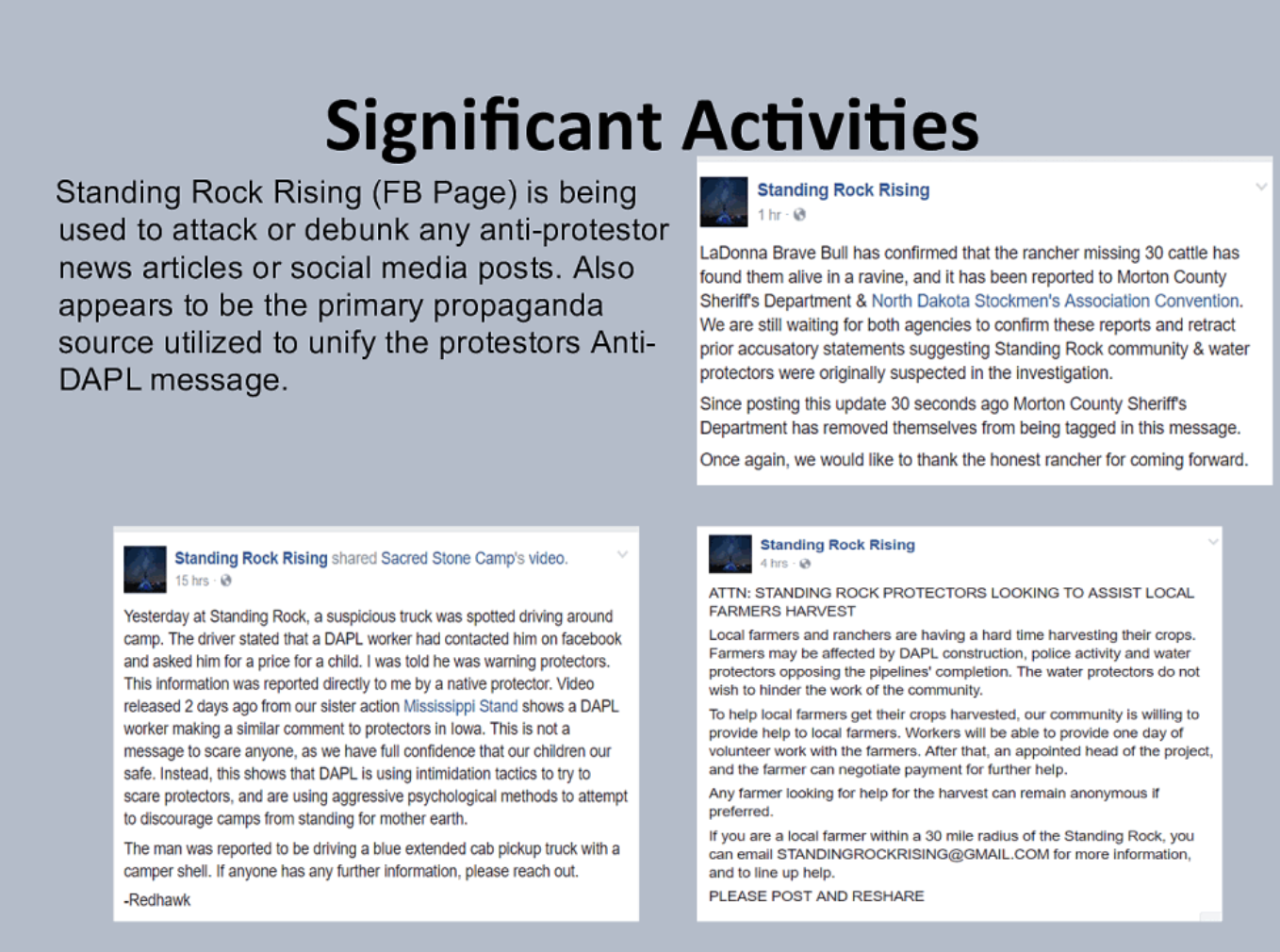 continue to "riot" and force law enforcement to respond with violence. The concern revolved around the pipeline project, however, and not the potential life of a human being.
"The use of force or death of a protester or rioter will result in the immediate halt to DAPL operations, which will likely permanently halt the entire project," theOctober report stated.
TigerSwan operatives were also concerned about peaceful activists. "It is important to weed out the non-aggressive groups as they will drain our resources in the wrong direction with no effect to our client."
TigerSwan was also seeking information at the time when former Governor Jack Dalrymple attempted to enforce fines on what people in his administration termed as "terrorists," - anyone traveling the roads to the camps and on local sympathizers providing support, logistics, and "potentially shelter for those committing criminal acts."