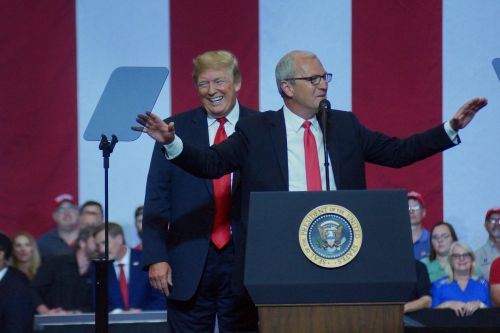 FARGO – President Donald J. Trump's stranglehold is slipping, but don't tell that to the lone midnight camper Front Row Joe, in front of Scheels Arena.
Approximately 6,000 people gathered to hear the 45th President speak Wednesday evening, although Trump said the numbers added up to more than 15,000 who couldn't get inside. In hindsight, Trump wished that he had booked a larger arena to hold his "Make America Great Again Rally," he said.
"Lot of media back here, if crooked Hillary had won this election, and if she had come here, she'd have 200 people in a conference room in a small hotel," Trump said. "We, I, were making them rich."
The thousands began waiting early Wednesday morning, with no shade, and by mid afternoon three ambulances were called in to revive people suffering from the 90-degree heat.
Before the arena's doors opened, a sea of red "Make America Great Hats" shifted back and forth, sometimes cheering. Many fans wore T-shirts displaying the American flag, or emblazoned with "Drain the Swamp," or "Suck it up Buttercup" on the front. Two hours before Trump took the stage, the audience was warned that counter protesting inside the arena would not be tolerated, and if attendees interrupted everyone else needed to shout "Trump, Trump, Trump" until police arrived to escort the troublemakers away.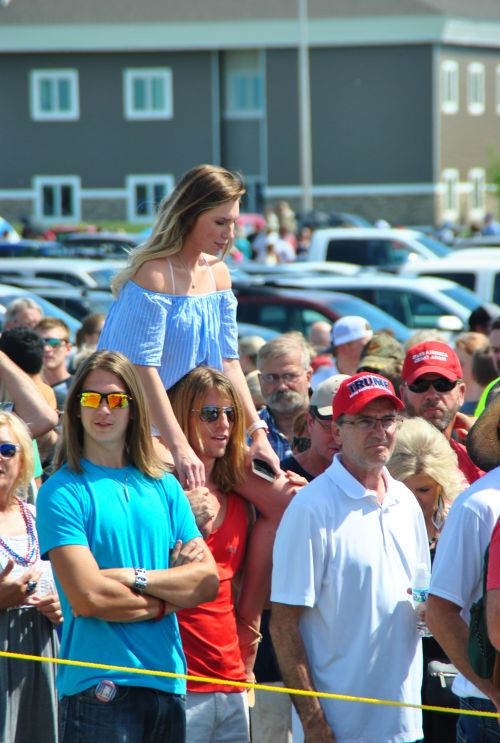 The rally went without incident, although counter protesters lined 32nd Avenue toward the end of Trump's speech.
Before Trump's speech began, North Dakota GOP Chairman Rick Berg opened up for Cramer, saying the "biggest danger in America" today is the elitist east coast Democratic Socialists, who have been winning in Pennsylvania, stealing a victory in New York this week when Alexandria Ocasio-Cortez beat Wall Street favorite Joe Crowley in the primaries.
Republican candidate for U.S. Congress, Kelly Armstrong, stood up and asked the audience where the reputed blue wave was at, because all he sees in Fargo is red.
Trump came out to congratulate the NDSU Bison football team, then vouched for current Congressman Kevin Cramer, who is running against Heidi Heitkamp for her Senate seat. Cramer, all smiles, thanked Trump for not forgetting the "Flyover state," and swore to vote with Trump 100 percent of the time.
Cramer flip-flopped for months on whether or not to run for the U.S. Senate, and didn't make his decision until after oil magnate Harold Hamm of Continental Resources with a net worth of $18 billion promised financial backing.
In recent weeks the Congressman fired "shots across the bow" of the White House when Trump wasn't speaking up for him. He said a White House official wasn't doing a good job to The Washington Post, and insinuated to the Wall Street Journal that the commander-in-chief was inexperienced.
"That's why I'm here, for Kevin, that's why I am here," Trump said.
"We need Kevin Cramer to replace liberal Democrat Heidi Heitkamp," Trump said. "She promised to be an independent vote for the people of North Dakota, instead she went to Washington and immediately joined Chuck, you know Chuck. Now a new leader: Maxine Waters, I think she's taken over."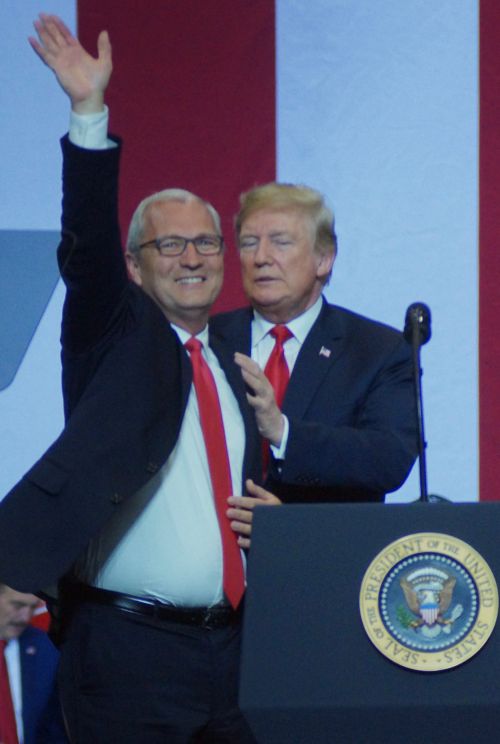 Much of Trump's speech resembled a broken record, criticizing "fake media," and then ordered cameras to swivel around the arena instead of constantly focusing on him. He said people once called him an interloper, and now he's the most powerful Republican in America.
He bragged about instituting the largest tax cuts in US history, and further promised happiness, elimination of the death tax, the death of more Obama-era regulations, better washing machines, and a return of steel manufacturers, all within the same breath.
And then he dangled the carrot of a new health care plan in two weeks, before diving into the immigration controversy, mixed with speaking at length about the retirement of Supreme Court Judge Anthony Kennedy, which gives him the opportunity to appoint a new conservative judge to the nation's highest court.
"We're coming out with so many health care plans that is so much better than anything you've seen before," Trump said. "Obamacare is essentially dead. We're doing great.
"We need more Republicans," Trump said. "They keep talking about this blue wave, and their blue wave really is really sputtering pretty badly. Let's just look what happens. Republicans want strong voters and no crime. Democrats want open borders and crime, crime, crime, happens all the time when you have those open borders.
"Democrats are always fighting against funding for the military and law enforcement. They are always launching vicious attacks against ICE and our border security. And I'll tell you what, far fewer people are coming through our southern border, and now it's getting worse because we have so much opportunity here, because we're doing so well. But we want people to come here on merit. Merit.
"We're sending MS13 out by the thousands. We're liberating towns. You know our ICE officers are tough, I gotta say it, they're not nice, but they're mean, but they have heart. But they go into these towns, and these are towns I have known all my life. Our ICE goes in there, they grab them by the neck, they throw them in the paddy wagon, we get them the hell out of our country. And the Democrats are constantly complaining we're too tough on ICE. "
Trump's ramblings then turned to the southern border wall, the cornerstone of his run for the Presidency in 2016.
"We're getting them the hell out like I said, by the thousands," Trump said. "Just days ago a brave border agent was shot multiple times while protecting our border. We're gonna get that wall built, we've already started it, 1.6 billion dollars."
"Build that wall. Build that wall," the crowd chanted.
"It's already began, and it's beautiful."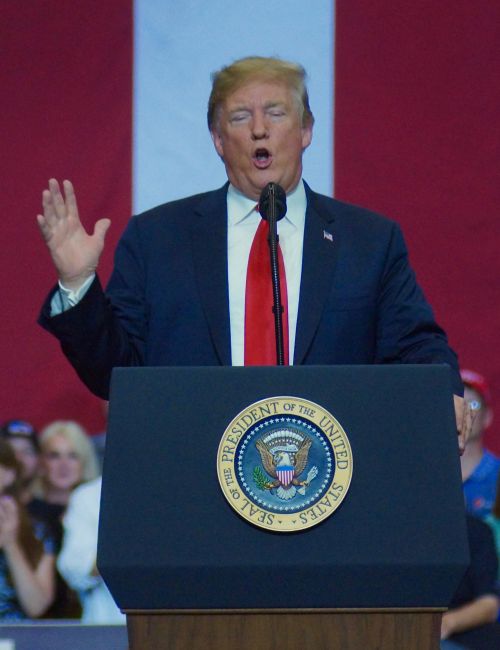 Despite the rhetoric and the approximate 6,000 people who attended the "Make America Great Again Rally," statistics show that support for Trump is weakening in North Dakota.
On election day 2016, 67 percent of North Dakota voted for President Trump, the reality TV star and real estate mogul. Fourteen months later Trump's approval rating dropped to 57 percent, but the state was still the second highest in the nation. Since then, media outlets have reported another drop of four points, but 45's trade war between China and allies including the European Union and Canada have sent approval ratings even lower to 51 percent, and a growing disapproval rating of 45 percent, according to Morning Consult's "Tracking Trump" statistics.
The past year-and-a-half of Trump's policies have left the state with a net approval of five, on a par with Texas and Florida. Primarily the southern states of Kentucky, Mississippi, Alabama, Arkansas, and South Carolina remain firmly in the President's grasp, while states such as California, New York, Massachusetts, and Washington have negative net approval ratings.
The exact reason for the slip in support is unclear, but perhaps it could be related to the trade war targeting $50 billion worth in 128 American-made products, including North Dakota's soybeans and the pork industry? Or perhaps it could be related to the President's trysts and ensuing cover up with porn star Stormy Daniels? Or perhaps something more trivial: frequent misspelled and ignorant tweets, blatant lies, racist coddling, public attacks on the FBI, firing of Cabinet members, frequent golf trips to Mar A Lago, financial impropriety and nepotism, FBI Director Robert Mueller's Russian collusion investigation…
The man Trump came to vouch for, Kevin Cramer, is a man striving for Trump's image, practicing nepotism by hiring family and paying them with campaign funds, has had corruption allegations trailing him since 2012. The most recent fiscal complaint came on Tuesday from Grand Forks attorney David Thompson, running for Attorney General of North Dakota, who filed the complaint with the Federal Election Commission stating that Cramer is using campaign funds to enrich himself.
Cramer has also tied himself to extremist hate groups by filing for support from the Public Advocate of the United States.
The President's arrival combined with seasonal road construction clogged streets between Hector Airport and Scheels Arena. Fargo Police, state and federal law enforcement partnered to prepare for Trump's visit, while allowing protesters to practice their First Amendment rights, Fargo Police said in a press release.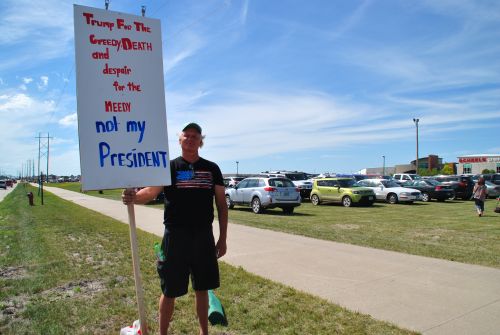 The Campus Feminist Organization helped organize the Anti-Trump Uprising: Uplift Rally, which met earlier Wednesday afternoon behind West Fargo's Cashwise parking lot, and marched to the Urban Plains Park. Hundreds gathered outside Schools Arena, and their message was simple: to show not everyone in North Dakota agrees with Trump's Administration, and to be non-violent, even in the face of counter protests.
The North Dakota Democratic-NPL also planned a "Day of Action" in response to President Trump's arrival and the gathered crowd of approximately 6,000, with a force that doubled that size.
"If President Trump and Congressman Cramer think North Dakotans are going to welcome them with open arms after their repeated assaults on North Dakotan's rural economy, then they can think again," Scott McNeil, executive director of the North Dakota Democratic-NPL, said in a press release. "While President Trump talks at the 6,000 people in the Scheels Center, the North Dakota Democratic-NPL will be listening to twice as many voters."
Volunteers, including Democratic candidate for Secretary of State, Josh Boschee, knocked on doors in Bismarck, Fargo, Grand Forks to listen to voters concerns.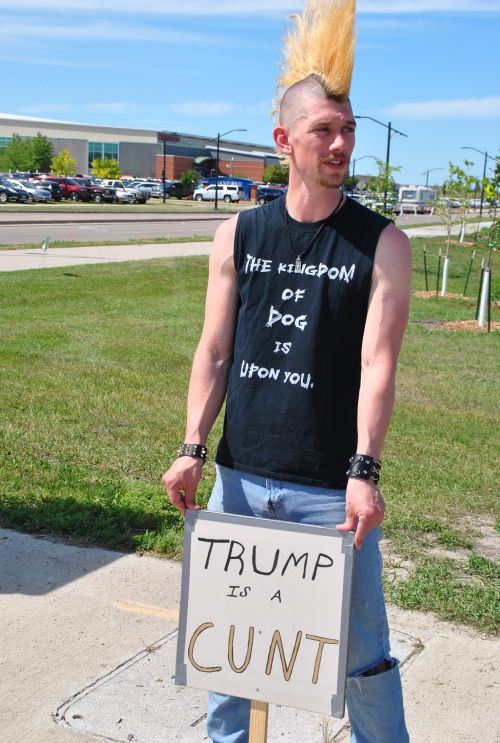 Candidate for the state's only seat in Congress, Mac Schneider, organized a pro-agriculture rally with farmers and ranchers Wednesday morning, and later called upon his Republican opponent, Kelly Armstrong, to talk to the President about the trade war's negative impact on North Dakotans.
Soybeans have dropped to ten-year low prices, and historically 71 percent of the state's soybeans are exported, with a majority going to China.
Boosted by socialist winning streaks in Pennsylvania, the stunning primary victory of Ocasio-Cortez of New York, the Red River Valley Democratic Socialists of America joined in the fight against President Trump's Administration, specifically targeting the "deportation machine," while handing out signs titled "No Deportations," and "Abolish ICE."
While counter protests lined the avenue outside the arena, Trump fans performed the wave, and cheered wildly when Trump promised balanced budgets, a border wall, and tough immigration policies.
"Thanks to Republican leadership America is winning again, and America is being respected again all over the world," Trump said. "We've gained $7 trillion in worth, economic worth, and other worth, more important worth, we're respected again, we're putting America first, we're making great trade deals, and people don't realize this. We're gonna get along with China, we love the European Union, but the EU was setup to take advantage of the United States.
"You know all those red hats and those white hats, "Make America Great Again," and that's what we're doing," Trump said.
"What are we gonna say in two years? 'Keep America Great.' Exclamation point."