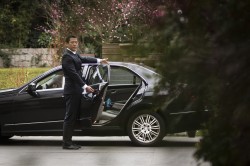 Starting Thursday morning, F-M residents will have another option for travel throughout town. Uber, the car service app that has become a popular transportation service in major cities across the U.S., has landed in Fargo.
The service operates without a dispatcher, putting the power in the hands of the consumer and driver who find each other via a map that shows who's available. The advantage of Uber is that, most of the time, passengers can find a ride within a few minutes.
This past session, after first considering a bill that Uber said would have prevented them from arriving, the North Dakota Legislature passed a law making it easier for Uber to do business in the state. Uber General Manager for ND, Sagar Shah, flew to the state to testify and provide some education on which bills Uber could live with and live without.
"To give you a little bit of history, Fargo has actually been on our radar for some time now. We've been looking at the Fargo market especially because it's really been a growing tech community and a lot of interest from those Fargo residents for something like Uber," Shah told HPR. "So just as a tech hub, a place that embraces innovation, we've been excited about bringing Uber to Fargo. We moved Fargo to the top of our list of places to launch just since the signing of the bill at the end of April. That really brings us to this week. We're really excited to start operations on Thursday."
Uber is still looking for drivers in Fargo on their website at Uber.com/drive. There is an extensive screening process for drivers to make sure passengers are transported safely.
"Every driver, before getting into our platform, has to undergo a thorough background check process, which is a series of steps," Shah said. "The elements which are a part of that process are your motor vehicle records that are searched -- so these are your moving violations, any history of drunk driving, anything like that. After that we check county, state and federal criminal background checks search. Any criminal acts that you have been accused of that are on your record, those are screened as well. We also screen the sex offender registry as well as the terrorist watch list."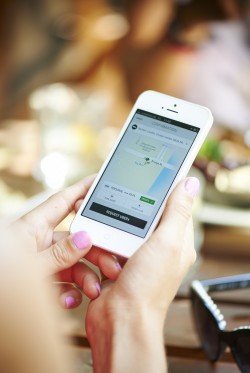 Paying for Uber rides is a cashless transaction. Users pay with credit cards and they must download the app to their smart phone. One aspect of Uber that has been criticized is surge-pricing during peak hours, when rides can cost multiple times the average price. In New York City on New Year's Eve, for instance, there were reports of Uber passengers paying hundred of dollars for an Uber ride to go a few blocks. However, during surge times, users are told how many times the average their fare will cost.
"It's important to note that whenever there is surge pricing, it's clearly indicated in the app," Shah said. "In addition to actually just showing the surge multiple to the rider, they also have to physically type in what the multiple is before requesting so it's kind of like an electronic signature that I'm confirming that I am going to be requesting a surge trip. The reason behind surge pricing is really just balancing supply and demand. It's just kind of simple economics."
Uber drivers decide when they want to work by logging onto the system and logging off when they don't. Many decide when to work based on demand.
One of the most applauded aspects of Uber has been DUI deterrence. Fargo has topped binge-drinking city lists for many years and anyone in downtown Fargo at 2 a.m. can relate to the difficulty of acquiring a cab when so many others are requesting. Mothers Against Drunk Driving (MADD) conducted a study that showed that four in five (78 percent) respondents said friends are less likely to drive drunk since ridesharing services like Uber started operating in their city. Uber officials say it has had direct impact on DUI deterrence since arriving in other cities.
"To give you some statistics from other cities and communities that we operate in, in Seattle for example, there was a reduction of 10 percent in DUI arrests after Uber started operations there," Shah said. "So it's really bringing safe options for the road, especially late at night where some of this more dangerous driving may be occurring. And that's really one of the great socio-economic impacts that Uber can bring to communities."
Daniel Haglund is an approved Uber driver who is hoping to give the very first ride in Fargo. Haglund, a former newspaper employee who would leave work at 12 a.m., frequently gave drunk friends sober rides after work. He is looking forward to getting paid to give safe rides instead of giving them for free to friends.
"There's no way to guess what percentage it will decrease the DUIs, because who knows how many people are going to get pulled over," Haglund said. "There might just be as many people getting pulled over, but I think that there's going to be a certain percentage of people that are going to be getting home safer with a sober driver using this service."
Haglund has heard from friends about the difficulty of acquiring a cab late at night in Fargo during busy times.
"If it's a busy night in Fargo, or if it's a concert night or New Year's or special event night, I've heard people say they have a 45 minute or hour wait, and on really busy nights two hours," Haglund said. "I think those nights will be the main concentration, but then I think that when people get used to the service, they may call [Uber] first instead of calling the cab. That's kind of my anticipation. People will just log onto Uber and then they will check to see how many drivers are available, because you can actually see on a physical map where those drivers are … it will be pinging off of their phones and back to the satellite in the user phone."
Shah said Uber is not trying to put cab companies out of business but rather provide another option for residents of Fargo who seem to clearly need it.
"I think different people will have their preferences of ordering rides in different ways. For those who are more embracing of new technologies and very active with their smart phones and things like that, this is just an added option for them. It's important for people to have this option," Shah said. "There's some people who use Uber and have never even used a taxi in their life. So it's really creating this new market for new types of people and creating an innovative way for people getting around."