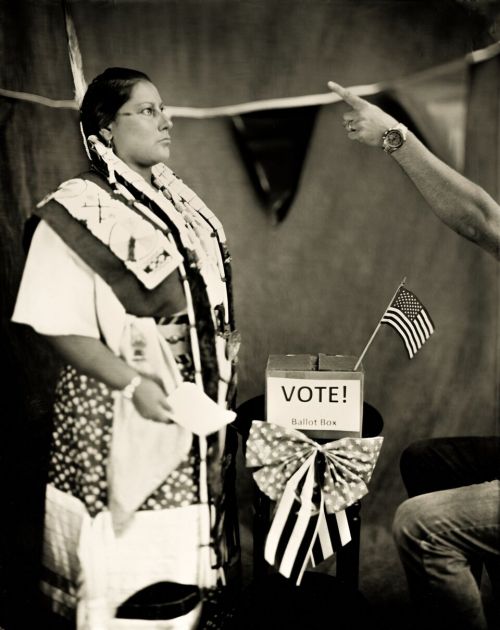 BISMARCK – The state's agenda to suppress the Native vote is already working during early election. A handful of votes have already been denied because their addresses didn't match the Secretary of State's confusing database.
The suppression is backfiring, however. Indigenous voters are applying for new IDs in record numbers. Absentee ballots in some reservations have quadrupled. Native voters are fighting back and yet the state remains mostly quiet and callous to Native concerns.
Additionally, the Spirit Lake Sioux Nation filed a lawsuit on October 30 against North Dakota Secretary of State Al Jaeger seeking a restraining order to halt the new law that stipulates all voter IDs must have a physical address instead of a post office box address.
An unusual notion, Spirit Lake Sioux Tribe Chairperson Myra Pearson said, because it was the government who gave out the post office box addresses to begin with.
Pearson's grandfather wasn't a citizen when he was drafted into World War II. He obtained citizenship after his return, she said. She remembers not long ago when the tribe's post office was taken away due to budget cuts, and people were forced to travel long distances to check their mail.
"Now we have got used to that, and people are getting their mail and now they want physical addresses," Pearson said. "They were the ones who gave us those addresses and now they want to us to prove these correct addresses.
"They say they want to work together; this isn't working together. They're not trying to work with us. They're trying to make everything difficult."
The state's emphasis on numbers is puzzling to Pearson, and thousands of other Natives belonging to the four tribes in North Dakota.
"I feel like I am a cow or something," Pearson said. "I'm upset."
Her tribal office responsible for issuing new identification cards has extended their hours from 8 a.m. until 6:30 p.m. every day, and so far have given out 316 new tribal IDs, she said. Normally, an identification card costs $11, but the tribe is giving the cards out for free.
According to court documents within the Spirit Lake Sioux Tribe lawsuit, 41.3 percent of families on the Spirit Lake Reservation live in poverty. They often move from home to home. Although the state is requiring Natives to change their IDs, the government has not provided the tribe with any resources, financial or otherwise, to conform to the new requirements.
Spirit Lake vs. Al Jaeger
Dion Jackson, a member of the Spirit Lake Tribe, obtained a non-driver's ID issued to him on March 28, 2017 with a street address that he is able to receive packages from UPS and FedEx. This year, he applied for an absentee ballot. The Benson County Auditor replied to Jackson's post office box address on October 22, 2018 saying his application had been rejected because his application "does not match the address in the ND DOT database or is an invalid address."
"Mr. Jackson's right to vote an absentee ballot has been denied on the basis of a supposedly 'invalid' address despite his use of an address that is on his North Dakota state-issued ID, is the only address the residents of that home have ever known, and is used by FedEx and UPS to deliver packages," the lawsuit, which former U.S. Attorney Tim Purdon is leading, stated.
Leslie Peltier, also of the Spirit Lake Sioux Tribe, received a North Dakota driver's license in 2013 with their state-allocated 911 address. After trying to vote in Belcourt, they were told they had to travel to St. John to vote in state and local elections.
The Peltier's address is not recognized by the Secretary of State's "My Voting Information" online tool, and the only address the tool can find with the house number 10296 is on BIA Road 7, according to the lawsuit. The Peltiers do not live on BIA Road 7.
"The Peltiers plan to vote on Election Day," the lawsuit stated. "They fear that they will not be permitted to do so because the residential address on their IDs does not match the assigned 911 address for their home in the state's files."
Terry Yellow Fat, a 69-year-old member of the Standing Rock Sioux Tribe, lives in Fort Yates near a sign that reads "Buffalo Avenue." When he went to the courthouse to obtain his 911 address, he was given a number along 92nd Street.
"There is no sign on his street that says 92nd Street," the lawsuit reported. "He had never heard of this address before."
Yellow Fat attempted to use the address to receive packages, but the orders did not arrive. Eventually, a UPS delivery person told Yellow Fat they couldn't find him because his 911 address belonged to a liquor store down the street.
"Because the systems for assigning and verifying residential addresses are deeply flawed and produce conflicting and inaccurate results, and have generated significant confusion, qualified Native American voters face a substantial risk of being denied the right to vote," the lawsuit stated. "Indeed, Native voters, like Mr. Jackson, have already been denied access to the ballot."
When contacted all 911 coordinators reported that the process for obtaining a residential street address is a low cost and quick process that takes little more than a few hours.
"The facts bear a different story," the lawsuit stated.
Some Natives who have lived in their home their entire lives have two state-issued addresses. Others have difficulty getting fire departments to their houses. Roads in Spirit Lake are labeled 'unknown' in North Dakota's GIS Hub Explorer, the lawsuit reported. More than 15 people who live along Crow Hill Road had issues from the government when it couldn't decide if their homes were in Fort Totten or in Oberon.
Two weeks before Election Day, Spirit Lake identified 262 people who had post office box addresses on their IDs. Address issues aren't isolated to the Spirit Lake Sioux Reservation, but extend into Mountrail, McLean, Mercer, Dunn, McKenzie, Rolette, Benson, Ramsey, Nelson, and Eddy counties as well.
Jaeger refused to comment citing an ongoing lawsuit.
Turtle Mountain Band of Chippewa
At the Turtle Mountain Band of Chippewa Tribe, Candace Parisien, director of the tribal Department of Motor Vehicles reported her office so far has issued 1,050 new tribal IDs.
From the time her office opens until it closes, she keeps busy, she said, and doesn't think the line will slow down before Election Day.
Standing Rock
When asking the Standing Rock Sioux Tribe's office address, the operator paused, then asked Phyllis Young if 1083 Redtail Hawk Avenue was the correct address.
She was pretty sure it was.
The Standing Rock Sioux Tribe reported no incidents of people being turned away from the polls yet during early election or absentee ballot, but like other tribes, they are actively working to provide transportation to and from the polls.
As if changing identification cards wasn't troublesome enough, the state has recently denied requests for additional voting hours, as per state law.
"Natives have asked for early voting which started September 27th," Young, a former councilwoman and spokesperson for Standing Rock, said. "That request for Sioux County was denied. We have five polling places. Two open at noon. We asked that all five polling places open at 7 a.m. to 7 p.m., which is state law. Request was denied. We asked for a second site to be opened at Tribal Headquarters. Request was denied."
Young lays all the blame at Jaeger's feet.
"Al Jaeger is overseeing the State Elections," Young said. "Al Jaeger filed the appeal against the Natives in the lawsuit in the Supreme Court. Al Jaeger is the official who made the decisions on the request and signed off on it. He met with the Chairman informing him of the decision."
A total of 440 new Standing Rock identification cards have been issued so far, Young said. The tribe's record for absentee ballots was 77 filed, but this year the number nearly quadrupled to 281 absentee ballot requests.
"Article 6 of the 1868 Treaty Dakota Lakota became citizens of the United States and we are entitled to all the privileges and immunities as citizens and shall at the same time retain all rights accruing to the Dakota Lakota under the treaty," Young said. "We have always fought for our right to vote."
Former Democratic candidate for Congress, Chase Iron Eyes, a member of the Standing Rock Sioux Tribe who is also with the Lakota People's Law Project, said they didn't need physical addresses when the boarding school agents and the police snatched their grandchildren away to boarding schools.
"We didn't need physical addresses when they came to pick us up when they drafted us to fight their wars: World War I, World War II, Korea, Vietnam and so forth," Iron Eyes said in a video he posted to Facebook. "Now all of the sudden we need physical addresses to exercise one of our most basic fundamental rights in a representative democracy.
"We didn't ask for North Dakota to implement a suppressive voter ID law, but they did. They brought this fight to our front door again."
The U.S. Commission on Civil Rights is watching
Kirsten Dauphinais is on the North Dakota Advisory Committee to the U.S. Commission on Civil Rights, and said the new voter ID law is on the front burner of the organization's interests.
The U.S. Commission on Civil Rights is a 61-years-old, bipartisan, independent commission of the federal government charged with investigating, reporting on, and making recommendations concerning civil rights issues in the United States. Dauphinais's job now is to watch, collect evidence, and then study how the law may or may not have affected the Native vote after the election, and file her report with the U.S. Commission on Civil Rights.
"The North Dakota Advisory Committee to the U.S. Commission on Civil Rights is deeply concerned about this situation and monitoring legal developments very carefully," Dauphinais said.
The Spirit Lake Sioux Tribe in its latest legal filing against Jaeger is saying they want a restraining order against the current law. The previous U.S. Supreme Court opinion siding with Jaeger was never heard. The highest court in the land's decision was a denial to hear the case partially based on the fact that the plaintiffs had received proper identification since the lawsuit was filed, and were therefore no longer disenfranchised.
Thousands of Natives, approximately 70,000 people who live in remote areas, or have never known their physical addresses remain, and could be disenfranchised because of the new law.
"So they did make a jurisdictional ruling that the issue was moot," Dauphinais said. "But what the Spirit Lake Tribe is saying is 'We have revised again with the filing that happened on Tuesday, and the issue is not moot, it's active and we have complainants that show injuries. We have standing to file this suit.'"
The temporary restraining order the Spirit Lake Tribe seeks is based under 14th Amendment Equal Protection Argument, which stipulates that voting is a fundamental right and Native Americans are being denied access to a fundamental right on the basis of their race. The First Amendment – the freedom of speech – is also mentioned in the lawsuit.
If the Spirit Lake Sioux Tribe can prove that the state's stance violates the Constitution, and that the government has an interest in suppressing their rights to vote and those of free speech, which falls under the First Amendment, and that the state has other less restrictive options available, then the voter ID law could be struck down, Dauphinais said.
Despite the apparent attempts at suppressing the Native vote, most tribes are reporting an increase in interest this midterm election.
"When you suppress a people, they rise," Chase Iron Eyes said. "That's exactly what is going on right here in Standing Rock. In our hearts and our minds we know the Indian Wars have not ended, they've only changed forms… When you suppress a people, we will rise, we all need to be saying that in this country, doesn't matter what your background is or what differences they assign to you or whatever you think you might be, we got to realize that we are all in this together."
"We have been challenged and we are going to vote like never before," Phyllis Young said.