Walz to Moorhead: Community is 'critical'
by Bryce Haugen | .(JavaScript must be enabled to view this email address) | News | November 6th, 2019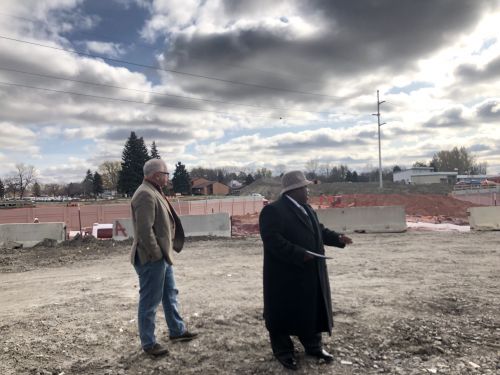 Minnesota Governor Tim Walz comes to Moorhead quite frequently. He campaigned hard last year in this city of 45,000 on the western edge of the state. In January, he brought his multi-city inaugural party - One Minnesota - to Junkyard Brewing. In the months since he's flown in several times to talk policy with local leaders and attend ceremonies.
Walz returned to town on October 29 as a part of his two-month bonding tour. The goal of the tour is to help the governor and his staff prioritize projects for their 2020 capital investment request.
"I love (Moorhead) and I think it's imperative for me to be out and be on the ground, I come up here for projects, whether it was the groundbreaking of the underpass or here talking to students about tuition costs and we're back again here on this bonding tour," Walz told the High Plains Reader. "This community is critical not just for northwest Minnesota, it's critical for all of Minnesota, we have a vibrant educational community here, we have of course an agricultural community here and manufacturing."
Following a stop in Detroit Lakes at a state-of-the-art wastewater treatment plant, Walz - along with Myron Frans, commissioner of Minnesota Management and Budget and Thom Petersen, agriculture commissioner - arrived at Weld Hall, the oldest and perhaps most iconic building on the Minnesota State University Moorhead campus, but also the one with the most issues. There are deferred maintenance, antiquated classrooms, and disability accessibility concerns. It's the university's top priority in this bonding cycle.
The $17.3 million projects ($628,000 was approved for design in the 2018 bonding bill) would completely renovate classroom space, increasing space utilization. Glasrud Auditorium, the centerpiece of Weld would become a multi-purpose venue for use as a teaching lab, lecture hall, performance space and space for workforce training events.
"It's a great campus here, obviously we have leaders that are looking to the future," Walz said after a tour of the hall. "I think they understand preserving that heritage in Weld Hall. It's obvious to anybody who walks in there that it's simply not modern, it's not accessible. We don't have ADA compliance and the classrooms are outdated … It's helpful for me to get out here and my takeaway on this is: This is an asset that's critical to this community, it's critical to Minnesota. They're being smart about how they invest in it. It is not going to fix itself and it is not going to get any cheaper. We lose this asset if it continues to deteriorate and that ends up costing us more in the long run."
MSUM is also requesting Higher Education Asset Preservation and Replacement dollars: $7.3 million for HVAC upgrades to Bridges and Owens halls, $523,000 for a new chilled water system in the Center for the Arts, along with $1.16 for ADA ramps, exterior door and window replacement in Murray Hall.
"These (bonding bill projects) are foundational things that make the state great; foundational things that help the state grow," Walz said in remarks before the tour. "And education is amongst them. As governor, it's important for us to see the entire state, to understand that this project at Weld Hall does not just impact this campus, this community, it impacts the state. We want to know what the taxpayer dollars are being used for, what we're going to get out of them, what it will change in terms of educational opportunities. Minnesota is one of the top five states in fiscal responsibility, one of the things is the preservation of these assets. If you think it's being financially thrifty to not keep up your assets, you will find out very quickly that you will not be able to borrow at the best rates. We think this makes sense. We're financially sound, we're in a position where we can do this. There is a pent-up desire to get these projects done and we have historically low-interest rates."
Currently, the governor's office is "sifting through" 5.3 billion in bonding requests, Although the state could theoretically borrow up to $3 billion, Walz said, it's more likely that his request would be in the $1.3 billion range, similar to the proposal that failed to pass the last session. "The challenge right now is making the case to folks that if we invest in infrastructure we're going to see a payback," Walz said.
The Senate, which is controlled by Republicans and the House, led by the DFL will each submit their own proposals. Compromise is crucial, Walz said. "It shouldn't be as difficult as it is but in America today, agreeing that it's Tuesday is difficult."
After leaving MSUM, Walz and his entourage zipped over to the 21/20th Street Underpass project, which was largely funded with $78 million in state bonding dollars and is slated for completion next year.
Walz said that the project, which will literally save lives by allowing first responders to avoid trains, is a textbook example of what the bonding bill should be used for.
City officials made the case for funding for $57.5 million for an 11th Street Underpass. The projected public benefits, over a 20-year period, are that it would save 4 million vehicle hour delays, reduce emergency service delays (9 per month), prevent 575 crashes and have a downtown redevelopment potential of $113 million.
The top priority for Moorhead and Clay County is for $8.5 in bonds for a Solid Waste Transfer Station and Resource Recovery Campus. Additionally, the city hopes to get $33 million in this bonding cycle for further flood mitigation projects. A longer shot proposal - at least for this bill - is $9.5 million for a Moorhead Community and Aquatics Center.
During his stop, the governor fielded questions from reporters that went beyond the scope of the bonding visit.
The High Plains Reader asked Walz how he plans to bridge the divide between Greater Minnesota and the metro area.
"I can use my office platform to make the case that as Moorhead goes so goes Mankato, as Mankato goes so does Mahtomedi and we just go across the state and we're in this together," he said.
Walz, who hasn't said much publicly on the $2.7 billion Fargo-Moorhead diversions voiced his support for permanent flood protection that is currently being litigated in federal and administrative court.
"We need to get these things done, we need to do them right and soundly," he said. "We need to make sure that folks both up and downstream are taken care of. To be very clear, when people mention 500-year floods, we need to readjust that. They're coming about every five to ten years. Thinking about how we do infrastructure to anticipate and mitigate changes in climate just makes sense. That's one of those projects."
Walz flew up to East Grand Forks following his Moorhead visit for a roundtable with farmers who are struggling with the wickedly wet fall.
"First, the state hears them," Walz said in response to a Minnesota Public Radio reporter's question. "The words we're hearing are unprecedented. There are things we can't control, the weather being one of them, but it's frustrating the things we can control like trade deals. We need to get those things done, but that doesn't do much for the folks that are stuck in the field. That's why we need to make sure the safety nets are there. Rules about moving propane, property tax relief. We need to let them know the state cares about this and we can't allow folks to go under. The vibrancy of our economy is predicated on those folks and, again, a lot of the problems we have in farm country we brought them on ourselves in trade. The situation here is a perfect storm of really bad things."
Helping farmers with mental health is important, Walz said. It's also particularly important for veterans and children, who he said research shows are turning to vape to deal with undiagnosed issues.
"We're on the front edge of this," Walz said. "We don't really have a mental health system. It's not that it's broken; it never existed. When I went to Congress in 2007 and was on the VA Committee we were having a heckuva time with veteran suicides, not getting the help and we knew one of the reasons this was is we were driving people away because we would not bury people in a veterans cemetery if they took their life by suicide. We stigmatized it. We're really focusing on that; we know it's out in rural country and farm country and in our schools and we'll start addressing that."