War on Women
News | August 21st, 2014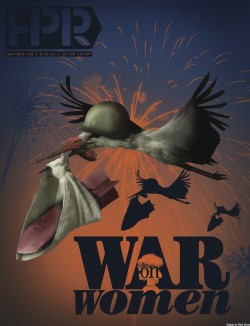 The campaign to oppose Measure 1 begins
Opponents of Measure 1, the "Life Begins At Conception" amendment on the North Dakota ballot, have officially began their campaign. North Dakotans Against Measure 1 opened their Fargo office this week and began making arguments about why it should not pass. It is sure to be one of the mostly hotly contested issues of the fall campaign and of the eight measures on the statewide ballot.
The measure, upon voter approval, would amend the state constitution to provide persons the "inalienable right to life" at every stage of human development. Opponents say that could lead to unintended consequences that the average voter in North Dakota would not approve of. It would also result in North Dakota having some of the strictest abortion laws in the country.
Karla Hanson is a committee member of North Dakotans Against Measure 1, a group consisting of volunteers including doctors, lawyers, hospital chaplains, parents and others concerned about the effects of the measure, should it pass.
"Measure 1 would permanently change the North Dakota constitution with a single sentence. And that could lead to government intervention in private medical decisions," Hanson told HPR. "We're concerned that because Measure 1 is so vague and poorly worded, it would really have far reaching consequences to North Dakotans health care decisions. Some of the areas we are particularly concerned about are end of life directives and fertility treatment."
While no one is certain what will happen if it passes, opponents say the language involved could easily lead to some interesting legal issues. Steven Morrison is an assistant professor at the UND School of Law, where he teaches constitutional law. He explained to us the potential issues with end of life directives and do-not-resuscitate orders if, for instance, family members or even the state and congress dispute the orders and directives, such as in the Terri Schiavo case.
"Measure 1 raises the possibility that people in such situations will never have their living wills or their do not resuscitate orders respected and the argument could be, 'Well sure, that person passed a living will or created a living will when they were competent, but now that they are incompetent, we don't really know what their desires are and so we as a state must protect their right to life at any stage of development. Therefore, we're not going to support living wills,'" Morrison said. "Officers are going to have to arrest doctors that execute living wills, prosecutors are going to have to charge, courts if faced with the question of are living wills or DNRs valid are going to have say they are invalid."
As to how it could affect in vitro fertilization, opponents say because supporters of Measure 1 believe life begins at conception, they would oppose any fertilized eggs destroyed in the process, effectively causing a legal grey area over IVF.
"If you believe those eggs are lives, as I assuming all of Measure 1 supporters do, then that's ending life," Morrison told HPR. "And if Measure 1 is passed, it's going to require the state to protect the right to life. Life, according to Measure 1 supporters, includes those fertilized eggs, which would undermine IVF. So I do think IVF would be threatened with Measure 1. And my understanding is you would want to check this with the doctors but my understanding is that the IVF doctors are preparing to stop IVF treatment if Measure 1 passes because they are fearing liability."
Another matter is the effect on pregnant mothers who may be in jeopardy, like in such cases as ectopic pregnancies. In the situation of a pregnant mother who has to choose between saving her own life or her child's life, whose life will be valued more?
"Measure 1 would introduce a huge conflict in that situation because, on the one hand, the woman has a right to life but on the other hand under Measure 1, the fetus potentially has a right to life, so which life is the state going to favor? I am not saying that Measure 1 would outlaw ectopic pregnancy because you have the right to life of the mother involved, but what I am saying it would create a legal conflict that would have to be resolved by the courts," Morrison said.
ND Choose Life, a coalition of pro-life groups formed to support Measure 1, recently released a white paper and YouTube video, refuting some of these assertions. They argue that Measure 1's purpose is to protect existing North Dakota laws relating to life from legal challenges and judicial activism. They also state that it wouldn't affect end of life issues because state law and federal rights protect these rights and they say Measure 1 wouldn't trump those.
But exactly what are Measure 1 supporters goals? Hanson said proponents have been clear about that all along.
"The intention of Measure 1 is to ban abortion without exceptions. That was stated when Senator Margaret Sitte testified in favor of this when she ushered it through the Legislature in 2013. She said that the intention of this measure is to challenge Roe vs. Wade," Hanson said. "I think the immediate reaction would be a costly legal battle. It would be really drawn out and taxpayers would again be expected to foot the bill."
Dina Butcher is a Republican who worked for former ND Governors Ed Schafer and John Hoeven and ran for Ag Commissioner in 1996. After spending years away from politics, she is now chair of North Dakotans Against Measure 1 and is involved in this issue because she feels Republicans who support the measure are going against their party's principles.
"The reason I am Republican is because I do believe the government needs to stay out of our business and out of our personal decisions," Butcher said. "When I saw the course that the Legislature was taking on these issues, I became concerned and righteously indignant because I felt that they were doing things right on the one hand of trying to keep less government and on the other hand they were directly interfering in decisions that should remain very personal between women and their doctors and their priests and their families."
Despite being one of a very few North Dakotan Republicans speaking out against Measure 1, Butcher hasn't seen much backlash other than being appointed to serve on a resolution committee at the state party convention where she was up against a well stocked majority on many of the issues that she had spoken out on.
As to why more moderate Republicans in North Dakota don't speak out on issues like Measure 1 or are afraid to, Butcher has a theory.
"There's a certain amount of intimidation because people are so ardent in their opinions and I believe that people have received really uncomfortable mailings after opposing measures like this," Butcher told HPR. "They have helped to get them unelected and I think this was ducking the bullet for a lot of people, for a lot of Republicans who didn't want to have to face this issue in the re-election campaign. But in their heart of hearts, I don't think they believe that they see this as a constitutional measure."
"But I think when they go into the voting booth, a lot of the people that may have sponsored the bill or voted for the bill will vote no on this amendment because they know that it's going to cost the state a lot of money in litigation, it's not going bear up under the U.S. constitutional test and it's not fair to the people."
Opponents also wonder who is really behind this push. Was it local legislators or someone behind them pulling the strings? Out of state groups like Personhood USA, The National Right to Life Committee and Family Research Council all brought people in to testify in favor of the measure when it went through the Legislature?
"I think there is a national agenda. There were several national organizations, people that were brought in for that purpose. And they are national campaigns and they are funded by deep pockets out of state," Butcher said.
Also unknown is the impact of Measure 1 on healthcare for all North Dakotans from doctors who fear legal challenges on life issues.
"If North Dakota passes this amendment, we know that existing physicians and medical students will hesitate to practice in the state," Hanson said. "They don't want to face criminal charges if something they do is interpreted to be inconsistent with this amendment that says they must protect life. And so we know that a lot of existing doctors and medical students have testified that they won't practice here if the measure passes. And that will really impact health care access for all North Dakotans across the state. If hospitals have a harder time recruiting and retaining their doctors, it's going to affect all North Dakotans."
While Butcher is a pro-choice Republican speaking out on the matter, she feels the issue is about more than abortion.
"This is not about pro-life or pro-choice, this is about the continuum of life and government interfering in making those choices," she said. "I think every person who is opposed to abortion can see through that this has a lot to do with not with just that but with decisions they would make along the way. I think good, common sense North Dakotans see that this is not well worded. If it's about abortion, they should have said that in the amendment and laid it out that way. But the unintended consequences from the way it is worded about the continuum of life is what worries me."