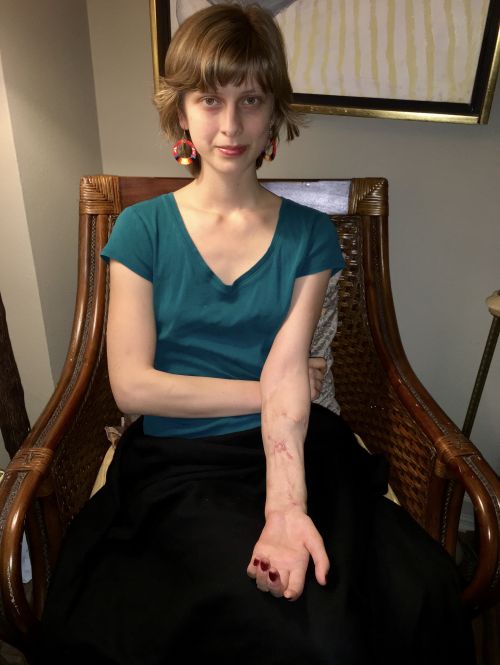 Sophia Wilansky says she's lucky she's right handed. Since nearly losing her left arm from an exploding projectile on Backwater Bridge one year ago, cooking has become a tedious art. She can no longer be involved in circus acrobatics.
Daily chores like carrying a purse by its strap, or lifting a grocery bag, aren't possible. The injuries are permanent; she will carry the scars all her life.
"Makes it harder to do a lot of physical things, can't even do a downward dog properly in yoga," Wilansky, 22, said during a video interview. "Everything takes a little more energy, even reading a book, with two hands."
Was it worth it? Wilansky smiles, hugs her injured arm closer.
"Yes. Definitely," Wilansky said. "One of the most fulfilling things you can do in life is to act with integrity, for the things you believe in, and make the world the place it's supposed to be, and once was. It's fulfilling. It's worth it from even a personal perspective."
Since her injury outside of Standing Rock during the Dakota Access Pipeline controversy, agents from the Federal Bureau of Investigation have hounded her.
"We have yet to determine why or what their basis of information was," Wilansky's attorney, Lauren Regan said. She is the founder and executive director of the Civil Liberties Defense Center in Oregon. "Since then, they say she blew herself up, accidentally, and that water protectors were responsible for this percussion grenade that hit her in the arm."
FBI agents also took the shrapnel taken by surgeons from Wilansky's arm, and Regan will be filing a federal lawsuit called a suit of equity within a week to demand the FBI turn over evidence.
A year has passed since Wilansky's injury on Backwater Bridge, and Regan admits she's worried evidence could have been tampered with. But surgeons took pictures of the shrapnel and Wilansky has not been indicted, which is a good sign the government has no case.
"It does seem preposterous with all this time and resources the government has, that they have not had the time to test this fragment," Regan said.
She's already filed a notice of claims against the State of North Dakota and law enforcement divisions involved. If the FBI is hiding something, she intends to find out.
"If we determine that the FBI is part of the cover-up, they will be added to lawsuit as well," Regan said. "She's endured all these injuries, and surgeries, and prosecution, and yet she is still an incredibly strong woman and still involved in the movement and standing up for what's right. She is a positive role model for other young people who are struggling and unsure how to contribute."
One year ago November 21, Wilansky had already been at the Standing Rock camp known as Oceti Sakowin for 17 days. She spent her nights in a tent, in deteriorating winter conditions, and her days with Standing Rock activists, known as water protectors. As a recent college graduate, she had little experience with activism, and a rudimentary awareness of the consequences of colonialism for America's Indigenous people.
"It was the place to be in 2016," Wilansky said. "But I already had an interest in fighting pipelines, and I had an intellectual interest in decolonization."
Before standing against the Dakota Access Pipeline, she first became involved against Kinder Morgan's Northeast Energy Direct in her home state of New York, which piqued her curiosity about climate change.
"Honestly, it's cliché, but I went on a climate march in 2014, and so I think that helped awaken the dormant necessity of relating everything to climate change, because it's so urgent."
Life without fossil fuels is nearly impossible, she said, but she's trying to lessen her carbon footprint by driving in an altered van that runs on used free vegetable oil from fast food chains.
"That's still not going to solve the problem," Wilansky said. "Ultimately I want to live in an eco-village, where you don't have to live with the guilt of ecological destruction, and focus more on eco-revitalization."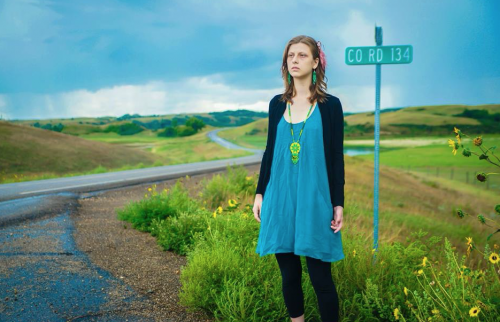 Early evening: September 20, 2016
Wilansky stood with hundreds of activists against a brightly lit blockade at Backwater Bridge, north of the Standing Rock Sioux Tribe Reservation. Coils of razor wire sparkled, icicles quickly forming from water cannons blasted into the crowds.
Two burned-out DAPL trucks formed a V in front of massive cement blocks. The water cannons came from fire trucks, and behind each door and jutting from military vehicle turrets stood sharpshooters with less lethal rounds.
Strangely, the plastic bin lid she used as a shield worked well against the water cannons, but did little to stop the rubber bullets. Earlier in the evening she was hit twice, once in the groin, and once in the chest. The upper portion of her left arm still bears the scar from where another rubber bullet broke the skin. Her clothes were soaked, and when she got too cold, she warmed up around fires out of the water cannons' range.
"It wasn't really bad, it took me a while to figure out why they were doing it, and at first we thought it was some kind of chemical they were spraying us with," Wilansky said. "So many people were letting the water splash over them in an interesting form of defiance. It was really horrible, a human rights violation, but at the same time it was an incredible display of strength, the joy of being in water.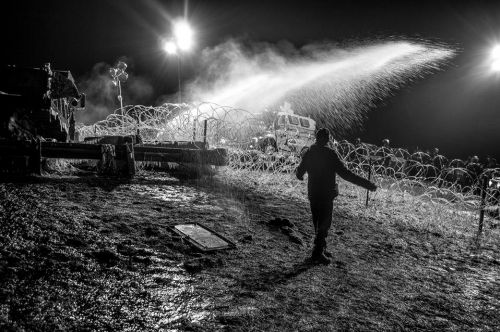 "I think it was a very spiritual action because it just felt like I said, defiance, to this basically military occupation right next to the reservation and next to Oceti. I don't think that people had any illusions that this action was going to accomplish anything concrete, in the moment, and there were many actions with that same flavor.
"We were just saying 'We are here, and we are not afraid.' Just being there and holding that space, at that point in the struggle it was an act of resistance."
Since 4 am, November 21, 2016
The blast knocked her down, hard. Pain was excruciating. At the time, many media outlets reported she lost her arm, and for a time, Wilanksy thought she had.
"In the early morning hours of November 21, 2016, police launched an exploding munition at Wilansky, which tore off most of her arm and left her gravely injured," a press release from the Civil Liberties Defense Center stated.
The explosion ripped out the radius bone, muscles, nerves, and arteries, leaving her hand hanging by bits of skin. Friends placed her in a car and drove 30 minutes to an ambulance near Prairie Knights Casino. From there she was medevaced to a Minneapolis hospital, where doctors averted amputation.
Moments after she was struck, while waiting for the driver, Wilansky was afraid to look at her arm, and thought only about the medications she would soon receive to ease the pain. She never lost consciousness, and used her good hand to text a friend.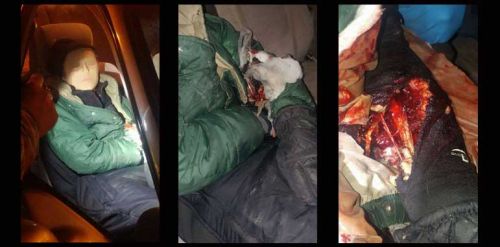 While at the Minneapolis hospital with her family gathered, "They were besieged by FBI agents who demanded Sohpia's clothing, medical records, cell phones, and even threatened her doctors." the Civil Liberties Defense Center press release stated. "Rather than attempt to ascertain which of the many armored police caused Wilansky's serious injuries, the FBI launched a federal investigation against Wilansky – even issuing a federal grand jury subpoena to the Native American Water Protector who rushed her to medical care."
Four surgeries later, her radial bone is slowly healing after a large bone graft. The metal plate inside her arm has not shifted, but she has no feeling in the palm side of her hand. Some feeling has returned from her forearm to her wrist, and she is able to wiggle her fingers now. A fifth surgery is scheduled, which will be a tendon transfer so that her thumb may move to touch her pinky finger. Pain, however, is still ever present.
On Monday, the Fargo Forum's Inforum ran a short editorial by one of their own, Rob Port, who wrote about the "unfortunate profile of NoDAPL activist" in the New York Post.
"It's all part of an ongoing effort by left wing propagandists to rewrite the history of the NoDAPL protests, particularly as we approach the one-year anniversary this week of their most violent episodes."
That night, long before a police report could be filed, long before Wilansky had arrived in Minneapolis, police and TigerSwan, the private security company for Energy Transfer Partners, the parent company of Dakota Access LLC, initiated a "False and defamatory media campaign attempting to blame Sophia Wilansky for blowing herself up… including publishing fake photos and other information in the Internet," the Civil Liberties Defense Center press release said, corroborated by emails obtained by The Intercept:
Ninety minutes after the standoff at Backwater Bridge began, Bismarck Police Officer Lynn Wanner told everyone to watch live feeds. A Code Red was issued at approximately 6:17pm. Nearly 15 minutes later, activists were attempting to remove the two burned-out DAPL trucks. Less lethal munitions were brought in at 7:16 p.m., and the fire truck arrived nearly 15 minutes later. By 7:45 p.m., officers were asking to retreat, and an FBI informant inside the camps reportedly found propane tanks set to explode.
By 9:58 p.m., the conversation between law enforcement officials and TigerSwan turned to preparation for a media backlash. Hundreds of reports of tear gas, pepper spray, concussion grenades, and water cannons used on people came across in an email around 9:43 p.m.
In total, more than 300 activists were injured at Backwater Bridge before dawn on November 22, including a woman shot in the face with a rubber bullet, many suffering from internal bleeding, hypothermia, lost consciousness, severe head lacerations, and multiple fractures.
Law enforcement relied heavily on social media feeds in early attempts to refute Wilansky's story. TigerSwan echoed law enforcement's worries of a media backlash by saying live videos would be turned into anti-DAPL propaganda. The North Dakota National Guard also weighed in, asking how to disseminate the government narrative to the public, and the public information officer with the North Dakota Department of Emergency Services suggested Port's SayAnythingBlog.
Citing disinformation, both Regan and Wilansky's family have said the government's narrative does not contain "a shred of truth."
"They're using what happened to me as an excuse to ruin the whole movement," Wilansky said.
Her only regret is that her time at Standing Rock was cut short.
"I certainly fulfilled some kind of purpose there, because what happened to me helped spur thousands of more people arriving. Ultimately, that didn't stop the pipeline from being built though."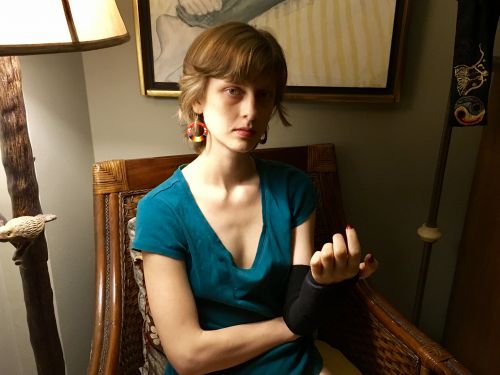 Wilansky encourages young people, especially, to become involved in causes they believe in.
"Being involved in this particular movement and land defense is a really good option for people finishing college and high school and not ready to go get a job, and taking the typical path. It's still possible for anyone to be a part of these camps, there's so many camps, so many struggles all over the world."
If Wilansky's injuries have taught her anything, it's that she will work harder for the causes she believes in.
"The police commit daily acts of violence against black, brown, and Indigenous people, murdering Native people at a higher rate than any other group," Wilansky said. "Extractive industry does the same thing, only more slowly and insidiously. The fact that state actors are willing to assault and maim anyone who stands for the water within an Indigenous-led movement only means that each of us must strengthen our resolve to contribute in our own way to the struggle to defend life and end the colonizing institutions that threaten it.
Despite her injuries, Wilansky isn't angry. "A lot of people are angry for me, I think, at the police and all the other entities that are giving me a hard time. There's lots of good reasons to be angry, but I'm not angry, because I already knew that's how this society works.
"No attack on my body or my character will silence me or prevent me from returning to the frontline as soon as I am physically able."