​'When you've been targeted for death it changes your life'
by C.S. Hagen | .(JavaScript must be enabled to view this email address) | News | November 2nd, 2019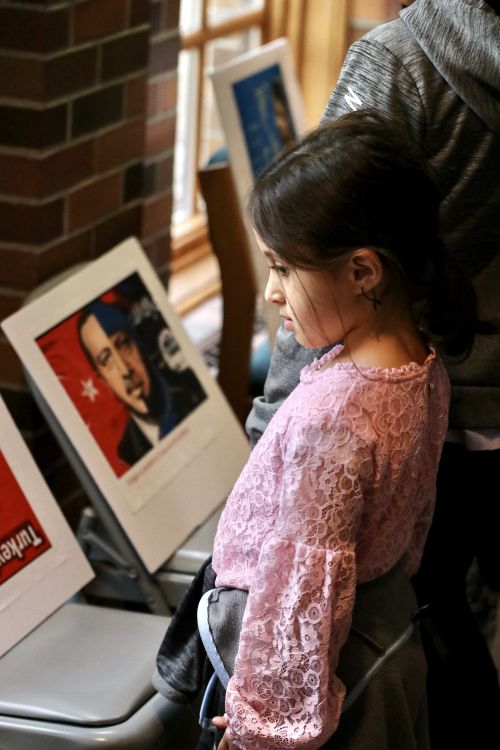 MOORHEAD — Varseen Khalil stumbled out of bed when the phone rang early one morning last week. Three a.m. calls rarely carry good news. A local friend was on the phone. He had received word from Syria that her uncle, a volunteer fighter in Kurdistan Syria, was shot by Turkish soldiers.
With limited access to information she knows he survived; he was patched up by medics because area hospitals are too dangerous. Even after being severely injured, her uncle refused to return home to Iraq because the ongoing fight in Syria is far too important, Khalil said.
"Now we can't get ahold of him," Khalil, 22, said. "We can't do anything. You don't know who to trust."
Her mother had a seizure after she heard the news, Khalil said. The stress that her family has endured since President Donald Trump's decision to withdraw troops from northern Syria, effectively opening the doors to the Turkish army, has been close to unbearable. Khalil and her family escaped Iraq while ISIS soldiers attempted to hunt them down.
Now that some areas are under American protection, Khalil asked a pertinent question during an event and protest coordinated by local Kurdish and Yazidi Americans at Trinity Lutheran Church on Saturday.
"Are the oil fields more important than children's lives?" Khalil asked during a speech. "We gave over 11,000 lives to beat ISIS, and now they're getting out. There is a big possibility that ISIS will spread now and start attacking Kurds in Syria too, and in Iraq too."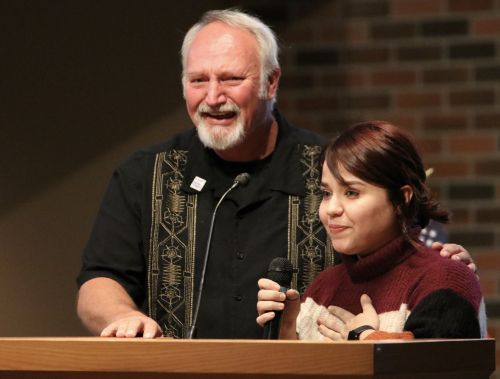 Dennis Kooren knows a little about what Khalil endured during her escape from her homeland. He too was targeted by renegade Al Qaeda soldiers while in Java, Indonesia, he said. If local citizens in Indonesia hadn't protected him and his family, they would have never made it out alive, he said.
"They put everything out there and put themselves on the line for us," Kooren said. "If they hadn't done that I wouldn't be speaking right now. When you've been targeted for death it changes your life. We need to be doing the same for our Kurdish friends here and show the nation that this is wrong."
Approximately 100 people showed up for Saturday event, which ended with a protest march to Veteran's Bridge and was organized in part by CHIRA Global Development Organization, a local community services and human rights group founded by Ezzat Alhaidar, once a front-line interpreter for the U.S. Army.
The event drew speakers from local city councilmen and women, the state Senate, and Kurdish Americans who said they felt blessed to be a part of the Fargo/Moorhead community.
'But when it comes to humanity, we need to stand with our people, and we need to stand with our allies, who have been so important to the war against ISIS," Haroon Alhayder, a Kurdish American, said. "The Kurdish people want peace and independence, and nothing more than that."
Khalil believes that the community's slow response to the Kurdish situation in northern Syria is because many people hear the word Muslim, and have fallen for Turkey's rhetoric that Kurds are considered terrorists.
"The Kurds were once upon a time a powerful nation," Khalil said. "And I think that's why, Racep Eddogan [Turkey's President] said the Kurds are terrorists. We have to show everyone why they can trust us."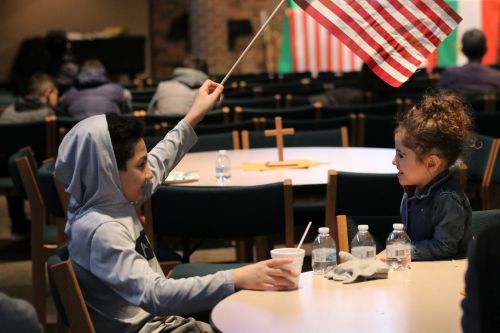 Moorhead Mayor Jonathan Judd reiterated the Reverend Martin Luther King Jr.'s words by saying, "Injustice anywhere is a threat to justice everywhere.
"What happens thousands of miles away does affect Moorhead residents," Judd said. "Here in Moorhead we choose justice over injustice. We choose love over hate."
"What Trump has done is unbelievable," Kooren said. "He spit in the faces of our allies and put our national security at risk. The Kurdish people are holding the Islamic faith in the way that it is meant to be held."
"Their families are in peril and our country has forsaken them," Moorhead City Councilwoman Deb White said. "Their pain is our pain. It's the failure of our ability to love our neighbors that leads to genocide. We've seen that all too often throughout history in Germany, Syria, Iraq, and elsewhere."
"Turkey is fighting for terrorist groups to unite," Kurdish American Azad Berwari said. "What about our national security concerns, why do we recognize Turkey's statements?"
State Senator Tim Mathern pointed to young teenagers in the crowd and declared that he hopes that such young men and women would become the future leaders of the nation.
"We are blessed to have you here and in this area of the country," Mathern said.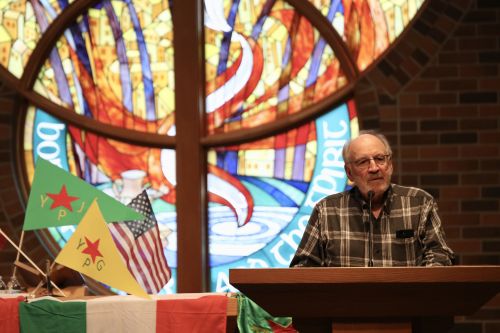 Nick Farko arrived in North Dakota at 12 years old. He came as a refugee, but now calls the Fargo/Moorhead his home. He admonished area citizens, however, saying that too few people are concerned about Turkey's invasion of Kurdistan, which is not an actual country but what Kurdish people call their autonomous regions in four Middle Eastern countries.
"We resist, and they call us terrorists," Farko said. "They bomb us and they say it's defending their country. They're using white phosphorus and they're the third largest military in NATO.
"For the past three weeks I haven't had much sleep. I haven't eaten much because I know what my people are going through. It is better to keep the fight there than here, the least we can do is support them."