White Power Seeking Limelight
News | April 27th, 2017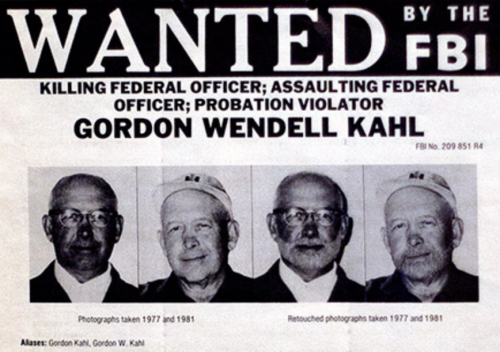 Alt White: The Siege of North Dakota. Part five in the series on racism in North Dakota. The state is no stranger to hate groups seeking attention, and while Pioneer Little Europe and the Creativity Movement form hit lists of North Dakota small towns, a new white supremacist group surfaces in Fargo.
FARGO - North Dakota has a history of giving birth to Nazis and white supremacists seeking the spotlight.
Jun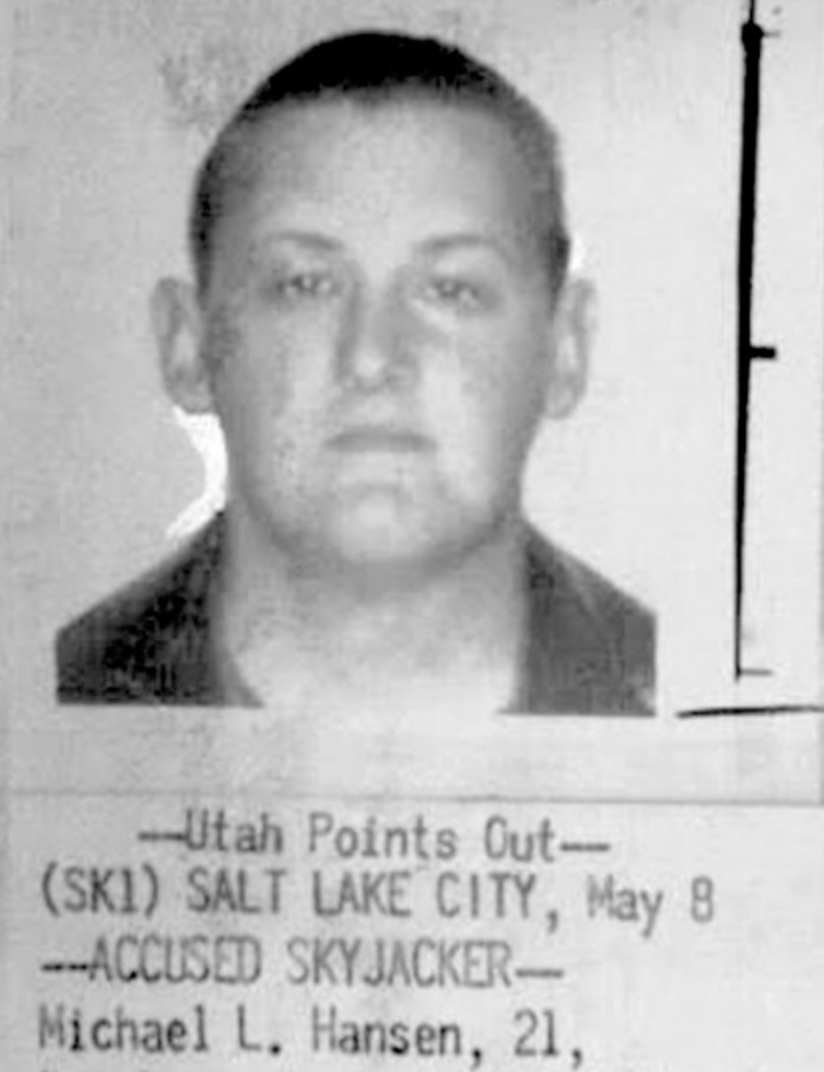 e, 1975, Fargo native Michael Lynn Hansen first hijacked a Western Airlines flight in protest of the Vietnam War and in the name of defying American imperialism, threatened to kill President Nixon, according to the Chicago Tribune. After demanding at gunpoint for the pilot to fly to North Vietnam, the plane landed in Cuba, where Hansen spent three years in prison, kickstarting his Nazi indoctrination, Hansen said in an interview with Eguene Register-Guard, an Oregon newspaper.
Cuban officials released Hansen into US custody, and he was sentenced to ten more years imprisonment stateside. After his release, Hansen planned to unite hate groups including the Ku Klux Klan and Posse Comitatus to start a right-wing newspaper. He founded the Christian Nationalist Socialist White People's Liberation Army in 1981 declaring at that time that a "white revolution" was brewing across the country, a term that is reminiscent with the Creativity Movement's belief that RaHoWa, or Racial Holy War, is eminent.
Hansen later produced the "White Power Hour" in Fargo, carried by Post-Newsweek-owned Cablecomm Fargo, and maintained an audience of about 23,000 subscribers, according to The Free Library. He wore a National Socialist uniform and framed himself before a Third Reich battle flag, taping the show in his living room. Hansen planned to spread his white Aryan views through public access cable in Salt Lake CityIn 1983, Wells County native Gordon Wendell Kahl, aka Sam Louden, leader of the militant group Posse Comitatus, an early anti-Semitic, white supremacist organization refusing to pay taxes, gathered local support. Kahl shot and killed two federal marshals at a roadblock outside of Medina, North Dakota, then led federal investigators on a four-month-long manhunt, which ended with the death of a sheriff and Kahl's own life in Arkansas.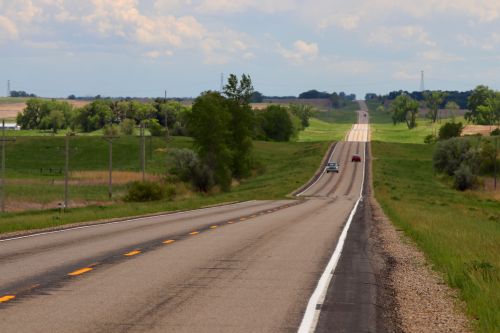 Kahl's defiance of the law prompted the 1991 movie In the Line of Duty: Manhunt in the Dakotas, a documentary entitled Death & Taxes, and was included in the novel Downtown Owl: A Novel by Chuck Klosterman.
More recently, Craig Cobb, born in Missouri, has attempted to take over small towns in North Dakota, including Leith and Antler. A church Cobb purchased in Nome burned down on March 22. Deputy State Fire Marshal Ken Sisk said in a report the case is being investigated as arson as the structure had no electrical service, no source of heating, and was secured with new locks.
Co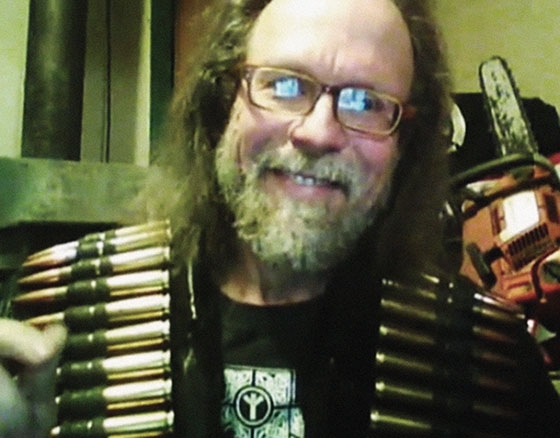 bb has publicly declared ties to the Pioneer Little Europe movement, which consists of Nazis, neo-Nazis, Creativity Movement members, and other hate groups attempting takeovers of at least 12 dying towns in North Dakota.
In January, Creativity Movement reverend, or "creator," Nick Chappell, announced that plans were being made for the Fargo/Moorhead area. The group, which Chappell calls a religion, prefers a silent approach to recruit members.
Once a rising star in the American Nazi party, Chappell left the Nationalist Socialist Movement as director of the Viking Youth Corps during a "Soviet-style purge of its ranks," according to Nationalist Socialist Files. When he left the Nazi Party, Chappell was ranked high on a confidential Nazi blacklist and labelled by American Nazi Party Commander Jeff Schoep as an "oath breaker" and "race-traitor."
"We don't believe in rallies because they create a mob atmosphere and people don't listen they just do what the mob wants when it's worked up in a frenzy," Chappell, who calls himself a racial loyalist, said. "You get far more accomplished one on one and in smaller meetings."
In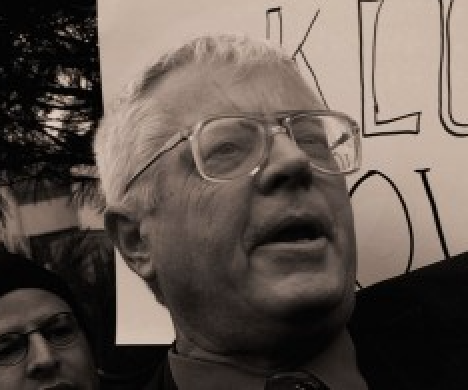 Grand Forks, Jamie Kelso, director and membership coordinator for the American Freedom Party – formerly known as the American Third Position, a political party initially established by skinheads – is a well-known figure with political ambitions.
Kelso is a bullhorn for white supremacy ideals, according to the Southern Poverty Law Center, a nonprofit hate crime watchdog. He claims he is not a racist, but a "red-blooded American," and he hosts "The Jamie Kelso Show" for the American Freedom Party. He was once the personal assistant for Ku Klux Klan leader David Duke and served as a moderator for hate-web guru Don Black's forum Stormfront, according to the Southern Poverty Law Center.
Militant and racist groups have hibernated quietly in North Dakota since the 1920s when the Ku Klux Klan grew bold enough to take out advertisements in the Fargo Forum. The Peace Garden State has remained predominantly white since becoming a state in 1889. The US Census Bureau reported in 2016 that North Dakota is 88.6 percent white, with 2.4 percent of the 757,952 population being of African descent, 5.5 percent of Native American, and one percent from Asian origins.
A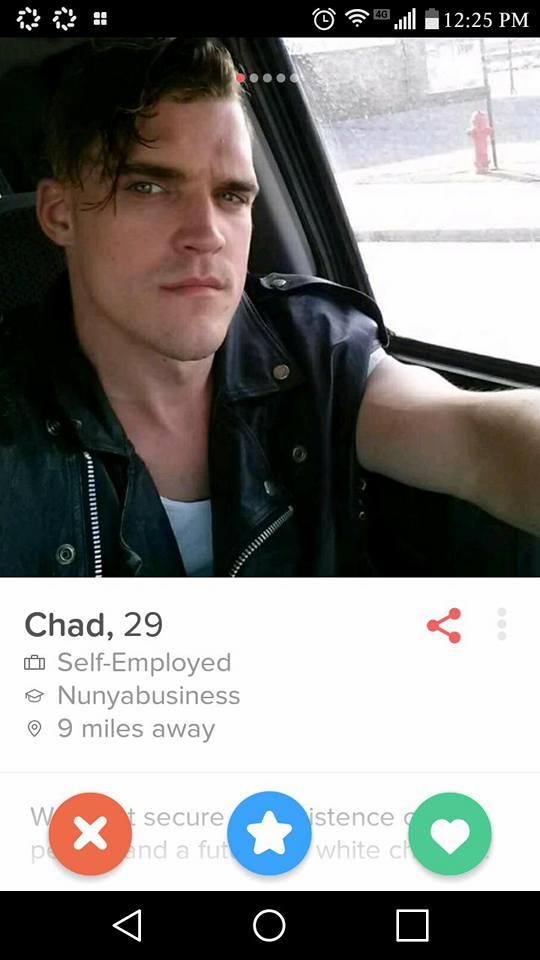 nother Fargoan sought his 15 minutes of fame earlier this year and this week after hate posters were spread throughout the downtown area. Although nonprofit hate group watchdog Unity-USA is investigating the culprits, netizens, family members, and friends know who the individual was.
Chad Radkersburg, an online Facebook alias for Pete Tefft, sent out an advertisement for the First Annual FEHU BBQ at Lindenwood Park on Saturday. FEHU is a Futhark rune representing a new beginning. Tefft also goes by another name, Otto Van Tism'ark, according to friends who wish to remain anonymous and an announcement made by JoAnna Braun, Tefft's niece. Tefft was denounced by self-proclaimed Nazi hunter Luke Safely as a Nazi in February.
"I am not posting this because I am spiteful or because I don't think it's okay for people to have different views," Braun said. "I am posting this status because I believe my uncle is dangerous, and I believe more people probably agree with me. His group of 'pro-white' locals only has a small number of members to my knowledge, but hate grows quick.
"Luckily, love grows quicker."
"It seems likely that the use of FEHU in this case means the start of a new supremacist group in the Fargo-Moorhead area," Unity-USA reported.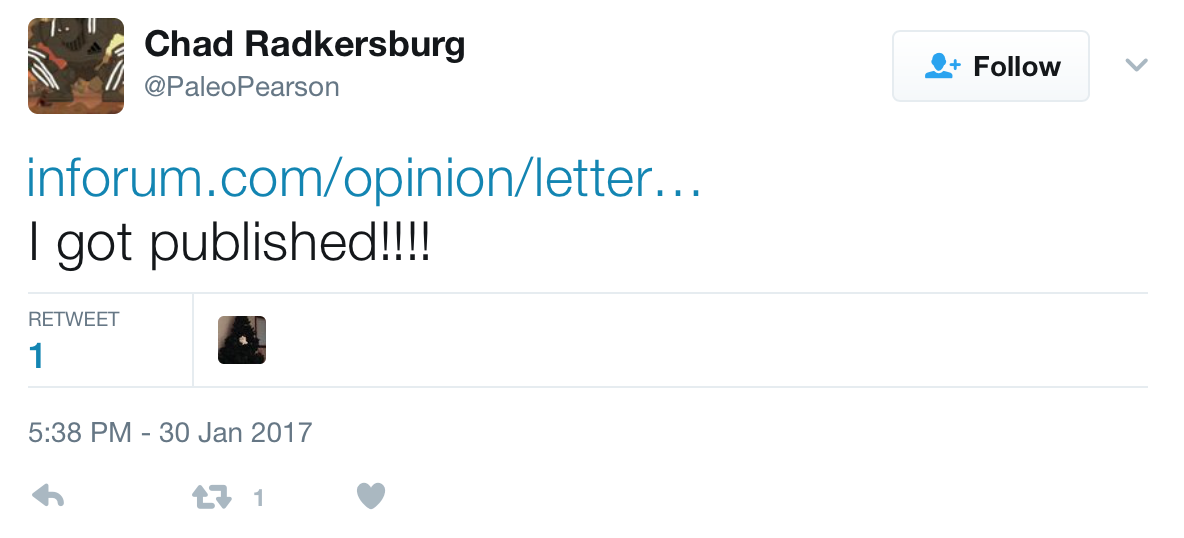 Reportedly twelve people attended the First Annual FEHU BBQ, according to netizens. Radkersburg, or Tefft, was contacted for comment, but did not respond. Posting such advertisements on private or public property is illegal, according to the Fargo Municipal Code.
"No person shall, without first obtaining the consent of the owner or proprietor, post handbills, placards, or posters, or make, print, or mark any word, letter, or advertisement of any kind upon any private house, store or other building, or upon any fence, railing, wall, vehicle, or other property; nor shall any person make, print, post or mark any word, character or advertisement upon any public building, bridge, fence, railing, sidewalk, utility pole, vehicle or other public or private property within the city. "
Fargo Mayor Tim Mahoney issued a statement condemning the fliers late Thursday afternoon.
"This behavior does not advance our mission to preserve the values of diversity and inclusion that help make Fargo stronger," Mahoney said. "We must commit ourselves to resisting hate, violence, and other practices. To do this, we need to act as a united metro area with the involvement of our civic organization, law enforcement agencies, and community members.
"As your mayor, I have been and always will be proud to promote Fargo as a community that is welcoming and embracing of all people. The Fargo I know is a city that celebrates and promotes diversity, all while preserving and respecting the safety and dignity of our citizens. As parents, we should remember that our children learn directly from us. These young people are the future. Divisive actions, even the isolated incidents like those seen this week, have the potential to alter what the Fargo of tomorrow will ultimately be."
Fargo resident Ruth Anna Buffalo, a member of the North Dakota Human Rights Coalition, said she visited Mahoney earlier Thursday afternoon. The racist fliers disturbed her, and the incident is an issue that cannot be overlooked, no matter who the disseminator is, she said.
"My whole point in meeting with the mayor was to see if he could put out a statement saying it's wrong," Buffalo said. "How best do you combat something like this? With the Trump wave as it is, it has the potential to embolden a whole group of people."
The anti Semitic and racist posters went up in time for the 27th day of Nisan on the Hebrew calendar, Monday, April 24, the International Holocaust Remembrance Day. The posters began being pinned to telephone poles less than a week after the Fargo Human Relations Commission announced findings of a six-month study that showed refugees and immigrants in Fargo are good for the city.
One of the posters, signed by "The Flyovers," depicted the communist hammer and sickle, the Jewish star, a syringe, and a marijuana leaf as rain falling on a family under an umbrella emblazoned with a sign reminiscent of a swastika. Another poster featured a man wielding a sword on a horse in a battle scene.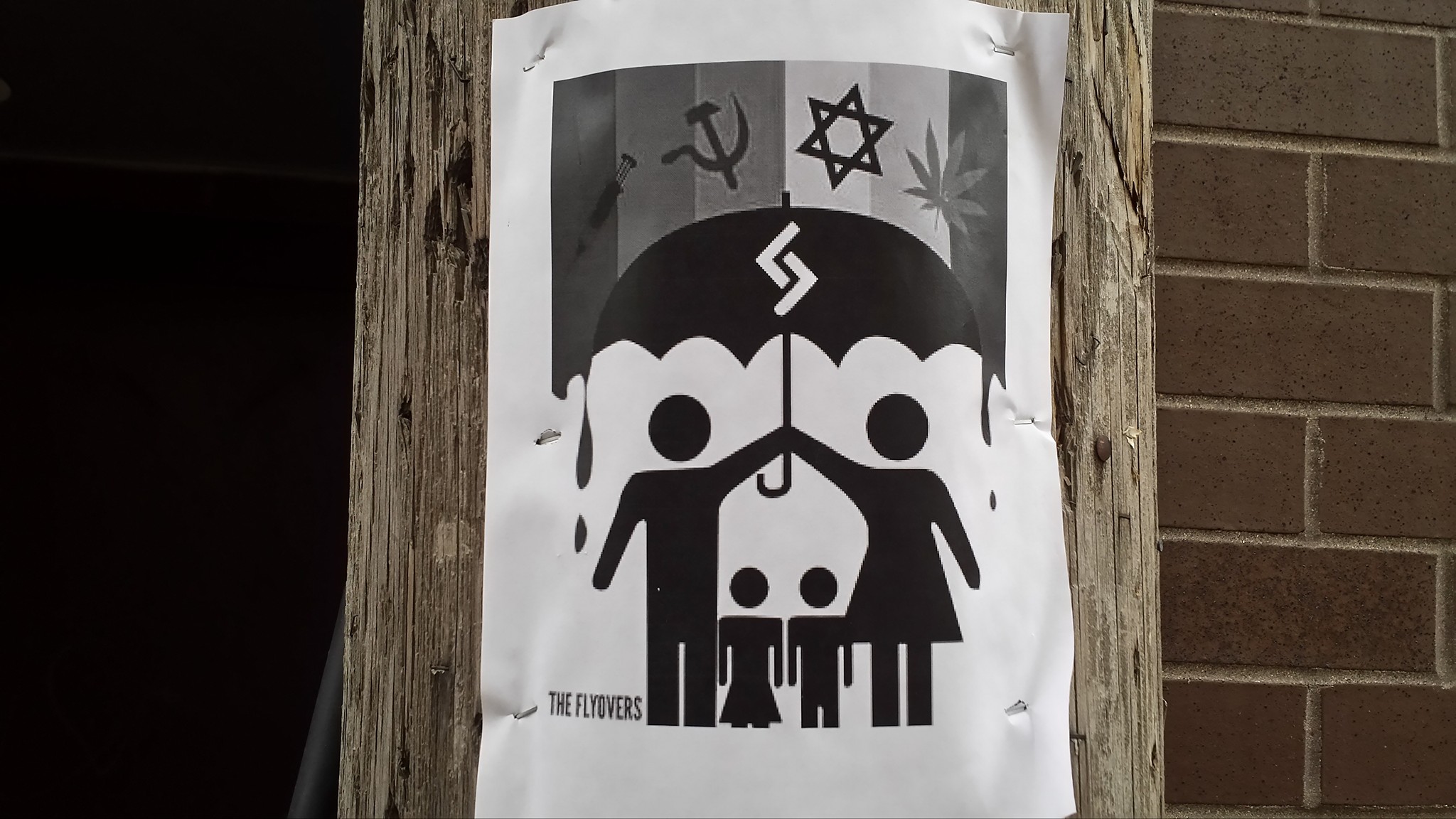 "This country is your birthright," the poster said. "Don't give it up."
A third poster found near the Downtown Fargo Fire Department said, "Trump was the first step. We're the Next," and supported by VDare, Counter-Currents, American Renaissance, The Right Stuff, Redice.TV, and The Occidental Observer, all of whom are listed as nationalistic and racial purist hate organizations.
A fourth flier posted by AltRight.com in Roberts Street alley said, "White people have a right to exist."
A fifth flier listing Bible verse John 2:13 pictures a whip and tells "Real Christians, drive out the parasite class."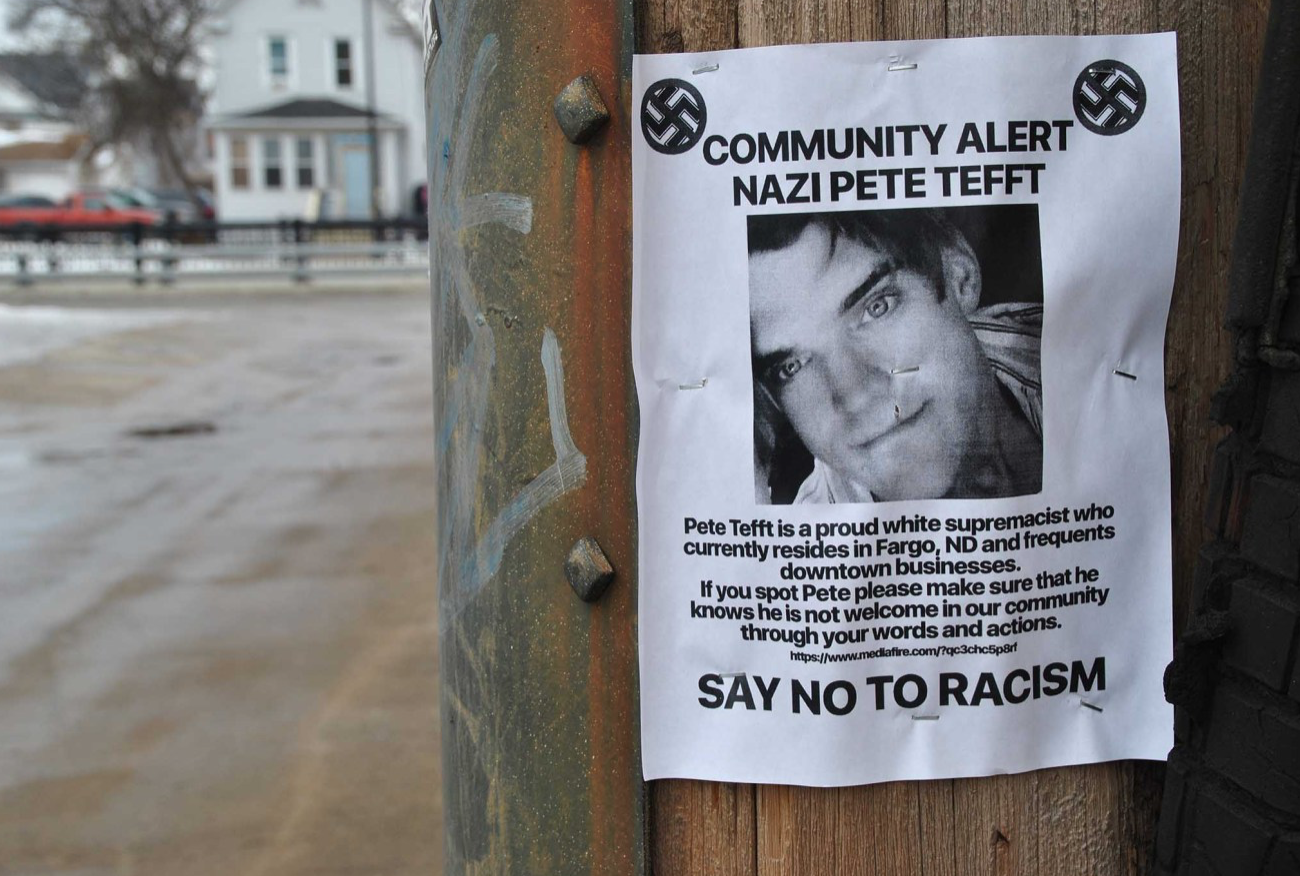 Christopher A. Smith frequently walks through Downtown, and discovered some of the posters over the weekend and on Monday evening.
"I thought, when I saw the posters, that it was interesting timing with the upcoming Black Lives Matter Banquet at Minnesota State University Moorhead and the Holocaust Remembrance," Smith said.
"My first impulse was to rip them down, but then I thought it would be better to document the signs and share them on social media to perhaps bring up awareness that such things are in the area."
Unity-USA, a nonprofit local hate watch group, alerted netizens early Tuesday morning.
"According to sources, several fliers have been posted by an unknown hate group in selected locations in downtown Fargo," Unity-USA reported. While it is unknown which group is directly responsible, Unity-USA is conducting research and trying to track down suspected groups/group members.
VDare was established in 1999 as a nonprofit by the Center for American Unity in Virginia, and is "dedicated to preserving our historical unity as Americans into the 21st Century," according to its website.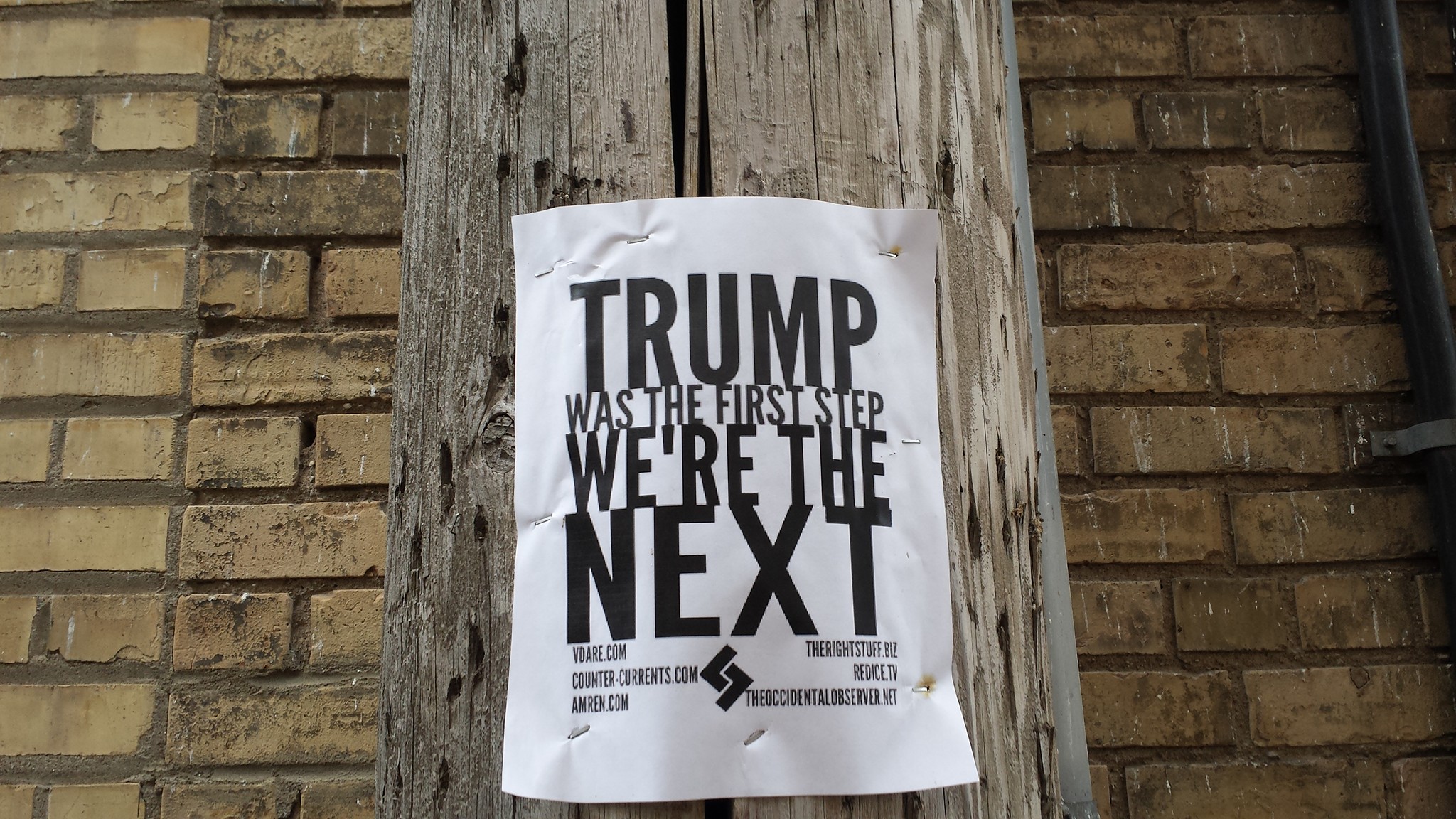 American Renaissance was founded in 1990 and promotes pseudo-scientific studies and research to show minorities in language that avoids open racial slurs, according to Unity-USA. It is best known for its American Renaissance magazine and website, which regularly feature eugenics and racist articles.
The Right Stuff blog is a racist outlet hosting podcasts including The Daily Shoah, and popularizes the use of "echoes," or Anti Semitic markers using triple parenthesis around names to identify people of the Jewish faith on social media, according to Unity-USA.
Counter-Currents is a website popular among "hipster racists," according to Unity-USA, and pushes fake news and memes that are considered popular to young adults.
The Occidental Observer is a far-right online publication that covers politics and society from a nationalistic and Anti Semitic perspective, according to Unity-USA.
Redice.TV is an online hate video service with a formal media infrastructure, Unity-USA reported.
The Flyovers is a term designating "Red States" that voted for President Trump. "It is unclear if this is the term they are using to designate this particular group, but it seems that this might be the case," Unity-USA reported.
Family members who wish to remain anonymous are trying to help Tefft, but the timing of the posters and Nazi accusations coincide with agendas announced by racist hate groups for the Fargo/Moorhead area, leaving investigators and residents questioning if the posters were coincidence or part of a grander scheme.
The tone of the fliers distributed in downtown Fargo are similar to a leaflet found at the Hjemkomst Center in Moorhead approximately 10 years ago.