Winter is coming, Fargo Public Works is ready
by HPR Contributor | .(JavaScript must be enabled to view this email address) | News | October 10th, 2018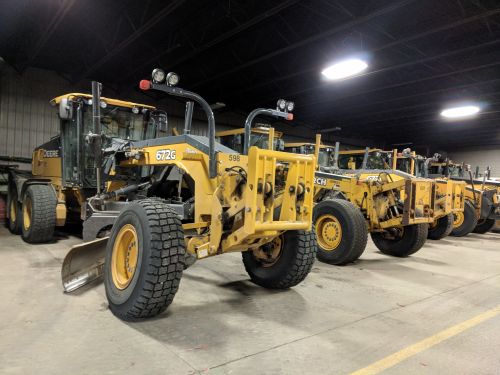 by Ryan Janke
ryanjanke@hpr1.com
Leaves on the lawn. Frost on the windshield. Street lights coming on shortly after supper. Your breath visible walking to your car. If you've stepped outside lately, it didn't take you long to figure out winter is coming.
Some people hate it - the slippery sidewalks and streets, the shoveling, and sitting in a cold car waiting for the defroster to clear the windshield. Others love it - snowmobiling, ice skating, and taking the kids sledding. Whatever you think about winter, the reality is, it's coming. And so is your winter commute.
Fargo Public Works knows it's coming as well and they are gearing up for the snow, wind, and ice. We sat down with Public Works Director of Operations Ben Dow and asked him how they get ready for the wintery fight ahead.
High Plains Reader: So...winter is coming…
Ben Dow: Feels like it today, doesn't it? A little frost this morning. A little snow west and north of here, so yeah it's on its way.
HPR: Are you getting ready already?
BD: We are ready. We can get out the doors. That's one thing we have to be willing and able to do as soon as the temperature changes. We have to be full fledged ready - equipment, materials on the ground, everything wound up and out the door by Halloween. That's the deadline we set for technicians, equipment checks, and any mapping updates to new routing, what we are going to do for sidewalks and how we are going to treat them, how many contractors we are going to have on board, we have to have all our contracts lined up for any additional support, and sidewalk code enforcement and clearing.
HPR: How many lane miles are there in town?
BD: We are right around 2,150. It's kind of a number that varies based on lane configuration. Because Fargo has built its roads wide...we accumulate a lot of lane miles. We built our arterials wide, but we are also 21 or 22 miles long. That stretches us out.
HPR: How many more miles is that from last year?
BD: We didn't grow much much over the year. I think we added about 12 lane miles total. Not a lot of big projects went in and not a lot of new development. It slowed down over the past couple years, but some of those developments are starting to fill in. So, our level of service in those areas that we could put off because the houses weren't built is changing this year because some of the development that was put in three or four years ago is really starting to fill in.
HPR: How do you expect that to affect [plowing] times?
BD: We're working our way through some of that. We always shoot for the 24 goal from the time the snow event ends - depending on snow event size - that the city is plowed once through. We are running 15 zones which requires a lot of equipment. We are making some changes - rather than having two plow trucks going through an area tandem like we have to do to plow the full width of the street, we're making some investments in additional motor graders. So, what we're doing is trading two plow trucks for one motor grader to stretch our staff even farther.
We got real creative a couple years ago and went from the trucks with just the front plow and added a wing to all our trucks, and we're still doing that for what we order. Now we're making another change because like I said, we can take two operators that operate tandemly with two plow trucks and put a single person in a grader to cover an area.
HPR: How many people go out on a full-blown event?
BD: With supervisors there is a total of 50, but the supervisors aren't operating equipment. Both of those folks have roughly 23 staff members to work with. We take another eight from our mains division. That's running our numbers up to 54. Forestry can add about six members. So, a total of 60 is a safe number. Now, we always have times when we're not fully staffed - somebody's out on an injury, somebody's sick, somebody's out on FMLA, so very rarely are we fully staffed.
We're always running that 25-26 pieces of equipment to clean the roads and chemically treat them as far as sand and salt. A couple years ago we split the city up into 15 zones. That helped a little bit to identify by lane miles how much time it would take so we could equally divy the city up so all areas are being covered at one time. We're still working through that process, making some adjustments.
The big thing we are moving forward with this year is we were funded to lease a couple more graders in the 2019 budget to try and be more efficient with our man power since we haven't been added staff. We've made requests for this last year to add staff, but it was not included in the budget. The budget is tight, so we have to dig a little deeper and find different ways of doing things.
HPR: You brought up materials a few times. How many pounds of sand and salt do you think you use?
BD: Right now on the ground in town we have around 3,000 tons of sand. It has a slight mixture of 25 percent salt. We do that so our sand pile doesn't freeze up in the winter because it has moisture. If we didn't do that, it would freeze hard as a rock. Salt, we use a mixture of salt and ice slicer together. We're sitting on somewhere around 4,000 tons.
So, we've got around 7,000 tons of material. Now, if we get into winter and we end up with a December rain event like we did two or three years ago, we can go through that really quick. Otherwise, 7,000 - 8,000 tons is an average winter. Through our salt orders, we have to guarantee we'll take so much to get the pricing. We guarantee we will buy 3,000 tons, and in that package I have an option that they will hold 2,000 extra tons just in case we need it. So, under our pricing and bidding structure we are able to lock our price for about 5,000 tons of salt.
This year we are really trying to not bring any materials in during the wintertime. We are stockpiling going into winter. One thing many people don't know is if you run out of salt, most of the salt in the United States is spoken for. There isn't a stockpile laying out there that you can call or go down to your local hardware store and say, "I want 10,000 tons." A lot of that is why we guarantee loads. We've got to make sure the City of Fargo is not the one out there without products on the ground.
HPR: You talked about street parking earlier.
BD: Well, street parking is always a challenge. We have kind of a crazy system for people to understand with the street/avenue parking night restrictions. They are very much needed. Often times there would be points where you couldn't get through, but a couple years ago we did change it to one side only parking between the interstate and 19th Avenue North in the winter months. That really has made it difficult with the night restrictions where you can't park on the streets at all and it limits you to one side, so it's really put the pinch on some of our property owners and we are listening to that. Hopefully by the end of this winter, moving into next summer we'll be making some changes to our street parking regulations.
There is a lot of misunderstanding out there - "why aren't you out there plowing? There's no parking here tonight." We stay away from stuff like that for the simple reason that if you were out there trying to clean it up every night that there is a street or avenue night, we'd make a mess for the home owner filling a lot of driveways and there would be a lot of frustration. This new system we're coming up with and taking through and ordinance change will really simplify the process and make it better for the homeowner. They'll understand it a lot better.
HPR: What can we do as citizens to help you out and be good neighbors?
BD: The biggest issue we have in the wintertime is people cleaning their sidewalks. That is a growing issue in our city. I don't think it's a growing issue as far as people not doing it. I think the same amount of people are not doing it, but our community is changing to a healthy community with a lot of bicycling for people in the wintertime, a lot of jogging, a lot of walking. A lot of people are willing to bear the elements to go out there and exercise in the outdoors and people are becoming more conscious of others that aren't shoveling their walks because they are out there using the paths, so that has remarkably changed in the last five years. About five years ago we had about 250 complaints a year on sidewalks - it's a complaint driven system - from 250 we saw it go to 400 and 450 to about 600. Last year we were at 1,200 complaints for unshoveled sidewalks. So, we are seeing a trend. If you can't do your sidewalks, make sure you're talking to a neighbor. Reach out to them, maybe they'll help you out.
Of course, there's always, "respect the plow." People don't realize how big these vehicles are. There's a lot of blind spots and it's not as easy as you'd think to control where the snow goes. The plow driver is kind of at the mercy of the truck and the wind and what's going on. A lot of times they won't see you or they won't purposely do things that people think that we do. So, it's important that people understand that and give them some space. They are out there doing a hard job. It's not easy. It is very stressful. A lot of times you can't see anything. A lot of times you can't stop because the roads are icy. If your vehicle can't stop, this big plow truck can't stop. It's very very emotionally hard on a plow operator to go out there and plow for 12 hours.
It's stressful, so it's important that people are patient with the plow drivers. They deserve a lot of respect. Of course they are getting paid, but they're giving up Christmases, and birthdays, and anniversaries, and everything to make sure you can get where you want to go when you want to go there. Again, they're getting paid to do that, and they sign on to that, and they don't complain about it, but giving them a little breathing room and some additional respect is important.
I think that's the biggest problem we face is the people [being impatient]. Today's society is so, "gotta have it now. Gotta go now. I should be able to, why can't I." And the frustration is there. I think our people are special people. It takes a lot. I remember being a plow operator and I would work 12 hours in a physical job and go home and have capacity to do things. After you've done 12 hours of snow plow driving in the middle of night, trying to stay awake - you're shot. The emotional stress has gotten to you. You are physically shot because your nerves have been up there all night.
We, as snow fighters, don't get the respect that is deserved. Nobody intends to fill anybody's driveway. Nobody intends to knock anybody's mailbox down. Nobody intends to do that stuff, but it's not as easy to control that snow as a person might think it is.
HPR: Thank you for taking the time, Ben
BD: You're welcome. Anytime.