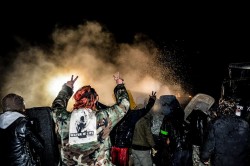 By C.S. Hagen
cshagen@hpr1.com
The woman who nearly had her arm blown off Sunday night at the Backwater Bridge standoff is in stable condition, according to the Standing Rock Medic Healer Council.
Sophia Wilansky, 21, from New York, was hauling drinking water to activists near the front line when a concussion grenade thrown by law enforcement hit her left arm and exploded, according to medic reports.
Law enforcement denies the accusation, claiming a Coleman propane explosion wounded Wilansky. "There was an explosion behind in the protester area, we don't know where it came from but it wasn't law enforcement," Morton County Sheriff Kyle Kirchmeier said.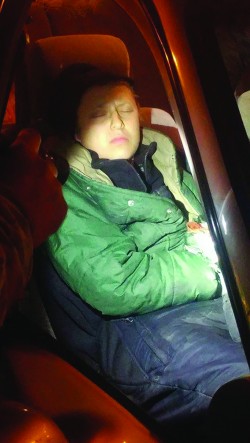 "These statements are refuted by Sophia's testimony, by several eyewitnesses who watched police intentionally throw concussion grenades at unarmed people, by the lack of charring of flesh at the wound site and by the grenade pieces that have been removed from her arm in surgery and will be saved for legal proceedings," the Standing Rock Medic Healer Council press release stated.
The explosion destroyed Wilansky's radial and ulnar arteries, and shattered her radius, according to medic reports.
"All her muscle and soft tissue between her elbow and wrist were blown away. The police did not do this by accident – it was an intentional act of throwing it directly at her," Wilansky's father, Wayne Wilansky, said.
Medics also claimed police were shooting people in the face and groin areas, intending to cause as much damage as possible.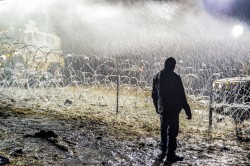 "She will need multiple surgeries to try to gain some functional use of the arm and hand. She will be, every day for the foreseeable future, fearful of losing her arm and hand," Wayne Wilansky said. "There are no words to describe the pain of watching my daughter cry and say she was sorry for the pain she caused me and my wife. I died a thousand deaths today, and will continue to do so for quite some time."
Injury reports stemming from Sunday night and early Monday morning's standoff at Backwater Bridge climbed to 300, according to medic reports. "These 300 injuries were the direct result of excessive force by police over the course of 10 hours. At least 26 people injured had to be evacuated by ambulance to three area hospitals."
Some of the additional injuries included an elderly man who lost consciousness, but was revived, a young man who suffered a grand mal seizure, a woman who was shot in the face with a rubber bullet, a young man shot in the abdomen by a rubber bullet who was vomiting blood, a young man shot in the back near the spine by a rubber bullet, and multiple fractures, according to medic reports.
Law enforcement said late Monday night they received no reports of any activists injured.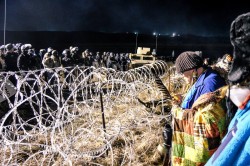 During a press conference, Kirchmeier added that Backwater Bridge is deemed unsafe, that the trucks were purposefully left blocking the Highway 1806, and investigators will not inspect the bridge until activities have calmed down.
"We can use whatever force necessary to maintain peace," Mandan Police Chief Jason Ziegler said. He stated the use of water on activists in sub-freezing temperatures was necessary, and that law enforcement would use the same tactics again.
"It was effective, wasn't it?" Ziegler said.