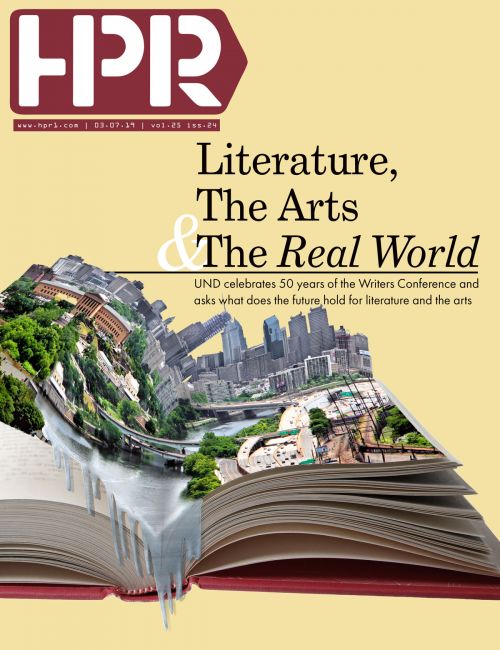 The 50th Annual UND Writers Conference, "What the Future Holds," will take place March 20-22, 2019, on the second floor of the Memorial Student Union on UND's campus in Grand Forks.
Founded in 1970, the UND Writers Conference has held every year since, even when the state of North Dakota has been threatened by blizzard, flood, and/or fire. Our goal has always been to offer free and open opportunities to access literature and art, as well as to interact with fellow lovers of reading and writing. Since its beginning, the UND Writers Conference has hosted over 330 authors, including four Nobel laureates, thirty-five Pulitzer Prize winners, and multiple MacArthur Geniuses, as well as recipients of the Man Booker Award, the National Book Critics Circle Award, the Oscar, and myriad other honors. Counted among these authors are some of the most influential writers of the 20th and 21st centuries, such as Allen Ginsberg, Louise Erdrich, Norman Mailer, Art Spiegelman, Alice Walker, Tony Kushner, Edward Albee, Marlon James, Roxane Gay, Salman Rushdie, Viet Thanh Nguyen, and Eudora Welty, just to name a few.
In honor of our 50th Anniversary, this we are looking forward to think about the future of art and literature in our society. As the Conference will feature a number of emerging authors who have already gained national, as well as international attention, including Tommy Orange, Kiese Laymon, Sarah Smarsh, Heid E. Erdrich, and Sally Wen Mao, as well as visual artist Patrick Martinez. The hope is that this theme will facilitate lively conversations about the state of cultural discourse, as well as create opportunities to discuss what role, if any, the arts play in the future of our world.
The Conference will feature readings, panel discussions, book signings, workshops, and film screenings, including "Blood Memory: A Story of Removal and Return" with a talk back with producer Elizabeth Day (Ojibwe). All events are free and open to the public. Free parking is available. For more information, visit the Conference website at www.undwritersconference.org or follow us on Facebook (@UNDWritersConference) or Twitter (@UNDWritersConf)
~Crystal Alberts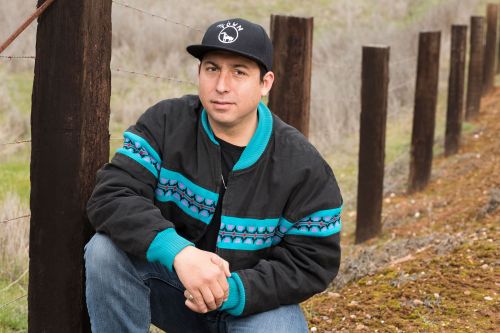 TOMMY ORANGE
In his New York Times review, Colm Toibin called "There There," Tommy Orange's debut novel, "an ambitious meditation on identity and its broken alternatives." Taking its title from Gertrude Stein's "Everybody's Autobiography,"told through the stories of twelve intertwined characters, and set in Oakland, California, where Orange, an enrolled member of the Cheyenne and Arapaho Tribes of Oklahoma, was born and raised, the novel presents a necessary and provocative look at urban Native experiences, a focus previously all but absent from American literature.
Orange wrote in a 2017 opinion piece in the Los Angeles Times: "To those of us who suffer from history's consequences and don't benefit from them, talking about our beliefs, even just telling our stories, is automatically political." "There There" fearlessly engages in this deeply political act of storytelling, addressing the issues urban Native peoples face, especially the loss of tribal land and the continual navigation of cultural memory and identity in which this loss results.
"There There" has been named one of the Best Books of the Year by The Washington Post, NPR, Time, O, The Oprah Magazine, San Francisco Chronicle, Entertainment Weekly, The Dallas Morning News, Buzzfeed, BookPage, Publishers Weekly, Library Journal, Kirkus Reviews. It has been nominated for numerous prizes, including finalist for the PEN/Hemingway Debut Novel Award.
A recent graduate of the MFA program at the Institute of American Indian Arts, Orange is a 2014 MacDowell Fellow and a 2016 Writing by Writers Fellow. He currently lives in Angels Camp, California, with his wife and son.
~Tommy Orange will read from his work at the UND Writers Conference on Wednesday, March 20th at 8 pm. He will also participate in Wednesday's noon panel, "We Are Here," and Thursday's noon panel, "Where Are We Going?" All events are held in UND's Memorial Union Ballroom.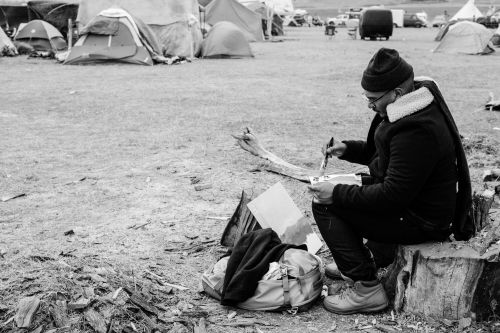 PATRICK MARTINEZ
Patrick Martinez is a multimedia artist who lives and works in Los Angeles, CA. In his artwork, Martinez interprets his personal experience of Los Angeles culture through the lens of his own background of Filipino, Mexican, and Native American cultures. Martinez's interpretation of his urban experience was especially influenced by the hip-hop movement and graffiti art, as seen in the ways in which he calls attention to subtexts of power and inequality in the language of hip-hop music and the visual forms of Los Angeles culture. Martinez's powerful artwork includes his Pee-Chee series of paintings, drawings, and prints that offer remembrance to victims of police brutality, and his neon sign series that appropriate Los Angeles visual culture and reference hip-hop lyrics. His artwork also includes a multi-media series of stucco paintings and installations that call attention to fading memory and shifting cultures due to gentrification in Los Angeles neighborhoods. Through his artwork, Martinez presents sincere, intense, and emotive responses to his experience of the vigorous urban culture of Los Angeles.
Martinez earned his BFA with honors from the Art Center College of Design in 2005. His work has been exhibited internationally, at venues in Los Angeles, San Francisco, Minneapolis, Miami, New York, and the Netherlands. Martinez's work has also been featured in publications such as the LA Times, Fusion, ArtNews, Wired Magazine, and Vice Magazine.
Patrick Martinez will present from his work on Wednesday, March 20th at 4pm. He will also participate in noon panel discussions on Wednesday, March 20th and Friday, March 22nd. He will present a craft talk on Thursday, March 21st in 227 Hughes on UND's Campus as part of the Visiting Artists series.
~Nicole Derenne is an Instructor in UND's Department of Art & Design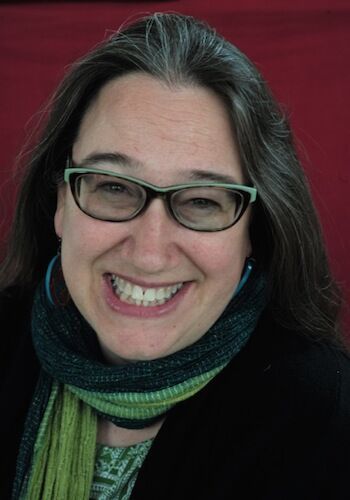 HEID E. ERDRICH
To briefly describe the work of Heid E. Erdrich is nearly an impossible feat – she's done so much!
As not only a poet, but also a curator Erdrich knows what makes an art exhibit great, which is why it is no surprise that her latest collection of poetry, "Curator of Ephemera at the New Museum for Archaic Media," won last year's Minnesota Book Award. However, this work is much than a poetry collection. Stepping into this New Museum inundates the reader with artworks of myriad media, though not all can be viewed from the book itself. The recent, but now archaic, QR codes within the book transport reader from page to screen as Erdrich's award winning short poem films, using animations created by fellow Minnesota award-winning artist Jonathon Thunder, speak of our failure to understand and communicate with one another.
Erdrich's commitment toward human connection spreads far across her oeuvre. From Original Local, a combination of Indigenous peoples' recipes paired with stories of tribal activists, food researchers, families, and chefs; to New Poets of Native Nations, an anthology of 21 Native American poets whose first books were published in the 21st century; to her work on language revitalization as a founding publisher of Wiigwaas Press, an Ojibwe language publisher; Erdrich is foremost an advocate for Native artists.
Erdrich grew up in Wahpeton, North Dakota and now lives with her husband, kids, and a "feisty Jack Russell terrier" in Minnesota. She is Ojibwe enrolled at Turtle Mountain and teaches the MFA Creative Writing Program at Augsburg Colleges.
Erdrich will be joining Patrick Martinez and Tommy Orange on the March 20th noon panel. She will be reading from her work on Thursday, March 21st at 4 pm. Kiese Laymon, Patrick Martinez, Sally Wen Mao, and she will be wrapping up this year's Writers Conference panels on Friday, March 22nd at noon. All events will be held in the UND Memorial Union Ballroom.
~George Welder is an undergraduate at UND majoring in English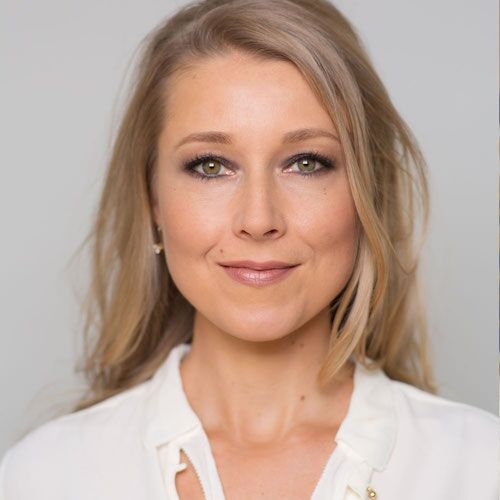 SARAH SMARSH
Sarah Smarsh's memoir "Heartland: A Memoir of Working Hard and Being Broke in the Richest Country on Earth" disputes the notion that hard work alone will lead to American upward mobility. In vivid detail, the memoir elaborates the fierce work ethic of Smarsh's poor white Kansas family and shows how it is undercut by the disastrous economic consequences of illness and debilitation, untreated mental disability, teen pregnancy, and flight from partner abuse. The memoir is especially moving in its depiction of the ways women are disproportionately burdened by these obstacles. Smarsh's grandmother Betty had seven husbands: Arnie -- the affable farmer who helped raise Smarsh -- was one of the few who wasn't abusive. In gripping flashbacks, the narrative depicts young Betty's attempts to flee Smarsh's abusive biological grandfather, a vicious criminal named Ray who routinely pummeled Betty, at one point shot her, and who followed her to Chicago where she fled to escape him. Betty's economically costly attempts to rid herself of abusive men are mirrored by women throughout the narrative: including Betty's mother, Dorothy, and Betty's daughter, Smarsh's mother, Jeannie (as the cascade of names suggests, "Heartland" would have benefited from the inclusion of a family tree.) The memoir only gives us glimpses of Dorothy's story, but her evident mix of depression and paranoia makes a clear case for the links between poverty and certain forms of untreated mental disability. Smarsh attributes her own escape from her family's cycles of poverty to the stability imparted by her grandparents, her firm determination not to get pregnant as a teen, and luck. She is too modest to emphasize the role of her considerable intelligence in her success, but that brilliance -- whose rarity further challenges the universality of the myth of upward mobility -- is evident on every page.
Sarah Smarsh will read from his work on Thursday, March 21st at 8:00 pm, a co-sponsored Humanities North Dakota GameChanger Event, with a book signing and reception to follow at the North Dakota Museum of Art. She will also participate in the noon panel that day to discuss "Where are we Going?" with Tommy Orange and Sally Wen Mao.
~Andy Harnish is a PhD candidate in English at UND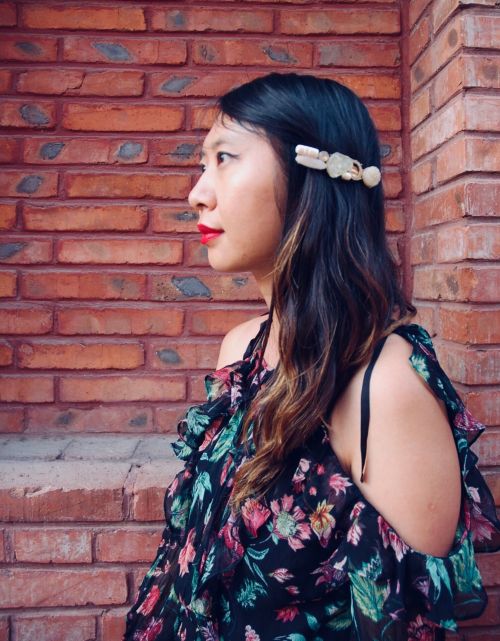 SALLY WEN MAO
In July 2018, poet Sally Wen Mao traveled to Shanghai, shadowing a voyage taken 82 years earlier by the first internationally successful Asian American film star, Anna May Wong. In an essay for Nylon, Mao likens her experience to the film reels of Wong's tour. "Watching the footage of her trip," Mao writes, "I sensed a fretfulness that was familiar to me. [. . .] That disorientation—her eyes darting everywhere, her brisk stroll, her glances—mirrored the distinct feeling I had in Shanghai, walking everywhere in a daze."
Mao's second book of poems, "Oculus," catches that passing glint of disorientation and bends its beam back onto the West, via a time-traveling Anna May Wong. In several suites of poems, "Oculus" casts Wong in film roles from the mid-twentieth century to the present. Through Wong's persona and her incisive reactions to films like "Breakfast at Tiffany's" or "The Last Samurai," Mao confronts the creative profession's whitewashing of Asian American culture and its exclusion of Asian American actors, artists, and creators.
The collection's title—"Oculus"—signals Mao's aim: to interrogate not only actual sight, but the devices and media that filter our perceptions. The poems take on YouTube, social media, and even a fan theory about Lavender Town, a city from the Pokémon RPGs for the Nintendo Game Boy. In each case, Mao's poems lift the tinted goggles from the reader's eyes, exposing the lives and stories inhabiting the margins.
Discussing a poem from "Oculus," New Yorker critic Dan Chiasson pinpoints the quality that charges Mao's lines: "it's the plasticity of self, delighting in its own freedom to try on different guises." The flexible forms and shifting personae in her poems are a hallmark of her work, previously earning her critical acclaim for her first collection "Mad Honey Symposium" and accolades such as inclusion in "The Best American Poetry 2013," a 2016 Amy Award from "Poets & Writers," and a 2017 Pushcart Prize,amongst others. In her experimental and charged poems, Sally Wen Mao offers us a vision of what the future holds for the art of poetry.
Sally Wen Mao will read from her work at 4 pm on Friday, March 22nd. She will also participate in the noon panels on Thursday, March 21st and Friday, March 22nd.
~Patrick Thomas Henry is the fiction and poetry editor for Modern Language Studies. He is an Instructor of Creative Writing in the English Department at the University of North Dakota.
KIESE LAYMON
As he clearly and proudly states in his biography, Kiese Laymon is a black author from Jackson, Mississippi. He earned an MFA degree in Fiction from Indiana University and taught at Vassar before returning to his home state where he is currently the Ottilie Schillig Professor of English and Creative Writing at the University of Mississippi. Laymon's first novel, "Long Division" was published in 2013 along with a collection of essays "How to Slowly Kill Yourself and Others in America." In 2018, Laymon published "Heavy: An American Memoir," to wide acclaim.
In "Heavy," the title is most obviously associated with Laymon's weight, as he feels freer the lighter he becomes; his physical weight is very present in the book. However, there is also an idea of the metaphysical – the heaviness he feels being weighted down by not only what is outside of him – society, people (especially white people) – but also what is within. He is heavy with secrets and lies, and this book is his way to tell the truth about his life and his relationship with his mother, the person to whom the book is addressed. Seeing this struggle through the eyes of a young black man growing into an adult black man writing stories about other young black men and black boys and black women and black girls leaves the reader feeling that heaviness and yet grateful that the silence has been broken.
"Heavy" is winner of the Carnegie Medal for Nonfiction, LA Times Isherwood Prize for Autobiographical Prose, and Audible's Audiobook of the Year. The book was named one of the Best Books of 2018 by TheNew York Times, Publishers Weekly, NPR, Broadly, Library Journal, The Washington Post, Southern Living, Entertainment Weekly, San Francisco Chronicle and The New York Times Critics.
Kiese Laymon will read from his work at the UND Writers Conference on Friday, March 22nd at 8 pm. He will also participate in the noon panel, "Visions of the Future," earlier on Friday. All events held in UND's Memorial Union Ballroom.
~Haley Hamilton is a PhD candidate in English at UND