One Book, One Community offers nonfiction read on N.D. oil issues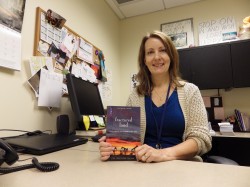 Hundreds of miles away from the Bakken region, Fargo residents have had the chance to witness their state's oil industry in visual art and performance theater this year. And now in literature.
The public libraries of Fargo, Moorhead and West Fargo have teamed up for the fourth straight year for One Book, One Community, the reading program connecting the three cities over one book. This year's selection, "Fractured Land: The Price of Inheriting Oil" by Lisa Westberg Peters, is the first nonfiction read chosen for the program, and gives its readers a homespun spin on North Dakota's oil industry.
"[The planning committee members] all brought forward about four titles," said Lori West, branch services manager for the Fargo Public Library, "and we discussed all the titles, and ended up voting and choosing 'Fractured Land.'"
Peters' story is an account of her learning she will one day inherit oil wells in North Dakota's Bakken region, throwing her environmental values into conflict with oil extraction ethics.
The libraries are not the first group to tackle the Bakken region; the Plains Art Museum recently wrapped a visual art show portraying the area, and Theatre B presented a theater piece coinciding with the exhibition.
ABC is even tapping into North Dakota oil with its "Blood & Oil" drama set to air Sept. 27.
With all this inspiration, West said she agrees that North Dakota's oil is a hot topic for artists and storytellers -- regional or not.
"I think a lot of artists are looking at that impact or the change that's happening," West said. "They're definitely using that as a sounding-off point or a way to express themselves."
"Fractured Land" is not the first title for One Book, One Community with relevance to the region.
Last year's "Orphan Train" by Christina Baker Kline explored the orphan train movement of the 19th and 20th centuries, a welfare program that brought many children to the Great Plains, North Dakota included.
West said that a title by a regional author will often induce that writer to come give a talk, but that's not the only criterion here.
"We hear a lot in the news about the change in western North Dakota, the Bakken oil … It was a timely topic," she said.
The community read gets going in early September, with books available in a few formats from the three cities' public libraries. Events swirl around the title, from film screenings to children's activities to book discussions.
These events and others are free and available on an online schedule at 1book1community.org.
"We have a ton of stuff going on this year," West said. "It's very exciting."
YOU SHOULD KNOW:
"Fractured Land" is available in print and ebook options from the Fargo, Moorhead and West Fargo public libraries. One Book, One Community runs from early September to mid-October. 1book1community.org