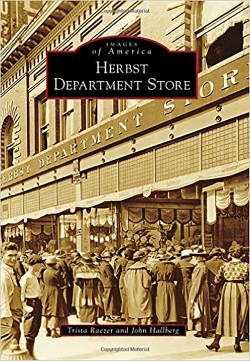 For many people in the Fargo-Moorhead area, especially the younger crowd, the name "Herbst" probably doesn't ring a bell. For older generations however, that name likely calls to mind the Herbst Department Store, a former downtown Fargo retail hub that helped define the F-M community for nearly 90 years.
Now thanks to a new book from Arcadia Publishing, the Herbst heyday has a new life.
On the evening of Thursday, Sept. 24, NDSU archivists Trista Raezer-Stursa and John Hallberg will be giving a presentation about their book, "Images of America: Herbst Department Store," at Zandbroz Variety in downtown Fargo. The two will discuss how they prepared the book, talk some history about the former department store and then hold a Q&A session and book signing.
High Plains Reader talked with Raezer-Stursa and Hallberg to see what it took to reassemble the long, vibrant history of a store that helped define an era of downtown Fargo.
HPR: The process for preparing this book must have been long and complex. Can you talk about that briefly?
Trista and John: We were originally contacted by Arcadia Publishing last June, and we submitted a book proposal last October and our book draft in March. We worked together a lot, but we each worked individually on three chapters. We picked the photographs together, but I wrote the introduction and John digitized all of the photographs.
HPR: I read that you were initially contacted by Arcadia Publishing to work on a book for the former deLendrecie's store in Fargo, and that you made the switch to the Herbst store because of a larger selection of archival documents. Are there any plans for that first book, or are there other Fargo-Moorhead projects in the works?
T&J: No … we currently do not have plans to write another book for Arcadia since we just finished this one. But Arcadia does have a series of books on universities, and there is not one for NDSU yet, so there is a great opportunity there sometime in the future.
HPR: In some ways the Herbst Department Store and current downtown shops are alike. Much like Zandbroz, Herbst was a family-run business dedicated to community involvement. Could you comment on any other similarities you've found through your work, and do you see the downtown revival in recent years as a return to the Herbst days?
T&J: I would say that another similarity is that both hosted/host events that are a large draw for the local community, which is something you won't see a big box store do.
Yes, we have noticed that the many new stores and restaurants going in downtown are owned by Fargo-Moorhead residents as opposed to chain stores. This tends to lead to more community involvement and pride. While we may never see another family/local-owned department store again, we believe that the current stores on Broadway have a lot of the same spirit that Herbst and deLendrecie's had. The Herbst family and store were invested in the betterment of the F-M community, and we see that with the current stores as well.
HPR: What were some interesting discoveries you made while digging through the archival documents?
T&J: I was fascinated and heartened by how much pride and loyalty the employees had in the store. They loved working there, and the Herbst family went out of their way to make sure their employees were taken care of. The family held many parties and events for the staff, and started a Social and Benefit Club that provided entertainment, sick benefits and charity giving for the employees. When the store closed the staff started an "Old Shoe" group to keep in touch with each other. In our conversations with people about the book, everyone has many positive memories of the store, such as the cafeteria, window displays, etc. The Herbst Store and family are still well remembered in the community.
HPR: Through your research you were given an extended look into the past. What vintage item or feature from Herbst Department Store do you wish you could have or see brought back?
T&J: We really enjoyed the photographs of the display windows. The Herbst Store really went all out to make them interesting. In the 1920s a B-list actress "lived" in the window for a week demonstrating products from the store. During Christmas there would be mechanical bears, etc., for children to look at. During World War II people sat in the window selling war bonds. I think that these windows were a draw in themselves, and I'm sure some people walked down Broadway just to see what was new in the window. I would love to see that happen again.
IF YOU GO:
"Herbst Department Store" book event
Thurs, Sept. 24, 6:30 p.m.
Zandbroz Variety, 420 Broadway
FREE