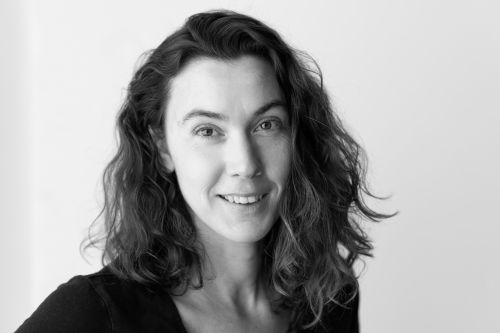 Former Fargo-Moorhead resident Sarah Kobrinsky has recently released her first full collection of poetry, Nighttime on the Other Side of Everything, published by New Rivers Press. The book is divided into three sections, each with a different theme and flavor.
"I tend to write things that are superficially funny but there's always something darker going on," Kobrinsky says. "You know the saying, 'A spoonful of sugar makes the medicine go down'? That's the first section. The second section is my overtly female poems: losing a child, love, sex, aging—just some female experiences. And the third section… they have more of a spiritual bend."
Of the title, Kobrinsky adds, "My son came up with it when he was five years old… I explained to my son that it's nighttime here but it's morning in Sweden… And we were driving one day and he said, 'Mom, did you know it's nighttime on the other side of everything?'"
Despite currently living in California, where she and her husband run a company called Jered's Pottery, Kobrinsky chose New Rivers Press because, despite having moved away, she still feels a connection to where she grew up.
"It's my home," she says. "I've been away from Fargo-Moorhead for almost twenty years and I definitely still feel the pull. I've lived in California for fourteen years and I'm still more connected to a snowy landscape than to a beach."
Though no dates have been set, Kobrinsky plans to return to the F-M area to perform readings. Possible locations currently include Sons of Norway and local bookstore Zandbroz Variety.
"I have a pile of readings in California for the next three months. I'm reading at a Unitarian Universalist church, I'm reading at a bookstore, I'm reading at a café, I'm reading at a Pilates studio—a lot of strange locations. We're having one at our pottery studio."
Kobrinsky's work has previously appeared in several publications, including Magma Poetry, Monkeybicycle, Jewish Quarterly, 100 Word Story, The Molotov Cocktail, and Berkeley Fiction Review. From 2013 to 2015, Kobrinsky was the Poet Laureate of Emeryville in California. She's currently working on two more collections: one of the poems and another of prose pieces.
"The book of poems I'm finishing up is similar to a lot of other work in this book, where it's superficially funny and there's something darker going on. My dad was a cancer doctor, and he had a sense of humor… so I grew up in a culture of people laughing at very serious things. It's like I said, a spoonful of sugar helps the medicine go down."