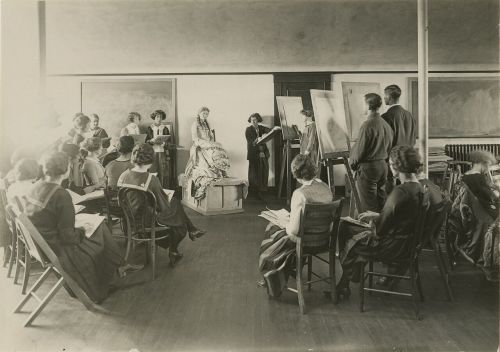 The NDSU archives look unassuming enough, located in a large warehouse near the interstate in the warehouse district in Fargo, but once inside one will discover a treasure trove of information. "We have over 20,000 books on the history of North Dakota, covering every topic you can think of. We do specialize in town and county histories, biographies, histories of various businesses... We cover a really wide array of subjects from North Dakota." Says Trista Raezer-Stursa, head of the NDSU Archives.
Along with the extensive collection of books there are two digital microfilm readers with which patrons can save information via PDF and save to a jump drive for further reading. But the real treasures are housed in the vault, Stursa said. "Basically what we specialize in is collecting unique historical materials that pertain to the history of North Dakota -- and NDSU, of course. We collect things like correspondence diaries, business records and photographs. We really specialize in photographs."
She went on to say, "What makes us unique is libraries might have a book that would be at hundreds of other libraries around the country, what we have is totally unique and one of a kind. Nobody has what we have."
"We have some civil war diaries, obviously we weren't a state yet, but veterans came out here to homestead and brought their things with them." Stursa said. One veteran even brought back a collection of confederate money which is also housed in the archives.
One of the most recent acquisitions was a box from the Fargo Parks District, full of WPA (Works Progress Administration) materials from the Depression era. The box contained photos and documentation, and maps of projects that the parks department was involved in.
The archives house over half a million photographs -- 20,000 of which are posted online via Flickr and Digital Horizons. Digital Horizons combines the photo collections of not only NDSU but the State Historical Society, Concordia, and Prairie Public. The archives also possess meeting minutes from Fargo's first city council meetings in the 1870s-2002, and even one of the first diplomas issued from NDSU in 1895. The materials are primarily donated and researchers from across the globe have used them in their study. In fact, the German car manufacturer Audi recently reached out to the archives to use a photo from their collection to be used in a staff newsletter.
The NDSU archives recently acquired high-density mobile compact shelving. It's an attractive unit embellished with a photograph of Old Main from the 1920s--complete with a Model T.
"You push a button and choose what row you want to move," Stursa said. "This storage unit has nearly doubled the capacity of this room. We were like... 99% full."
As a safety precaution, laser sensors are placed at the bottom of the unit to ensure that no researchers or administration will be crushed in the course of their work.
Who uses the archives? Anyone can access the archives, but lots of history classes and architecture students do, if they are studying the historic buildings downtown.
Stursa gestured toward a few flat files that contained architectural drawings, oversized photographs, maps, and posters. The archives contribute to rotating exhibits at the NDSU library as well as throughout the campus. There was also a small exhibit of trinkets donated by former U.S. Senator Milton R. Young, celebrated for his longevity serving in the senate (1945-1981).
Stursa also mentioned that many researchers come in to work on their own history books.
"It's always kind of fun to see the output of people's research when they come here," Stursa said.
IF YOU GO
NDSU Archives Open House
Thursday, February 15, 3:30-5pm
NDSU Archives, West Building: 3551 7th Ave N