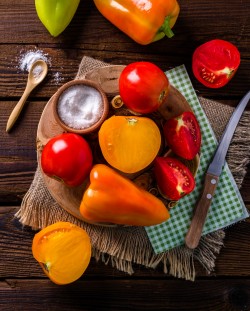 Last Thursday, Zandbroz Variety hosted a book launch and reading for Amy Thielen's memoir "Give a Girl a Knife." Though originally scheduled for May 25th, the event had to be rescheduled due to illness. Nonetheless, the turnout at Zandbroz was substantial, with pastry goods courtesy of Youngblood Coffee.
"Give a Girl a Knife" chronicles her journey as a chef, from her rural upbringing in Minnesota to the elite culinary world of New York, followed by her move back to Park Rapids in 2008. From September 2013 to April 2014, she hosted a Food Network show called Heartland Table. Currently she works as a public speaker for radio and television and a contributing editor for Saveur magazine.
When Thielen authored the cookbook "The New Midwestern Table: 200 Heartland Recipes" in 2013, early drafts contained personal narratives that had to be cut from the final product, since the recipes were the main focus. Thielen's editor at Random House recommended that she write another book to provide a medium for these narratives.
"A memoir is really about a single story, one arc of a story," Thielen said, "and to me, the biggest arc in the story of my life was coming home. So the book is really about homecoming, and it's told through the lens of food, lots of food and lots of cooking.
"Basically it's about 'Where does my cooking obsession take me?' It's taken me a lot of crazy places and through a lot of kitchens."
For example, when Thielen was in college, she and her artist husband moved into a house with no running water, where she had to maintain a garden and cook everything from scratch. Sometime after, they moved to what Thielen called "an illegal artist warehouse," where she cooked on an electric stove that was hot-wired to the main circuitry.
In 1999, Thielen began attending cooking school in New York City, where she survived an intense six-week internship that solidified her standing as a chef.
"Up to that point, I didn't really have a lot of motivation," Thielen admitted. "I didn't know what I was doing with my life. I was spending a lot of time out in the woods, reading books and writing and not really working. The minute I found cooking, I found my calling."
Copies of "Give a Girl a Knife" are available at Zandbroz and on Amazon, both in print and as an e-book.