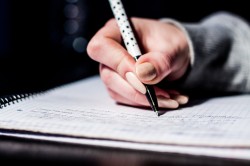 By Karen Kohoutek
I came to the MFA program through a series of flukes and coincidences. I happened to attend a student literary reading a friend was hosting at the public library, that was led by Mark Vinz, one of my former professors. He caught me afterwards, and he told me about the then-new MFA program.
A few weeks later, I was interviewing with him and Lin Enger to become their first teaching assistant, and I left a corporate insurance job to return to academia, changing the whole course of my life. With a section of Freshman Comp to teach, and the full load of my own graduate credits that went with it, most days I left for campus at 6 a.m., and didn't get back until 10 p.m.
I had to schedule times to wash my hair.
But the MFA was an amazing experience. The professors were great, and even better was the camaraderie of a diverse group of writers – differing not only in their personalities and life experiences, but in what they wrote about, and the style in which they did it. Unlike some creative writing classes, no one ever tried to push me into a house style. Instead, the teachers worked to help draw out our own voices.
It took a while to fully put these lessons into practice, but it was the MFA that caused me to commit to sharing my writing publicly. Without it, I might well still be writing furtively in notebooks I wouldn't want anyone else to see.
The program's closing was a loss to the university and the larger community disproportionate to its size. The literary activities that expanded out from it, and its very existence, represented an ideal that's invaluable to society. It showed that people right here in Fargo-Moorhead were truly committed to embracing the arts and making them central to their lives, and provided a collective role model of embracing the intangibles that give life any meaning at all.
Even in the act of paying tribute, I feel guilty about all the students, especially the ones already in the area or at MSUM, who are missing an opportunity that was invaluable to me, and won't see any similar opportunities on the horizon.
It's fitting that the program's last days should be marked with a New Orleans-style funeral: a celebration of what was in the midst of what's been lost. In New Orleans, on Mardi Gras morning, neighborhoods are awakened by the Skull and Bones gangs, revelers in skeleton costumes, many of which are emblazoned with the chilling colloquial phrase: "You next."
We can be sure that some other absolutely essential non-essential is already in line to be next.
IF YOU GO:
MFA in creative writing: New Orleans Funeral Celebration
Thursday, May 12, 9-11:30 p.m.
Usher's House, 700 1st Ave N, Moorhead