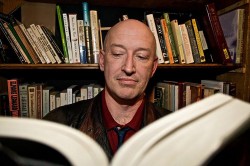 'On Wednesday, Sept. 30, poet Kevin Zepper and musician Roger Gress will hold a dual poetry reading/drum solo show at the Red Raven, starting at 7:30 p.m. The title of this show is "Approximately Improvised," as they plan on improvising a portion of the performance.
For over two years, Zepper, an English professor at Minnesota State University Moorhead, has collaborated with local pianist Terrie Manno as part of their project entitled Lines and Notes. Most recently, they performed at MSUM as part of the Performing Arts College Recital.
"We both have our own projects as well as Lines and Notes," Zepper has said of Manno. "I want to see where drums and poetry might lead. Roger and I might do this once, maybe a few times. It just depends."
This will be Zepper's first time working with Gress with the goal of performing.
"I have always wanted to try poetry with a drummer, and Roger was the first person I thought of for this kind of collaboration. There are many fine drummers in the area, and I wanted to work with someone from the community, an independent artist. I knew Roger was a songwriter. He's currently with two other musicians performing original music."
Back in February, Gress was one of 15 musicians who took part in DylanFest, a festival at the Fargo Theatre that celebrated the work of Bob Dylan with covers of his songs. The other musical acts included bands like Amanda Standalone and the Pastry Shop Girls, Post Traumatic Funk Syndrome, D Mills and the Thrills, and Werewolf Bar Mitzvah.
In addition to being a musician, Gress has been the executive director of the Fargo Park District since 1996. Over the years he has expanded the district by 60 to 70 new parks, and plans to retire at the end of next year. He also holds an architecture degree from North Dakota State University.
"Drums and poetry is a bit different from Lines and Notes, based on material and other factors," Zepper said. "I would like to think the poems I've selected to work with Roger might work a bit better than collaboration with a piano or guitar. We'll see."
Regardless of how it turns out, Zepper declared, "Ultimately, Roger and I are doing this to have fun. We know we're going to have fun and we hope the audience will have some fun with it as well."