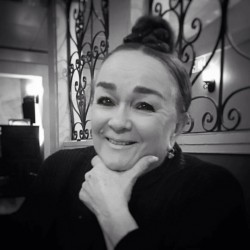 This Monday, the 26th, children's book author and illustrator Patricia Polacco will be at three of Moorhead's local elementary schools, courtesy of the Dilworth-Glyndon-Felton (DGF) Public School District. A much sought-after guest lecturer and keynote speaker, Polacco will give presentations at Probstfield Center for Education, S.G. Reinertsen Elementary School, and Ellen Hopkins Elementary.
Having studied in the U.S. and Australia, Polacco holds a PhD in art history with an emphasis on ancient iconography and Russian and Greek paintings, and has worked in art restoration and as a museum consultant. Among her many awards, Polacco earned the Regina Medal in 2012 for her contributions to children's literature.
Growing up, Polacco went to school in Oakland, California and spent summers in her birthplace of Lansing, Michigan. Her Ukrainian grandmother often told stories in front of the fireplace, which Polacco retold to her children and eventually started writing down. Her books are largely autobiographical, featuring fictionalized versions of her younger self and of her grandmother as a wise and comforting mentor.
Polacco also drew upon her Russian background for "The Keeping Quilt," winner of the Sydney Taylor Award from the Association of Jewish Librarians. The story focuses on a quilt passed from mother to daughter for four generations, starting with her great-grandmother Anna. Woven from old family clothes, the quilt represents the family's culture and traditions.
Twelve years after "The Keeping Quilt," Polacco wrote its prequel, "The Blessing Cup," about Anna's family leaving Russia due to looming political threats. Among their few possessions are a china tea set, believed to bring blessings to whoever drinks from its cups. The set becomes a treasured keepsake and a symbol of family unity.
Similarly, Polacco was inspired by her Irish background to write "Fiona's Lace," a story about an immigrant family moving to Chicago. Young Fiona weaves thread into fine lace to preserve her memories of Ireland; a lace that ends up saving her life during the Great Chicago Fire.
Prior to her success, Polacco struggled with dyslexia and couldn't read until she was 14. Her breakthrough was the basis of "Thank You, Mr. Falker," an homage to the teacher who helped her overcome her disability. This book won the Educators for Social Responsibility Award and was recognized by the Association of Educators of Dyslexic and Learning Disabled Readers.
YOU SHOULD KNOW
For more information on presentation times and locations,
contact the DGF Public School District at 218-477-6805,
or Moorhead Area Public Schools at 218-284-3300.