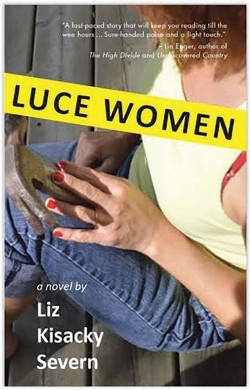 Fargo-Moorhead has a new author in town. Maryland native and current MSUM professor Liz Kisacky Severn has two readings coming up for her debut novel, "Luce Women," recently published by Forty Press.
The first reading is scheduled for Nov. 17 at the MSUM Library Porch, as part of the McGrath Writers Series. The next will be on Dec. 8 at Zandbroz Variety in downtown Fargo, where the book will be sold.
"I had pretty much thought 'Luce Women' would never find a publisher," Severn admits. "I had been working with an agent who would try to get me to write a novel a certain way, and I would try to do it and then she would say, 'No, that's not quite right.' So I said to her, 'I just can't do what you want me to do.' And a week later I heard from the editor at Forty Press and he said, 'We'd like to publish your novel.' I was so grateful because it was my MFA thesis in 1997 and I never gave up on it. I just kept going back to the women."
The women are the narrator Trudy and her friends, Martha, Iris and Greta, who join to help her renovate an old house that she inherited from a reclusive millionaire named Lyle Staybler. Though Trudy plans to fix the house for charity, her project doesn't win her the townspeople's favor, as she becomes the target of their judgments and accusations when she's named a suspect in Lyle's mysterious death.
All this takes place in Luce, Minn., which is based on a town that no longer exists.
"It used to be a real town," Severn says. "My grandmother grew up in Perham, Minn. She would talk about going to barn dances in this little town called Luce, between Frazee and Perham on Highway 10. So I thought I would use that as kind of a tribute to my grandma."
Of her writing process, Severn explains, "Originally it started with the women focusing on the renovation of an old house. Then I thought, 'What if Lyle died under a cloud of suspicion and Trudy is involved in some way, like she's a suspect?' And from there it developed more and more into a murder mystery. Was it assisted suicide? Was it suicide? Was it murder? Will Trudy be able to prove her innocence? How will the town react to her as she becomes more and more a suspect? How will these four women who have developed a friendship hold together? And they each have their own individual aspects of life that they're going through."
Research into the mind of the eccentric Lyle involved trips to a store that used to be located in the Plains Art Museum, before it was replaced with the Katherine Kilbourne Center.
"It was called the Old and New Store, and it was just stuff. It was like going through somebody's attic, and there were some really fascinating things. I would go into that store because Lyle is a hoarder, he's a recluse, he's got decades of his family's possessions and his own possessions. And I would just pick up items and I'd be like, 'Oh, this would be something they'd find in Lyle's house.' So researching became a lot of fun in that respect."
For more information on Severn's work, or to keep updated on readings, head to lizkisackysevern.com.
IF YOU GO:
Reading and book launch
Nov. 17, 4:30 p.m.
Library Porch, Minnesota State University Moorhead
Reading and book launch
Dec. 8, 6:30 p.m.
Zandbroz Variety, 420 Broadway N, Fargo