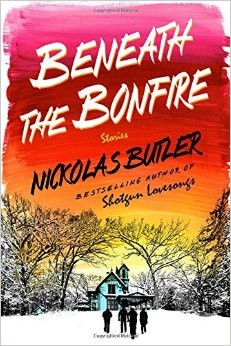 If winter is the season for hibernating and tackling hefty 19th-century Russian novels, then perhaps the short story is the perfect medium for reading during an active summer. And now that we're on the other side of the Fourth of July mayhem, it's the perfect time to give the psyche some much-needed rest and relaxation, and switch out the bottle rockets for a good set of short stories.
Nickolas Butler, whose novel "Shotgun Lovesongs" was a standout debut of 2014, has released a new collection of short stories, "Beneath the Bonfire," just in time for reading on a lazy summer afternoon.
Butler's 10 stories in "Beneath the Bonfire" read as the spiritual successor to his first book, which was essentially a landlocked love letter to the Midwest. Butler, a through-and-through Wisconsinite, again tethers his stories to our corner of the world, although the link to a specific place isn't quite as explicit in this collection as it was with the fictional town of Little Wing, Wis., in "Lovesongs." And while Butler broadens his reach to different rural locales in his new stories, he also covers a wider range of tone and theme.
One standout is the titular tale, in which a young couple goes scuba diving in a lake in the middle of winter, so that they may observe a behemoth bonfire of Christmas trees burning on top of the ice. The story dips into a new surreal and, frankly, terrifying territory for Butler, and the mix of the commonplace with the fantastic is reminiscent of some of F. Scott Fitzgerald's classic short fiction, particularly "The Ice Palace."
In "Sven & Lily," we are introduced to the rather deleterious friendship of two men: Lily, the stocky, unassuming narrator, and Sven, a seven-foot charismatic genius whom Lily admires. For fun, the men cruise the countryside, looking to let loose by playing pool, drinking and picking fights. Their relationship crumbles after one of them commits a serious mistake at a roadside bar, which in turn threatens their lives at home.
Butler's sincere love for the Midwest is clear in his writing, and he seems most comfortable in describing the landscapes and towns in which his characters live. Readers who have grown up in the region will find many of Butler's scenes familiar, such as a short section from "The Chainsaw Soiree": "… the countryside clipped past us – hawks on the telephone poles, frozen rivers moving invisibly beneath cloaks of ice, horses standing somberly in the fields."
In "Train People Move Slow," a factory worker finds redemption for his listless existence through taking care of his reckless girlfriend, Sunny, and her two daughters. Here, as is the case with the rest of his fiction to date, Butler places a high importance upon having a supportive family and steadfast friends, which are often the key factors that see his characters through tough times.
"Apples" caps the book with the sweet story of Lyle, an appliance salesman who loses his job late in life and takes up menial work at an apple orchard. Lyle transforms the humdrum task into enjoyable, meditative work, and a chance encounter with an old farmer reminds Lyle to appreciate what he still has.
YOU SHOULD KNOW
"Beneath the Bonfire" by Nickolas Butler
253 pp. Hardcover. $23.99
Available at Zandbroz Variety