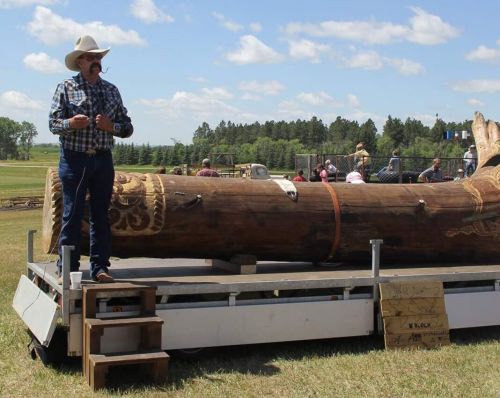 "My dad always sung cowboy ballads as we were out riding and pitching hay and we grew up with that sort of thing. I started writing songs but didn't know nothin' about music so they came out as poems --which is the same thing--that's the tradition." Says Bill Lowman, cowboy poet, artist, rancher, entertainer, banquet speaker and charter member of the National Cowboy Poetry Gathering in Elko Nevada.
A gifted storyteller, he's "sired" and illustrated six books of poetry and stories surrounding ranch life and he's also the founder and director of the Dakota Cowboy Gathering in Medora. 2019 marks the 33rd year in Medora, the event draws talent from seven states and three provinces. This year's event features 35 entries as well as a cowboy gospel segment on Sunday.
Needless to say he's a man of many cowboy hats.
When he started writing, he considered himself a "closet poet." His wife Joann submitted one of his poems to REC magazine a publication through Rural Electric Coop in Mandan and it was published statewide in the mid 80s. Little did he know that the publication of this piece would land him in Elko Nevada to attend the first ever National Cowboy Poetry gathering in 1985. A renewed interest in cowboy culture, the American west and cowboy poetry among folklorists came around this time and the gathering was a direct result.
"It [cowboy poetry] thrived in the 1880s and 90s on the cattle drives from Texas up here was when it was really popular and it really kind of died out." Lowman went on to say, "They started studying it and put together the first gathering to be a one time thing out in Elko Nevada, I got chosen to go from North Dakota through the poem--we had a folklorist in North Dakota and her and I went the first year because I was North Dakota's delegation and I've been with it ever since. I came home and I started this one."
The culture behind cowboy poetry is steeped in tradition and oral histories. When performed the pieces are recited from memory.. The poets utilize verse in rhyme to tell a story--though there are some who do free verse but they're not nearly as common. Another contributing factor to cowboy poetry is humor.
He went on to say, "We're authentic. I don't do a piece of artwork or write a poem unless there's a reason to record an event. That's worth recording. I don't do a picture of a vase of flowers I don't do a poem or short story about common stuff it's got to be in our tradition. It's gotta be a special event that's either a bad wreck short of death or even death or a humorous event. In our tradition any wreck short of death, when somebody bucks off or gets hurt or something as long as it isn't you--it's funny! That's one thing we have is a dry sense of humor. We try to end any serious story with a funny note, no matter if you're goin' broke or whatnot. We use our dry cowboy humor to keep our spirits up when we're losing calves in a storm or whatever."
Lowman is a full time rancher, in fact, he was inducted into the North Dakota Cowboy Hall of Fame in 2013. He and his wife Joann ranch full time in the badlands near Sentinel Butte along with his youngest son and his family. He also rode bulls in a three state area in his rowdier days.
When asked what drove him to start riding bulls he said, "I tried bulls and I got on good with them so I stuck to that. It fit me better than the broncs did, and it's a challenge. It's an adrenaline thing. As far as pullin' down on a bull you get an adrenaline rush--a big part of sports is mental. You want to think you can win,you don't want to be whipped before that gate opens, so that's a big challenge. We were quick and athletic--we grew up with a devil-may-care-attitude on the ranch, just rough and reckless work alone a lot, you get in a wreck and there's no one there to help you so you have to survive on your own so you just did--you rely on your physical ability and your reflexes and that was just the way of life--that's the way it was. It was an everyday thing that wasn't a big deal, you didn't know any better. Then I got married and my wife changed my attitude."
Lowman also traveled the state of North Dakota as an artist in residence through the North Dakota Council on the Arts as a poet and visual artist.
"I was hired as a writer and I went in and worked with them on having fun, writing a poem, making it simple and don't be intimidated. Write what you know, nobody else no matter if they have 10 years worth of college and have a doctor's degree if you write about what happened to you and you know you're the only authority on that they can't correct it. Build their confidence and don't make it a job, just have fun with it." He said. "I hated to have to go into a school and say, you have to write a poem by Thursday, you have to… that kills it! I don't want to be told to write a poem or what to write it about. I want it to come so fastI can hardly get it wrote down. I carry a notebook, I've written them off of saddle horns and baling tractors, I get up at 2am and write stuff and make notes. It has to come natural and free, You can't force it or else it won't be any good."
IF YOU GO:
33rd Annual Dakota Cowboy Poetry Gathering
May 25-26
Medora Community Center, 465 Pacific Ave, Medora