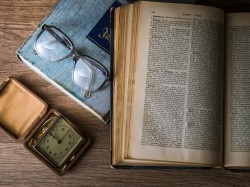 This Saturday, Fargo's own Zandbroz Variety will be celebrating Independent Bookstore Day, an all-day event that's free and open to the public. Zandbroz will only be one of hundreds of bookstores participating in this event, which is meant to generate not only sales but also appreciation for bookstores in the digital age.
Manager Josie Danz describes it as a day-long celebration of books and the people that sell them, complete with free doughnuts and coffee, drawings for prizes, and limited-edition gift items. Everything will be 15% off, and patrons will have the opportunity to pre-order signed copies of Louise Erdrich's upcoming book, "La Rose."
"One big thing that we're doing is from 5 p.m. to 8 p.m.," Danz says. "We invited about a dozen local authors to come join us for a celebration of beer and books. So during those couple hours we'll be having a very casual get-together of local authors to read their work and talk about their work and just talk with customers, and we're going to be serving Drekker beer."
Among the local authors will be Ryn Pitts, author of the murder mystery "Deadly Benefits;" Jacqueline Bussie, Concordia professor and author of the nonfiction book "Outlaw Christian: Finding Authentic Faith by Breaking the Rules;" and Lin Enger, MSUM professor and author of the novels "Undiscovered Country" and "The High Divide."
Independent Bookstore Day was originally known as California Bookstore Day, and was organized by Green Apple Books in San Francisco. Back in May 2014, 93 bookstores in California celebrated with activities, free food, author talks, book signings, and even special gift items made by publishing companies specifically for this event. Throughout the state, bookstore sales increased by more than $150,000.
Following that success, Green Apple Books decided to spread the event nationwide. Last year, Zandbroz Variety was one of over 400 bookstores that participated in the first Independent Bookstore Day. Publishers Weekly reported that several bookstores likened it to holding Christmas sales in May.
Special gift items ranged from chapbooks and book-themed tea towels to a Neil Gaiman coloring book, a print by graphic artist Chris Ware, and a stenciled quote by author Margaret Atwood. These collector's items are not available anywhere else, or on any other day.
IF YOU GO:
Independent Bookstore Day -- books and brews
Saturday, April 30, 5-8 p.m.
420 N Broadway, Fargo