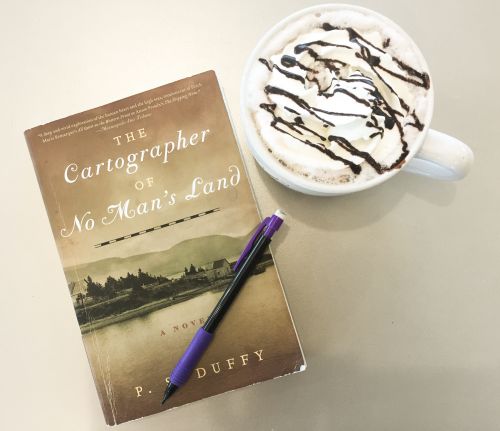 by Nataly Routledge
MOORHEAD-- "I thought I'd read 30 pages of the book in a monotone," said Penny Duffy in the introduction to the question and answer session for her novel on Thursday. The audience lit up with laughter. Held at the Knutson Center of Concordia college, the event was held as part of this year's 1 Book, 1 Community read for the Fargo, West-Fargo, and Moorhead communities.
The yearly community read for our region is hosted by the local libraries. This was the 7th year of this event—the chosen novel this year was The Cartographer of No Man's Land.
"Libraries serve as a real community connector," Duffy noted towards the beginning of her talk. Events such as 1 Book, 1 Community attempt to draw together a range of demographics within the region and unite them with a commonality—reading a novel. Book talks, exhibits, posters, and author talks are held each year to generate interest in the book and its topic. Last year's novel was Hotel on the Corner of Bitter and Sweet written by Jamie Ford.
Duffy worked for years as a writer for neurosciences at Mayo Clinic in Rochester, Minnesota, and has dabbled in creative writing for years. This novel was her first venture into fiction, something she's been hoping to dive into for a long time now.
The novel is set during World War I telling the story of a fictional family living in Nova Scotia. This subject was the result of a long-held fascination with history starting with Duffy's undergraduate degree. Initially put on the backburner, this interest in history resurfaced in the form of a historically-rich and meaningful novel voicing the story of Canadian soldiers.
At first hesitant to take on such a daunting, research-based project, Duffy avoided the project. The final bout of certainty for this topic occurred while she was visiting a small arts center in Minnesota. As she was admiring a local artist's painting, a woman who identified herself as a psychic approached her. "I see these men in khaki, suspenders, and collarless shirts standing around you, and they want you to tell their story," the psychic told Duffy.
This event, as odd as Duffy perceived it to be, pushed her to dedicate herself to this novel. She did in-depth research on World War I, collecting a vast number of statistics and sources to immerse herself into the context of this novel. "A lot of the time I felt like I was writing something beyond myself," Duffy told the Fargo-Moorhead audience.
At some point during the talk she surveyed the audience to see who had ancestors that served in World War I. A significant percentage of the audience raised their hands. "We need to honor those who fought, without glorifying war…it's a fine line," Duffy later said, continuing to reflect on the gravity of her novel's content.
The book took her a total of 8 years to research and produce. You can find the novel at the West Fargo, Fargo, and Moorhead public libraries. Information on the 1 Book, 1 Community project can be found at the website 1book1community.org.