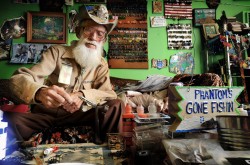 Back in December, journalist and MSUM alum Danielle Nadler released a nonfiction book entitled "Without a Trace: The Life of the Sierra Phantom," the result of Nadler's conversations with John P. Glover, a man who lived off the grid in the Sierra Nevada Mountains for 50 years. At the age of 75, Glover settled in a small town in California, once his advanced age made him more vulnerable to hypothermia and frostbite.
On Saturday, May 13, as part of her book tour, Nadler will be back in the area for a book signing at the Junkyard Brewing Company in Moorhead. She will give a brief talk and answer questions about the book, its inspiration, and the weekly conversations she had with the man dubbed the Sierra Phantom.
"There were some parts of his life he had a hard time sharing," Nadler said, "but as our relationship built up, he was more comfortable sharing the more difficult parts of his life."
Through the interview process, Nadler and Glover became good friends, which resulted in an intimate look into Glover's life before, during, and after his departure from civilization. He grew up in orphanages, endured forced labor, and fought in World War II before retreating into the wilderness.
Glover would make shelters out of pine branches during the summer and build igloos in the winter. He went into town for supplies once every few months, but otherwise had no human contact during those 50 years. When he finally settled in the mountain town of Bishop, he began selling fishing lures and telling stories to the locals about his experiences living off the land.
Nadler self-published "Without a Trace" through CreateSpace, a publishing platform on Amazon, where it reached #1 on the list of best-selling new releases. On a larger scale, it made #3 in the Travelers and Explorers genre category. Nadler now conducts workshops on CreateSpace.
Nadler grew up in Watertown, South Dakota, before studying mass communications and journalism at MSUM. She has won first-place press association awards in California, Nevada, and Virginia. Currently she lives in Northern Virginia, where she works as managing editor of a local newspaper called Loudoun Now. Last month, Nadler spoke at the South Dakota Newspaper Association Conference.
Copies of "Without a Trace" can be found at Zandbroz Variety in both Fargo, North Dakota, and Sioux Falls, South Dakota.
IF YOU GO
Danielle Nadler book signing
Saturday, May 13, 2-4pm
Junkyard Brewing Company, 1416 1st Ave N, Moorhead