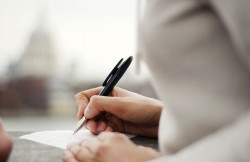 Back in 2015, local poet L. Reuben Willis released his poetry book, "Dog and Fox, and Other Musings" through Amazon's CreateSpace publishing platform and Kindle Direct Publishing, complete with photographs as visual aids.
More recently, Willis has come out with a very different collection entitled "Losing My Religion: Wooing and Losing a Goddess," a set of poems with an overriding narrative inspired by two people Willis knows.
"It's about a long-distance love affair between two people that are married, not to each other," Willis says. "So it's controversial, not like the more academic haiku collection. It's definitely not a kid's book."
The collection was assembled with the help of the same editor that worked on Willis's previous book. Of the friends that inspired this narrative, Willis adds, "After the love affair crashed, they went their separate ways and vanished. I haven't talked to either of them in more than a year, year and a half."
Though the poems derive details from the real-life scenario, Willis took care to protect the couple's privacy.
"Names are never mentioned, and they knew I was writing the poetry and they approved the poetry as I wrote it. So they've been aware and they knew my aim was publishing and they've never said anything against the poems… There's nothing that identifies these people specifically, other than the situation."
His hope is that readers will approach the story with an open mind, as the narrative does not judge or punish these characters for their actions.
"I'm not saying this is good, I'm not saying this is bad," Willis clarifies. "I'm not judging them at all. I'm just telling the story."
Willis's poetry started getting recognized and published when he joined a writer's network on Twitter back in 2013. This venture was encouraged by the male friend of the aforementioned couple.
"The guy was one of the friends that really encouraged me to write, to go ahead and make the leap that I did, when I started writing on Twitter. He was one of the ones that really kept me going when I was discouraged and overwhelmed by the writing of other people that were there. I use to look at their stuff and go 'Oh my god, I can't write like that.'"
Willis's next book is a work in progress entitled "Improvisational Harmonies." It will feature poems inspired by music and contain commentary on how music aids the creative process. Willis hopes to have this book out by the end of the year.
"Losing my Religion" is currently available through Amazon and the CreateSpace website as both a print book and an e-book.