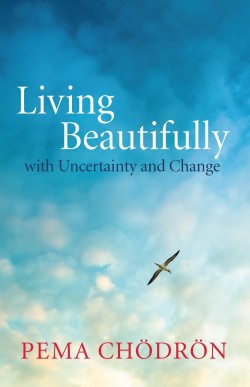 Starting Nov. 5, the Spirit Room will be holding Dharma Book Club meetings every Wednesday from 6 to 7 p.m. The club will discuss one chapter a week from "Living Beautifully with Uncertainty and Change" by Pema Chödrön. Copies are available at Zandbroz Variety.
"Living Beautifully with Uncertainty and Change" is a self-help book about maintaining peace of mind under trying circumstances. Rather than hiding from the chaos of everyday life, Chödrön encourages readers to embrace it and keep an open mind and open heart in order to live in the present.
Chödrön was born in New York City and worked for several years as an elementary school teacher in New Mexico and California. Back in the 1970s, she traveled to the French Alps and became a Buddhist nun under the tutelage of Chögyam Trungpa, a famed meditation master and author of several other books read by the Dharma Book Club.
In Hong Kong in 1981, Chödrön received her monastic ordination from the 16th Karmapa, the head of one of the four major schools of Tibetan Buddhism. After working as director of a Buddhist temple in Boulder, Colo. for three years, Chödrön moved to Nova Scotia, where she currently directs and teaches at Gampo Abbey, a Tibetan monastery.
Her other books include "Wisdom of No Escape," "When Things Fall Apart," and "Practicing Peace in Times of War."