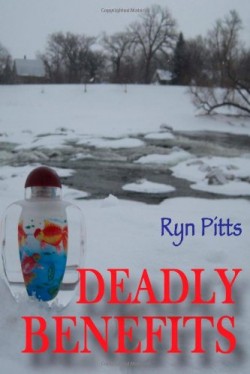 Last year, Fargo author Ryn Pitts released her first book, "Deadly Benefits," a murder mystery that utilizes her background in pharmacy, health administration and insurance, as well as her Scandinavian background (with her proudly Finnish heroine, the pharmacist Heli Harri).
The plot revolves around Christine Runyan, a young mother stricken with Crohn's disease, who dies in the intensive care unit at the fictional Swedish Hospital in Fargo. Fearing a malpractice lawsuit, Dr. Michael Lavelle acts quickly to cover his tracks, including his involvement with a shady mail-order pharmacy.
Runyan's death is initially thought to be caused by an error on Heli Harri's part; but the family dynamics among her husband Trevor, sister Brigid and daughter Anya imply something more sinister at play, as it becomes clear that more than one person would have something to gain from her death.
Curiously, though Pitts intended Heli to be the protagonist, she has little to do with driving the main action, and does not play an active role until the last third of the novel. She does solve the mystery near the end; but for the most part, we see her manage her pharmacy, express curiosity over the Runyan case, and go on dates with Dr. Sandeep Venkata, a chief resident from Mumbai, who's torn between his admiration for Dr. Lavelle and his suspicions about Runyan's death.
The whodunit part of the equation is relatively predictable, and there is at times an excess use of medical jargon that the average reader would not understand. However, the characters make the novel memorable, and the inside look at hospital protocol reveals unpleasant truths about the self-serving business side of the healthcare industry.
Copies of "Deadly Benefits" are available at Zandbroz Variety and on Amazon.