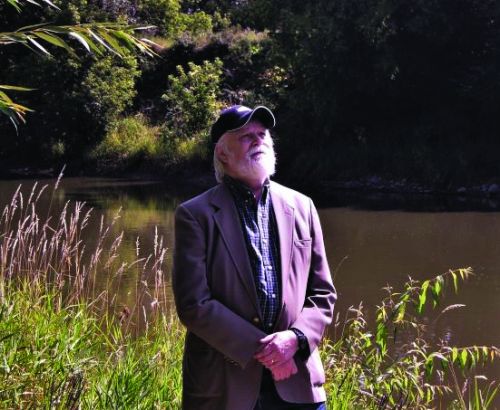 "My dad would say something when we'd see the river really low. I was raised in Colorado along the South Platte. In German he'd say, 'The river he is so dry -- he is crying for rain. He is rain poor.' 'He' it wasn't an 'it' and the earth was not an 'it,' the earth was 'die erde' which is feminine because it was full of life." said retired NDSU professor and author Dr. Timothy Kloberdanz.
"I've always been fascinated by rivers. It's going to sound like I'm anthropomorphizing but I'm guilty as charged. It's better to anthropomorphize a river than to see it as an 'it.'"
His areas of expertise are expressive culture and folklore, but now he's exploring fiction with his new novella titled, "One day on the River Red" but his fiction is rife with folklore.
"One day on the River Red" follows Raymond an Norwegian widower. The story follows Raymond as he walks along the Red River where he encounters a mysterious young woman with flowing red hair. Was she real? Was she a sprite or other otherworldly being? The novella is dedicated to his Aunt Margaret and maybe even inspired by her. She died before Kloberdanz was born but his family had their own folklore surrounding her spirit.
River culture is in Dr. Kloberdanz' blood. Raised on the South Platte River and now living along the Red River, his family migrated to the Red for the sugar beet harvest in the 1920s. Yet his river roots extend farther. He is a descendent of the Germans from Russia who lived along the Volga River in Ukraine. He attributes all this to his fascination with rivers.
Kloberdanz has done extensive research on the culture of the Germans from Russia as well as the ethnic makeup of the Midwest. He, along with North Dakota state folklorist Troyd Geist, co-edited and compiled the award-winning book, "Sundogs and Sunflowers: Folklore and Folk Art of the Northern Great Plains."
His foray into folklore started around the age of ten, when he would record the stories of the elders in his family. He was conducting interviews before he even really knew what an interview was. "I still have more questions than answers. I wish I could go back and ask all this stuff, you know what? You can not tap it all. A culture is way too big and too complex. You can write all the books you want. Volumes and volumes. The best you're going to do is have a slice, so we do what we can and here I am into fiction! Who would have thought. I've always dealt in nonfiction, in some ways it's easier --You talk to people you go to the archives…"
"Once I got into Raymond's shoes the story just flowed and I let the character take me where it would, which is a scary thing because you have your ideas and you have your outline." said Kloberdanz. "One day on the River Red" is the first in a series of fictional books with a river as their focal point.
IF YOU GO
Author event: Dr. Tim Kloberdanz
Sunday, October 21, 2pm
Zandbroz Variety, 420 N Broadway, Fargo