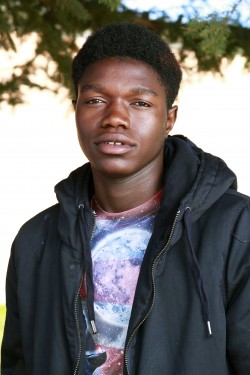 By Francese Manya
I was born in Congo in Lumbumbashi. It was kind of good where I was, but we had conflict between two tribes—Kasais and Hancomas. My grandma left us and went to Namibia, and I stayed with my mother, niece, and brothers.
We were sitting in my grandma's house talking, joking, and playing outside, just when we saw another tribe; they came and attacked us. They were beating my mom and my father and my brothers. We were all crying. They took a stick and they hit my head and my arm until my arm was broken and I fainted.
When I woke up, I was in the hospital and I was asking, "Where am I?"
When I fainted, the neighbor picked me up and someone took me to the hospital. When I woke up, they asked me, "Do you know where you are?" And I said, "No, and why am I hurt?" And he said, "You are in the hospital. Your family was beaten, your brothers, they are dead, so we just picked you up and brought you here." He told me that my mom and dad were dead, and they wanted to take me to my grandma.
I said, "Where is my grandma?" And they said, "She's in Namibia." I felt like asking, "Where is Namibia?" and they said, "We will take you there." From there, they just put me in the truck and took me to my grandma, who was in Namibia in a refugee camp.
When I reached my grandma and she saw me, she was crying. She asked me, "Francese, what's going on?" I said, "Where we came from I saw terrible things happen to my mom and dad." And my grandma kept crying. She lost her daughter, who was my mom. I was eight years old when I started life in the camp with my grandma.
In the camp. I was coming from school, and I was going to look for a job. I was hustling when I was a little kid, looking for something good for me. I had bad friends influencing me to smoke and drink.
The camp was not that big. There was no food there, so we had to look for food and we had to work hard. My life in the camp was so difficult.
I remember that my grandma went somewhere to apply to come to the United States. My grandma said, "I'm just going there to talk with them." And I said, "Okay." One day she told me she was talking to them about how our life was and how we came from the Congo. Then they called me and asked me about my story. I told them what happened to me. I told them how I was beaten when I was a little kid and lost my mom and dad.
The day I found out that I was coming to America, my aunt called my grandma and told her that we were coming on the twenty-seventh. My grandma told us and we did not believe it. We said, "We are really going to America? No, it's not true." From there I had nothing to say. I just went into the room and started crying because I left my mom and dad.
When she said, "You are going to America," I said, "America is so far from Africa, and I left my brothers and sisters and my mom dead in Africa. Even if I go to America and find a nice job and have money, I wouldn't have anyone to share it with because my mom and dad are dead."
When we went for the check-up, they took our blood and they checked our chests. Then we went to get a plane at the airport. We got a plane from Namibia to South Africa. After South Africa, I went to New York. After New York, I went to Chicago, and after Chicago, I came to Fargo. When I came on the plane, I was so excited but kind of afraid too. The way you see America on the TV, people are playing around, but when I came it was not that way, it was so different. A lot of things were different. Places and rules were different. Rules are different in America compared to where I came from. Stores are different and money is so complicated. And there are banks.
I started school last month, and I made new friends. I met new teachers, and I'm playing soccer now for South High School. I scored three goals. If I finish high school, I want to go to college to be a scientist in the future. It would be a good career for me; in school I like science and I like knowing a lot about things. One of the things that I like here is walking. I also like school here. I work at Taco Bell. I just started working there last week. The people are so good there. The manager is good. I work hard too. My life is going alright now.
I live now with my grandma and my cousin, and everything is going well. School is kind of good too. I like my friends. Everything is perfect now.
[Editor's note: Francese Manya's story and many others are part of the book 'Green Card Youth Voices']
IF YOU GO
Green Card Youth Voices Book Reading
Thursday, May 18, 6-8pm
Plains Art Museum, 704 1st Ave. N, Fargo