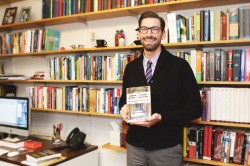 It was two weeks ago today that Adam Copeland, Concordia professor and director of theological inquiry, held a reading at Zandbroz Variety for his book "Kissing in the Chapel, Praying in the Frat House: Wrestling with Faith and College." This event included free food, coffee and wine, along with copies available for sale.
Copeland's book, published by Rowman & Littlefield Publishers back in December, is a collection of essays written by students in their 20snationwide. For his audience at Zandbroz, Copeland described the three-year process of collecting and readying these essays for publication.
"About three years ago, Concordia posted a new position online, it was called the Faculty Director for Faith and Leadership," Copeland said. "About that time I was thinking that my ideal position would be teaching practical theology at some sort of higher education institution that also cared about the church."
When being interviewed for the position, he was asked what his area of research would be. His response was that he'd like to augment generational research finds on millennials and their relationship with organized religion.
"I had this go-to presentation about millennials and their faith," he explained, "in reference to the hottest generational theory about millennials: that they mistrust institutions, that they never get married, that they spend half their lives on Facebook, that they can text-message faster than other generations can think … And above all, they have this relationship with religion that emphasizes spirituality, but that is reticent of the institutional church."
After succeeding in getting the job, Copeland put out a call for submissions on his blog. He received thousands of hits and over 50 submissions, which were narrowed down to 21 for the final product.
At the reading, Copeland read a few excerpts, starting with an essay in the section titled "Who am I? Who is God? What am I to do? Stories of Call." This essay was written by a Duke University student about how she arrived at college expecting God to reveal His plan for her so she could choose her major. But when the revelation still hadn't arrived in her sophomore year, she began taking matters into her own hands.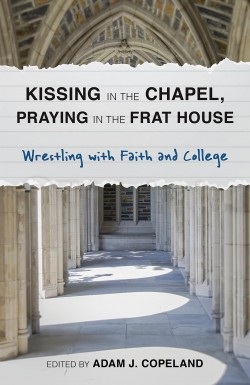 "One of the things students wrestle with is expectations," Copeland said. "They come to college with all these preconceptions, and sometimes — well usually — those preconceptions aren't lived out exactly in their college experience. So a lot of dealing with working through faith is building up resiliency, encountering new perspectives and addressing that change."
He then read another excerpt from the section "Sex and Sexuality," which details challenges with sexual orientation, gender identity and overcoming the trauma of sexual assault.
The essay selected was written by a gay UND student who struggled to reconcile his sexuality with his conservative Lutheran upbringing. In college he became depressed and withdrawn, prompting his friends to get him drunk in an attempt to make him admit what was wrong. To his relief, he was met with acceptance when he finally told them.
Other themes explored in this collection include overcoming mental illness, studying abroad, learning about different religions and challenging long-held ideologies.
"I wanted the book to include a wide variety of experiences with faith and college," Copeland said "so I was careful I'd never censor students' experiences."
Copeland is currently working toward his PhD in rhetoric, writing and culture at NDSU. Among other publications, his writing has appeared in The Christian Century, WorkingPreacher.org, The Huffington Post and in 10 books.