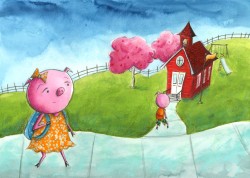 On Friday, January 27th, award-winning children's book illustrator Carrie Hartman will be at Ellen Hopkins Elementary and Robert Asp Elementary as part of a collaboration between the schools. She will sign autographs and present to various classrooms during their alternating library times.
Hartman previously made an appearance at the primary school in Becker MN, where a teacher was quoted as saying, "Carrie's multimedia presentation and stories were entertaining, engaging, and encouraging for the students. She was enthusiastic and easily related to students…Through her step-by-step demonstration, she made an illustrator out of everyone!"
Among the authors Hartman has collaborated with are Julia Cook, author of "My Mouth is a Volcano!", "It's Hard to be a Verb!", and "Personal Space Camp"; Todd Snow, author of "Manners are Important for You and Me" and "Feelings to Share from A to Z;" and Yael Mermelstein, author of "Izzy the Whiz and Passover McClean."
Several of these book have won Mom's Choice Awards. Some have been published by Special Kids Enterprises LP and National Center for Youth Issues
Though primarily an illustrator, Hartman wrote a book in 2007 entitled "Child of Mine." Inspired by her own daughter, this picture book addresses the struggles of both parents and children when it comes to disorders, disabilities, and behavior issues.
In 2012 Hartman illustrated "Gordy and the Magic Diet" by April Runge and Kim Diersen, which takes on the issue of dietary restrictions due to conditions such as allergies, autism, celiac disease, and diabetes. In this story, a boy named Gordy begins a new diet meant to tame the imaginary monster inside him that symbolizes his negative feelings and behaviors.
In addition to visiting schools and conducting workshops, Hartman works as a guest lecturer and keynote speaker with organizations such as the North Dakota Reading Association Conference and the Minnesota Society of Children's Book Writers and Illustrators. She also helps conduct events like the Hubb Children's Literature Festival, the Tri-Metro Art Festival, and the Minnesota Young Writer's Conference.
Hartman has lectured at the Residency Program at the Southwest West Central Service Cooperative in Marshall MN. According to a staff member, "Carrie captivated each grade level. I have never witnessed 90-plus students so focused on the task at hand, even our kindergarten level."
Hartman's artwork has appeared in many lucrative publications, including New York Magazine, Midwest Living, Seattle Monthly, Hartford Courant, Star Tribune, and Baltimore Sun.
YOU SHOULD KNOW
For more information, contact Moorhead Area Public Schools at 218-284-3300.