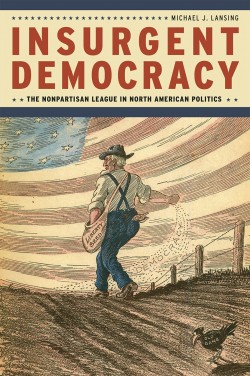 On Thursday, Dec. 3, Zandbroz Variety will host author Michael Lansing in a reading and signing of his latest book, "Insurgent Democracy: The Nonpartisan League in North American Politics," published this year by the University of Chicago Press. This nonfiction book chronicles the rise and decline of the Nonpartisan League, which was formed by North Dakota farmers in 1915 in an attempt to give power back to workers and rise above corporate and political authority.
The League, led by organizer A.C. Townley, was in favor of state ownership over banks, mills, and insurances, as well as suffrage for women, better regulation of public services, and easier access to education and healthcare, which were all instituted by Gov. Lynn J. Frazier. The League maintained control over North Dakota's state government, and went on to spread to 13 states and two Canadian provinces. At its peak, the organization had over 250,000 paying members.
However, public opinion turned against the League when members were accused of opposing American participation in World War I. After the war ended, western North Dakota was hit with a drought, while grain prices dropped and the economy suffered. Finally, in 1921, a recall election removed Gov. Frazier from his position, and the League was subsequently disbanded.
Unfortunately, this time in history has been overlooked and even forgotten by historians, and is rarely taught in school. With "Insurgent Democracy," Lansing relates this story as an example of how an ordinary group of citizens can create social reform through dedicated activism and assembly, and opens the floor for discussion on how it relates to modern politics.
Robert D. Johnston, author of "The Radical Middle Class," described Lansing's book as "beautifully written, deeply researched and compellingly argued… This book will be one of the most important rural, western and American political histories to emerge for some time."
IF YOU GO:
Thursday, December 3
7:00 PM
Zandbroz Variety 420 Broadway N Fargo, ND
Admission is free