​Laetitia Mizero Hellerud on 'Being at Home in the World'
by Särah Nour | .(JavaScript must be enabled to view this email address) | Writer's Block | August 30th, 2017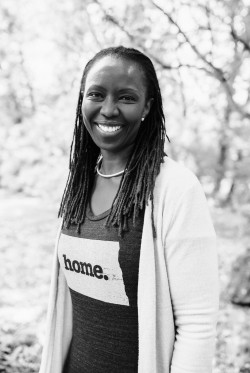 On Tuesday of last week, Ecce Art Gallery hosted local author Laetitia Mizero Hellerud as she promoted her memoir, 'Being at Home in the World: Cross-Cultural Leadership Lessons to Guide Your Journey.' The book chronicles her experience fleeing her home country of Burundi as a child due to political unrest, and the subsequent challenges of adapting to new environments.
"It's a highlight of the major life obstacles I've had," Hellerud said, "including living in four different countries at different stages of my life when it wasn't really my choice. Refugees don't necessarily have the choice."
Hellerud arrived in Fargo at Hector International Airport in September of 1998, and is now the founder and owner of Ubuntu Consulting. She has spoken at colleges, corporations, conferences, and non-profit organizations, about social justice, service, and inclusion.
"The Fargo-Moorhead area is such a special community in my journey of integration, since my family and I resettled here almost nineteen years ago. So to be standing in front of you today, in this beautiful art gallery, and talking about writing and publishing a book is not only quite an honor but a true testimony of your goodness as individuals and as a community."
Hellerud's writing process involved delving into memories and personal philosophies that she had never before taken time to consider.
"Writing this book meant taking the time for an introspection that I have always been too busy for," she said. "Being a sister, a mom, a wife, a caregiver for my siblings, and then a service provider in helping various organizations, I never had time or saw the need to focus on me until much later in life. I was too busy surviving."
Hellerud's hopes for 'Being at Home in the World' is that it encourages similar self-reflection in readers.
"In this book I invite the reader and provide the tools for your own self-introspection, so that we can finally start focusing on all the values that we share as human beings, instead of mindlessly dwelling on perceived differences between people…My goal in writing this book is that it will be used as an agent of positive change."
After Hellerud read excerpts from her book, local poet Ruth Buffalo of the Dripping Earth clan took to the stage to read a poem with a similar theme, containing words and phrases in the Hidatsa language. These lines especially related the feeling of loss and displacement among the Native American people:
"We have traveled long and far and we have grown tired and weary. Our hearts carry much sadness, for our journey has taken us to a land that we do not understand."
The evening concluded with a song by Rachel Stone, also known as Miss North Dakota International. She sang Woody Guthrie's "This Land Is Your Land" to an enthusiastic round of applause.
Another opportunity to see Hellerud will be next Friday the 8th at Red River Coffee Co. From 4:30 to 6pm. She will be signing copies and engaging in conversations about her book.
IF YOU GO:
Laetitia Mizero Hellerud Reading
Friday, September 8, 4:30pm
Red River Coffee Co, 2600 52nd Ave. S, Fargo