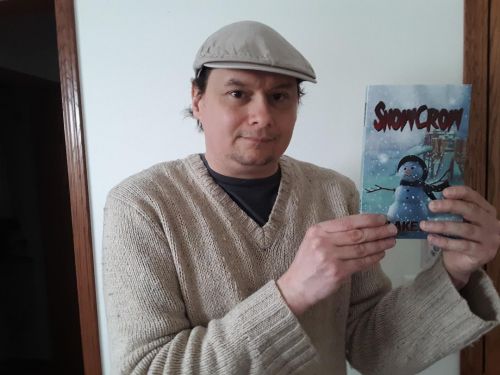 Winter has once again set in and Fargo is covered in an all too familiar blanket of snow. While the white stuff is considered the bane of drivers and businesses, it does come with some simple pleasures. There's a stark beauty to seeing blankets of white cover the ground and hearing it crunch underfoot. And of course, there are snowball fights and building snowmen. They're innocent enough pastimes, or are they? In local writer, Darrin Albert's new novel "Snowcrow," Frosty may be the harbinger of something more sinister.
Albert is a North Dakota Native, growing up in Erie, North Dakota near Brewer Lake. After getting BS and MS degrees at NDSU he moved to Fargo and currently works in Moorhead as a masters-level mental health professional. He is a man of many hobbies: science fiction, anime, video games, improvisational comedy, and of course, writing. His first novel, "Snowcrow," is published by World Castle Publishing under the pseudonym of "Blake Alb". "I am a bit of a rookie when it comes to the 'business side' of writing," said Albert, "and I am still not quite 100% sure how I feel about pseudonyms in general. There appear to be pros and cons to it."
Writing is a passion that Albert has fostered for a long time. "I feel like the 'creative arts' have always been a part of my life for as long as I can remember," he said. "It was around eighth grade when he had a writing coach come to give us a presentation in our English class. I remember being very excited at the time and trying to soak in his advice. He had us write our own stories, and I remember being very excited by this. I recall he made a special point to compliment my work, and that stuck with me to this day. It was also around this time that I got a poem accepted for some type of art magazine or journal. It's funny how one or two little compliments can inspire a person to keep at it!
From there, Albert would go on to take a creative writing class at NDSU as well as some acting courses. "As I see it, all art forms are complimentary (as creativity is the 'common thread' in each and every art form). Again, I recall getting motivating compliments from the instructors, which proffered inspiration for me to keep at it. My time spent in an improv group and playing music also helped shape my creative sensibilities as well."
Prior to the publishing of "Snowcrow," which marks his first full-length novel to see publication, Albert has had several short stories published and has done writing projects and co-authored several pieces with his brother. "A person's first published work (even a short story) is very pivotal. A person's identity as an artist starts to get solidified at this point."
Albert describes "Snowcrow" as essentially a "horror-comedy" centering around a young boy trying to figure out what has been going on around his home town. Odd and scary events have been occurring, and the boy becomes convinced that evil sentient snowmen are part of it. "He aims to become an 'existential detective' of sorts, to ascertain how events around him relate to each other," said Albert. He also had a best friend, Jane, who acts as his partner in crime. "I like to think that the story is ultimately one about paranoia. When you carefully read the story, there really is no 'hard evidence' that suggests anything supernatural is necessarily going on. In that respect, I feel like the story is also about paranoia, insecurity, fear, and superstition. It's about people trying to find meaning in a mysterious world fraught with uncertainty and unanswered questions." To find out what other mysteries lie beneath the surface, you will have to read the book yourself.
Albert offers words of encouragement to other aspiring writers, as well. "My brother has a phrase that I have always admired: 'Embrace your inner freak.' Creativity relies on one's ability to make themselves vulnerable. Don't be afraid of what other people think. In the end, people like to see things that stand out from the crowd." And evil sentient snowmen certainly do just that.
YOU SHOULD KNOW:
https://www.worldcastlepublishing.net/blake-alb
Available in paperback and e-book at Amazon, Barnes & Noble, and the World Castle Publishing website