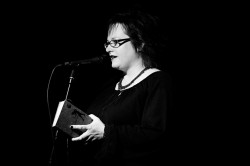 By Lauren Beek
When Laura Egland stumbled across The Moth podcast a few years ago, she knew she'd found something worth listening to. "A few episodes in, and I started to think about how rich these stories were – and how unexpectedly relatable. Eventually, I began to mull over the idea of what storytelling must add to a community. Once that concept dropped into my thought process, I was in – I had no choice but to get 'er goin'," says Egland referring to her local storytelling event, The Tell.
Being an avid Moth listener myself, I was thrilled to learn about a similar movement happening right in Fargo. On Wednesday, Feb. 6, I attended my first Tell event and thoroughly enjoyed myself. The theme of the night was "Love" and Studio 222 was buzzing with energy. The event started at 7 p.m. and the room was nearly full thirty minutes before that.
As people found seats at tables and chairs scattered about the room, Darrin Wentz serenaded the crowd with songs fitting for the night's theme. And I have to say, his cover of "She's Every Woman," won me over.
While I listened to Wentz and the hum of the crowd, I read a little more about what was going to take place. In order to tell a story and enter the competition, you simply needed to fill out the media release form, give your story a title and drop the form in the hat. You had five minutes to Tell and there were three judges who would choose a winning story at the end of the night.
I was intrigued by the open format, and as my beer disappeared, stories started whirling through my head. What story would I tell? That is, if I actually had the guts to get up there.
Shortly after seven, Egland checked the hat and found only two submissions in it (she explained that they need at least ten to make it a competition). So Egland did something unexpected – she threw out the theme. "I can't even tell you who said, 'Let's throw out the theme, just for tonight,' but that's what we did. Man, I learned a lot about faith and giving up the need for control that night!"
After that announcement, the subtle buzz of conversation turned into a nervous roar. The room was alive with anticipation. Who among us would approach the mic tonight? My neighbors and I agreed that we were definitely spectators.
A few minutes passed, and there were enough submissions to get The Tell started. The first teller's name was drawn and she reluctantly approached the mic. She explained that she had no intention of coming up on stage tonight, but since she was there and the theme was out, she thought why not? The crowd sent encouragement to the stage and she told a story about her love of eagles and a rare chance to feed one in the wild.
The next teller spoke about the ups and downs of taking his son to a comic convention and the third teller drew plenty of laughs with his story, "The Testicle Fairy."
There were tales of pregnancy, divine intervention, road trips, taxidermists and housewives turned snake hunters. Most of the stories were funny and all of them were genuine and relatable.
Egland says that this is her favorite aspect of storytelling, "The opportunity it offers up to those who participate either by telling or listening. When a complete stranger speaks something that resonates from your own experiences, fears or dreams, that's powerful stuff."
Egland went on to explain that this aspect of connecting with people through storytelling is so important to a thriving community, "Life without storytelling comes without context – without expression, and without vulnerability … I believe that when we accept an opportunity to identify with a stranger through storytelling … we get to strengthen our bonds – to feel on a deep level, our place in the tribe. Live storytelling plugs us into what's real – one another."
Being new to the Fargo-Moorhead area, I couldn't agree more. The ability to connect with others through shared experiences is a powerful and necessary aspect of a happy life. This was just one of the reasons, I was so happy to have attended the Tell that night. Not only was I entertained, but even as a newcomer I felt like I was surrounded by friends and great community.
If you're looking to experience The Tell, have no fear – there are two more events on the books. The next Tell will take place on Thursday, March 7 and the theme of the night is "Ingenuity." On Thursday, April 4, the winners of each Tell event will convene for the ultimate Tell Off with a theme that is yet to be determined.
The best part about the April event is the The Tell is giving back. "There's a young woman, a basketball player at NDSU named Hannah Linz, who has been diagnosed with cancer for the second time in her life. We're donating half (of proceeds) from the door, and passing the hat. I can think of no better way to demonstrate the spirit of The Tell: through community," Egland explains.
And for all you readers out there convincing yourself that you're not a storyteller, this is what Egland has to say, "Stop lying to yourself. … We ALL have stories. Think about what you talk about over meals with family and friends: the tales that get told over and over. Those are what we're sharing at The Tell. You DO have stories. And you're perfectly capable of sharing them in an intelligent, engaging way."
I will add to that by saying there really isn't a better venue to try public storytelling for first time either. The audience was so gracious to every Teller who stood before them – no matter how practiced the storyteller was, each person received applause and shouts of support. I'm highly considering telling a story in March.
Whether you're a seasoned storyteller, a person with a good story or a supportive listener, I would highly recommend attending The Tell and experiencing the great effects of hearing live stories told by good people.
IF YOU GO:
WHAT: The Tell
WHERE: Studio 222, Fargo ND
WHEN: Thursday, March 7 and Thursday, April 4 at 7 pm
INFO: The March event is $5 at the door and anyone has a chance to tell a story. The April event is $10 at the door and half of that goes toward supporting Hannah Linz. This is also The Tell Off and the previous winners will be competing. Visit www.thetellfargo.blogspot.com for more information.