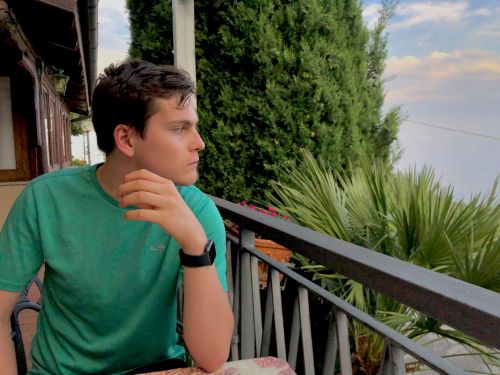 "As he crossed the high school graduation stage, he reached his Kickstarter goal to publish his book," Michael Strand, father of Malcolm Strand, asserts with pride. Malcolm reached his initial goal in 48 hours.
Malcolm Strand's first novel, "The Seven Acts: A Novel" will be published by locally based Silver Goat Media. He wrote it when he was 14 years old on his IPhone. He is 18 years old. The son of Michelle and Michael Strand and 2019 graduate of Fargo South High School, Malcolm will be attending Drake University in the fall, majoring in Political Science. Michael is the Department Head for Visual Arts and Interim Chair of Architecture and Landscaping at NDSU.
"The Seven Acts" is a crime thriller and coming of age novel featuring a high school student who hatches a scheme involving Dairy Queen Dilly Bar coupons and gets in way over his head.
The High Plains Reader had a chat with Malcolm and Michael and his publisher, Peter Schultz, about the journey of writing and publishing this novel.
HPR: What made you decide to write a novel?
Malcolm: My English teacher, Jennifer Hoime, encouraged me to participate in NaNoWriMo, National Novel Writing Month. Then, I was at dinner one day and I saw we had a free Dairy Queen Dilly Bar coupon. It had no barcode on it. I thought 'That would be easy to counterfeit.' And that was the inspiration for 'The Seven Acts.' I wrote 30,000 words in the first month and then finished it in March, with more words. I started at age 14 and finished at 15. A couple of days later a handwritten letter came from someone who wanted to publish it. Our conversation started there.
HPR: How would you describe the novel?
Malcolm: Sixteen year old Michael Beatrice Evans is too smart for his own good, overly arrogant at times. He hates the religious life his mom, a bishop, has set up for him. The story is the arc of him getting humbled. It is a bildungsroman, a coming of age story. It is not a traditional kind, as it has violence, etc.
HPR: You have been writing since you were five. What were some of the unfinished ideas you pursued?
Malcolm: My first book attempt was a children's counting book – 'Ripped Pants.' I wrote and illustrated it.
Michael: It is the sweetest little book. It says authored and illustrated by Malcolm Strand. Malcolm asked his mom for crayons and said he was going to write a book.
Malcolm: At my graduation party I had all of the picture books out. There were eight of them. One of them was a lot more detailed - 'The Magic Kitties.' It was about four cats that had magic dust on them and they flew into a carpet painting and had an adventure. I wrote and illustrated it.
HPR: You had several novel attempts that were unfinished?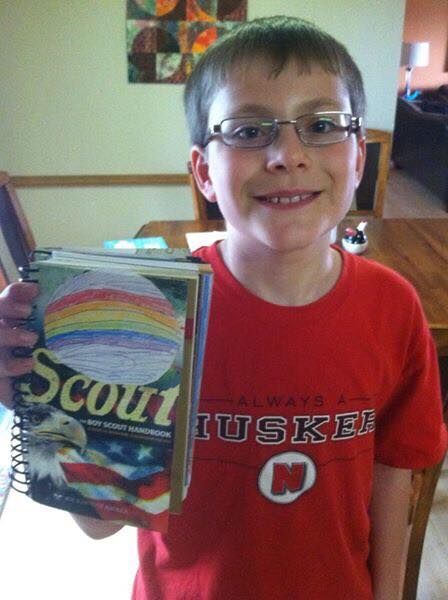 Malcolm: Yes. In seventh grade I wrote part of a post-apocalyptic novel called 2215. It was set in the year 2215 and was about a group of friends who try to prevent a plague. I didn't finish it. In eighth grade I started a time travel story. It was set in a world where time travel exists and one family has kept it within their family. All of their descendants have the ability. They coalesce and create an entity to regulate time travel - governance within time travel. I did not finish it but this time I was 30,000 words in before I stopped."
"And then I wrote 'Seven Acts.' And I finished.
HPR: So, Michael, Malcolm really wrote this on an IPhone?
Michael: It was interesting. I would walk into a room and Malcolm would be in a fetal position on the floor. And he would say, 'I am writing my book.' So for a 14 year old, that's the tool you use to write a book.
HPR: Are there any authors or books that inspire you?
Malcolm: I got the idea for using first person perspective when someone is in a horrible situation when I read 'The Martian' by Andy Weir. That book is great. You will start reading and you will not be able to put it down. 'To Kill a Mockingbird' inspired me to give anything a right meaning rather than just being a story without a purpose.
HPR: Any launches/events planned?
Michael: There will be a launch party July 1 at the Rourke Museum at 5:30 pm. It will be open to the public. Peter Schultz is handling that and he actually handled a lot. As a parent I have been purposefully hands off and let Malcolm and Peter work on this. I wanted Malcolm to establish that writer-publisher relationship without a parent helicoptering. This is Malcolm's gig.
HPR: I see you are going to major in political science at Drake?
Malcolm: Drake was immediately impressive when I visited there. Des Moines is the capital city and there will be a ton of opportunities for internships with politicians."
Michael: "Political science is a great choice for him. When Malcolm was 10 years old he transferred from cub scouts to boy scouts. Shelly and I did not agree with the anti LGBT politics of the Boy Scouts but we let Malcolm make up his own mind. If Malcolm joined, I would also have to and I was not comfortable joining an organization that was definitely anti-LBGT. But Malcolm told me to think about it. He came up with ideas. He created a 'badge of tolerance.' He drew a rainbow with color crayons and attached it on his Boy Scout book. He said, 'I could join and have this on my book and make a statement.' He learned the symbols of the community. He had an elevator speech. And I was sitting there, as a parent, and saw the Scoutmaster come up to Malcolm and ask him what the rainbow was. And Malcolm explained. That kind of activism is just part of who Malcolm is. As a parent I was the one ready to leave and he was the one ready to stay. So I see studying political science as full circle for Malcolm, speaking to a context as to why he writes and why he is going into politics.
Malcolm: I left the Boy Scouts anyway because it wasn't fun.
HPR: Peter, tell me about your publishing group, Silver Goat Media.
Peter: Silver Goat Media has been around for 10 years. We take projects that strike our fancy. We are interested in getting involved with what we really believe in. And Malcolm's project is just like that.
HPR: Why Malcolm's novel?
Peter: I received a copy of it a couple of years ago and what struck me off the bat was the unique narrative voice and that it had a fully articulated story arc. And it was from someone who wrote it on his IPhone at 14 years of age. I read it. I understood how ambitious it was. It was exactly the type of project we got our team together for. We talked and he agreed to our requirements.
After he submitted his initial manuscript we had editorial and hard core copy work. Malcolm laced up his gloves and hitched up his pants and got down to it. He paid his dues and worked like a demon. What we got back from him was sharp. We are doing final copy editing – the final polish.
The scope is very ambitious. He doesn't let up for any moment. It is a rollercoaster ride – you can't set it down. It is part black comedy, dark satire, part straight up crime action drama and part supernatural/existential.
Malcolm is a serious local talent. It is not every day that you are dealing with such a young yet mature talent in the same breath.
HPR: The cover art is very interesting.
Peter: Isn't it great? Jonathan Rutter, the Executive Director of the Rourke Art Museum, is the mastermind behind that.
HPR: Anything about the Kickstarter campaign?
Peter: It is still open and anything additional donated may go to translations into other languages. The perks for donating are good. You can get an original, limited run first edition signed by Malcolm.
IF YOU GO:
Book Launch Event:
July 1, 2019, 5:30 pm
Rourke Art Gallery
Kickstarter: https://bit.ly/2KdtQk0