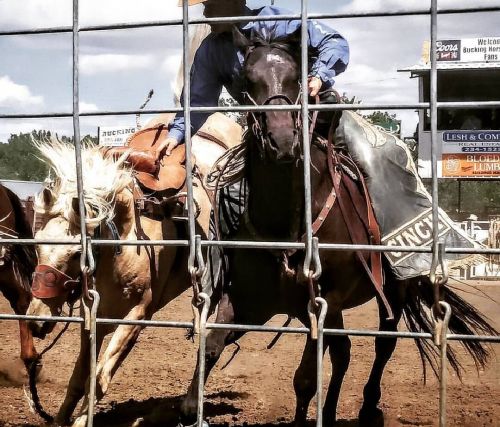 With the Dakota Cowboy Gathering in Medora starting up in full swing next weekend we decided to reach out to Meg Glaser, the Artistic Director of the Western Folklife Center in Elko Nevada. The Western Folklife Center is a cultural center that is dedicated to preserving the history and culture of the American west. It is also home to the National Cowboy Poetry Gathering which recently celebrated its 34th year. After attending the first National Cowboy Poetry Gathering, Sentinel Butte artist, poet and rancher Bill Lowman started North Dakota's own gathering in Medora. This year marks the Dakota Cowboy Poetry Gathering's 33rd year.
Glaser clued us in to the importance of folklorists in cowboy culture, the diversity of cowboy culture and most importantly the origins of cowboy poetry and why it's a true American artform.
High Plains Reader: Can we talk about the importance of the role of folklorist to cowboy culture?
Meg Glaser: I think we do play and have played a role, we are called public folklorists because we work out of public agencies, like Troyd Geist working out of North Dakota Council on the Arts, our roles have been to try to bring attention to different cultures over the years through different means, and cowboy culture is definitely a natural for folklorists who are working in the west to be taking a look at what the needs are in the community. Over time those needs have changed. When we started the cowboy poetry gathering I'd say the need was that ranching culture was under a lot of pressure from environmental groups and there was a lot of fear about the future. There wasn't the networking that we have now, through the internet to kind of support each other and talk from ranch to ranch.
As we went out and did our fieldwork and tried to find out what was going on with cowboy poetry and cowboy music some of the craftwork that cowboys do--when I say "Cowboys" that means women too and ranchers--ranch-women. We found that there was a lot going on but people didn't know that other people were doing poetry, there wasn't anything that brought people together to share those cultural things that they were just keeping going in their families or on their ranches.
The folklorists, through their fieldwork, research and public events we were able to inspire a lot of people to put a lot of energy back into those traditions that hadn't been given so much attention and give people exposure to other people's work and continue to elevate the quality of work, whether it was the quality of songwriting, or poetry writing or leather carving--all those things. People came together and shared their love and understanding of the craft and that definitely caused a revival. That was back in 1985. The fieldwork that led to the 1985 event happened in the years preceding that, it was folklorists all over the west--public folklorists people that were getting out and doing fieldwork and wanting to serve the communities that are in their state, their region..
HPR: What's the history on cowboy poetry?
Meg Glaser: Bill Lowman, He's a great example of someone who writes his own poetry and he's an amazing storyteller as well. There's cowboy poetry that's newly composed, contemporary cowboy poetry then there's cowboy poetry that is poetry that's been passed down person to person--what we would call classics. People that we present take pride in their recitations of some of those older poems. Those older poems are probably the roots of cowboy poetry. People have been writing new poetry as long as people are out there being inspired by whatever they saw and wanted to commemorate-- people or places or an event. That recitation and rhymed and metered style of poetry has roots back to British roots because a lot of the poems and songs that cowboys perform have variations that people can trace back to Britain. You'll find something similar in Australia because of the British influence. Anything that's not written down obviously gets changed from person to person. There are two parallel traditions of cowboy poetry I guess is what I'm saying--the newly composed and the favorite poems that have been passed down.
HPR: Where did the British influence come from?
Meg Glaser: Settlers to the US back in the early settlement of the US, probably a lot who settled in the south moved west from there… that would be kind of a natural path I would say of those poems and songs. There were a lot of people from Ireland, Scotland, and England who settled in the southern states. I think a lot of folklorists studied the old ballads that you'd find in the southeast and farmers and people who settled in the Appalachian mountains kept some of those ballads alive that their ancestors had brought with them when they moved to the United States. It's part of that same tradition. Some of the early cowboys have roots in the southeast area, served in the civil war were comfortable on horseback, found jobs moving cattle from Texas north, and those are some of the cowboys who kept those songs and poems alive.
HPR: I saw that the 2020 Gathering of Cowboy poets in Elko celebrates the work of the African American cowboy. Could you tell us a bit about the diversity of cowboy culture?
Meg Glaser: A lot of people use a service statistic that one in four cowboys in those early days of trail rides one in four were black cowboys. Over the years we've presented Mexican and Mexican American cowboys. There's a real strong heritage of cowboying in Mexican culture and a lot of the cowboys in this region are Latino, they're some of the best cowboys, also in this area a lot of Native American cowboys--much like North Dakota, some of the Shoshone and Paiute Cowboys are some of the best ropers and horsemen--what we call "Buckaroos" that's something that they're really proud of. Over the years we've worked with cowboys from all over the world. If you broke down German and Scandinavian there's all kinds of ethnic communities that make a living ranching. That's something that the western folklife center has really enjoyed doing is bringing people together to show that there's a lot of common ground with this occupation. Whether you're in Mongolia, France Brazil… there's a lot in common and there's a lot of differences too.
HPR: Are there many poets who branch out to form their own gatherings like Bill Lowman?
Meg Glaser: Yes, but the fact that he is one of the main forces behind that gathering... Other state and regional gatherings, local gatherings have formed all over the west. There are fewer now than there were say 20 years ago. People were really excited like Bill, they came to the gathering got excited and they knew people back home would enjoy something similar, Bill and other poets like the Texas Cowboy Poetry Gathering was started by a poet. A lot of them were run by non poets but I think some of the best ones have cowboy poets involved. It takes all sorts of talents to pull off an event. I admire what Bill has done there.
HPR: Have you ever made it out to the Dakota Cowboy Poetry Gathering?
Meg Glaser: I haven't been able to make it out there yet but some of the people from the Western Folklife Center have been to it and have really admired what's going on there.
Your region has some really great energy going on. we're even seeing quite a few younger people coming from that region, and to me, that's always a sign of hope for the future. When there's younger people involved in ranching in general but are also interested in expressing themselves through poetry, or music or stories artwork or whatever…
IF YOU GO:
33rd Annual Dakota Cowboy Poetry Gathering
May 25-26
Medora Community Center
465 Pacific Ave, Medora