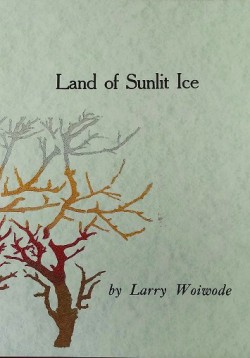 On Sunday the 25th, Zandbroz Variety hosted North Dakota's Poet Laureate Larry Woiwode, who's currently a writer in residence at the University of Jamestown. The author of many works of fiction and nonfiction in addition to poetry, Woiwode read from his latest compilation, "Land of Sunlit Ice."
This limited-edition chapbook was designed, edited, and hand-printed by student interns at NDSU Press, with only 200 copies available. Antique wire stitches and a platen press were used to put it together, and each cover was individually stenciled.
A native of Carrington, North Dakota, Woiwode has won the William Faulkner Foundation Award and the Medal of Merit from the American Academy of Arts and Letters. He was also a fellow with the John Simon Guggenheim Foundation and a finalist for the National Book Award and the National Book Critics Award.
Of his creative process, Woiwode told his Zandbroz audience, "Writers don't need inspiration—they just have to sit down and write. And then when you're working, the ideas come. The idea of the muse speaking in my ear has never happened."
Many of the poems Woiwode read were nature-based, such as "Venerable Elm," an homage to a tree he chopped down. A series of picturesque descriptions of the tree's significance in the natural world ends with the dark, melancholy line "I must dismember you." Despite the remorse expressed in the poem, Woiwode admitted, "I have an outdoor wood-burning furnace, so I'm quite familiar with the chainsaw."
Another favored theme was the bonds of family, most notable in "Migration," a tribute to his globe-trotting daughter. Similar to "Venerable Elm," this poem contains a sense of longing and reverence, along with parental nostalgia: "A little girl, barely 70 ounces at birth, seemingly ill-prepared for flight… now you circle the earth in search of absolution… employing the migratory flyway."
Though most poems he read were free-verse, Woiwode revealed that he was inspired by his career as a professor to experiment with different forms. "I teach forms of poetry, like the ballad and the sestina and the sonnet," he said, "so one year I decided, hey, if I'm assigning these things, I'm going to do them."
"The Interview" is one such poem, made up of rhyming couplets describing his ambivalence toward the limelight: "Recording cameras take their place to right and left, a common cause of nervous fright." Of this form, Woiwode explained, "You try to have runaround to the next verse so it doesn't sound so clanging when it's read."
Copies of "Land of Sunlit Ice" are available at Zandbroz and on Amazon.