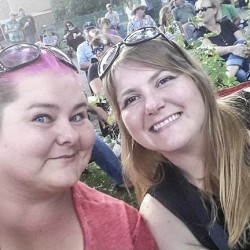 by M. Koskela
For sister duo Shari Lindsley and Jessica Lindsley, poetry has always played a part in their lives. Aside from growing up writing and taking creative writing classes together, they grew up powerlifting. They are also currently competitive powerlifters in Minnesota and North Dakota, often taking 1st and 2nd place and lifting 330 pounds. Shari says that powerlifting for her means that "If you can lift that amount of weight you can do anything, you are infinitely more powerful than you ever thought, and it's all about being your authentic self."
It adds to her confidence when she reads her poetry, as we ended our interview with a sneak peak at one of her pieces for "Welcome to the Creepshow." Jessica differs, saying that powerlifting is easier than getting in front of people. Her poem "Weight" makes you feel the primal intensity of her feelings when she's in the moment of lifting.
When you talk to them about writing, you can see and hear their passion and you can't help but have a good time talking about their favorite influences and how they decide to write. Shari chose a quick writing technique like that of William Carlos Williams, who jotted down what he could on napkins; Jessica preferred a classical approach, learning Latin and Greek, taking inspiration from John Milton. She now says "There is no right or wrong -- if that's what I want to do, that's just what I write … and now instead of waiting for opportunities, I make the opportunities to make it happen."
Jessica said that for a long time it was something that she had pushed aside during her life and now she feels is the time to get out there and write! So far this year, she has published 20 poems and one creative non-fiction piece published in Literary Orphan Magazine.
They attend the UND Writers Conference and also go to any poetry or writing events available in the area. They found themselves wishing something like "this" were around and they decided why not host their own event!
The company's name, The Laughing Girls, came from a professor who called them the laughing girls after having many conversations during class that erupted in laughter. It's a name that stuck with them and is fitting, as I found us laughing throughout the interview.
For their first event, "Welcome to the Creepshow," they wanted a fun-themed event that would be inviting to a wide variety of poets, authors and those aspiring writers who are just beginning. Shari Lindsley said they want people to know that "Poetry is NOT scary!"
The Laughing Girls plan on hosting more themed poetry events in Grand Forks and Fargo, since Jessica writes in Grand Forks and Shari in Fargo.