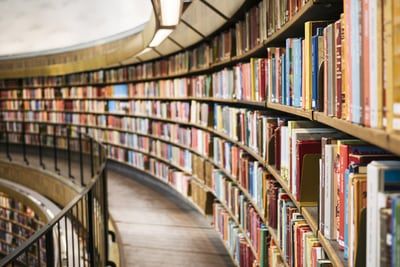 by Debra Marquart
marquart@iastate.edu
A few years ago, I was giving a talk at the Fargo Public Library about researching and writing my book, The Horizontal World, which is a memoir about growing up a rebellious farmer's daughter on a North Dakota wheat farm. In the 1970s, I was a college student at Moorhead State University and then later a Fargo-based road musician. I wanted to come back to the library to express my gratitude for their services, which kept me alive during a period of crisis in my life. In 1980, my band lost all of its equipment in a fire, and I spent many long, sleepless nights after the fire in my one-room efficiency on the north side—penniless, desperate to figure out how to restart. During that time, the library's welcoming presence and the piles and piles of books I could check out for free represented a slender thread of survival.
A reception followed my lecture. While I was signing books, I noticed a familiar face coming toward me in the line, but I couldn't remember his name. He introduced himself when he got closer, and I realized that he was someone I'd known during this most troubling period. I could see in his face that he remembered everything that I'd been through, and he acknowledged as much as we talked. But then he said, "Well, it looks like you landed on your feet." It's the kind of thing that people say to end a clearly awkward social moment. And he was right—I had landed on my feet. But only with a great deal of help from others.
I count first among those helpers a company called Curtis Construction Co., Inc, which gave me a job as a receptionist and bookkeeper, even though I had no real marketable skills aside from being a fast typist. This job allowed me to go back to college part time and finish my degree. I count second the institution of Moorhead State University and my many professors there for creating a nurturing and rigorous environment infused with learning. And very near the top of this list, I count New Rivers Press, which honored me by publishing my first and second books; then, years later, my sixth book.
Recently, we learned that Minnesota State University Moorhead has proceeded with deep vertical cuts of 10 programs and 66.5 positions to recoup a $6M budget shortfall. This situation was present before the current crisis caused by the pandemic, and many institutions of higher learning are facing similar budget problems, largely due to the shrinking demographic of high schoolers preparing to enter college. It's impossible to know going forward, post-pandemic, what kinds of agonizing budget decisions will have to be made by our major institutions. Yet, it is at precisely this moment that we must think about what we value and why.
No administrator relishes such a task—making a choice about what will be the past and what will be the future of an institution. In this case, in addition to cutting other valuable curricular programs such as American Multicultural Studies, Spanish Education, Public Relations and a graduate program in Teaching English as a Second Language among others, the administration of MSUM has decided to reduce the footprint of the arts at MSUM—especially literature and theatre. As a result, the Theatre Arts program will be cut, and New Rivers Press, one of the longest-running small literary presses in the country, will be shuttered.
All the authors' books, dozens of them (full disclosure, mine included), will go out of print. New Rivers Press is a teaching press, so MSUM students will no longer learn about the publishing world—everything from literary editing to visual arts to graphic design and layout to marketing—by working, hands-on, inside a venerable professional press. Those prospective students will now go elsewhere when they choose a college, an untold and hidden future loss that will further exacerbate MSUM's budget woes.
Unlike so many other Dragon alums, I did not make an active choice to attend Moorhead State; rather, I followed a boy who came to NDSU on a track scholarship, and I chose MSU because it felt more like a liberal arts school without the price tag (and GPA and advance planning) required to attend Concordia. Such was the extent of my decision-making about my professional future. But I consider it one of my greatest pieces of dumb luck that I gravitated to Fargo-Moorhead, and especially MSU, when it came time to go to college, because, once there, I found an inspiring lot of artists, writers, musicians, actors, directors, composers. Summer or winter, there were always plays to attend, literary readings, concerts, gallery exhibitions. By cutting, MSUM has felled at least two vibrant institutions that fed these events, and they have succeeded in carving a wide swath out of what was a strong arts community.
Going forward, the loss of theatre and New Rivers Press to MSUM will have far-reaching consequences that are difficult to quantify or even document, in part because I believe the value of these programs to the vitality of the institution was always underestimated. Arts programs do not translate well to spread sheets. They are highly efficient enterprises, worth their weight in gold. Chronically understaffed, they are run on shoestring budgets by dedicated professionals who make it their life missions to produce results. Such is the case with New Rivers Press. Artists work cheap in our culture, so the obvious irony is that the combined budgets of MSUM's axed arts-based programs is likely a drop in the bucket against a $6M shortfall. The loss is profound, the savings are small. It's a penny-wise and pound-foolish decision. At this moment, what is the institution throwing away in haste that they will sorely miss in an unimagined future—an especially hard question to answer now, given that the future feels harder to predict.
But we can posit direct and tangible impacts on the greater community. In 2019, livability.com ranked Fargo #11 on their list of the Top 100 places to live. No offense to Sanford Health or US Bank, who are credited as major employers, but they are not the reason Fargo was described as "a surprisingly cool city." And they certainly weren't talking about the weather. No. Livability.com takes into account the intangible value-added effects of things like a local arts scene and the vibrant downtown that feeds and fosters the arts—places like the mercantile bookstore Zandroz (described as "beloved" in the livability.com poll), whose shelves and live literary events often feature the work of New Rivers Press authors. The Spirit Room, the Fargo Theater, the Straw Hat Players (now in its 57th, and presumably final year), the F-M Symphony, the Hotel Donaldson, the Fargo Opera, Trollwood and the Bluestem Center for the Arts, Prairie Public Television, the Plains Art Museum just to name a few.
Each of these organizations has their own unique mission, history, and means of support, and each contributes its own slender system of threads that make up the web of local arts and artisans that sustain a community and create an arts scene. It's impossible to define much less quantify cool, but these institutions are responsible for creating a vibe—the gravitational force that makes people come out and throng to restaurants and hotels and theaters and shops; that feeling of "something happening" that makes a city thrive. This is what makes Fargo "a surprising cool city." In the past, MSUM has been integral to feeding that community, because its curricular programs drew to Fargo-Moorhead a steady stream of these makers and change agents—the writers, singers, painters, actors.
In the coming months, we will all be faced with harsh realities about how our professions stack up in the priorities of an institution, what work is considered "essential" and what is "non-essential." It will be humbling and probably demoralizing to learn where the arts fall in the hierarchy of things that people can and cannot live without. And I imagine that in the coming months we will all experience large and small moments of devastating loss—loved ones, livelihoods, properties, relationships, opportunities. The Japanese have a concept called mono no aware, a seemingly untranslatable phrase that refers to the deep pathos we feel when we realize the fragility and ephemerality of all things—that bittersweet revelation that something good or beautiful or treasured is passing. The loss of New Rivers Press is such a moment for me.
When I was a female road musician in the 1980s in the middle of a catastrophic music career, my family did not understand my decisions. When I dared to call home from the road, my father would implore, "When are you going to quit this music business. You're ruining your life." My mother would warn, "No one will marry you." In 2001, after New Rivers Press published my book, The Hunger Bone, which is a collection of short stories about road life that explores the inner lives of musicians, my mother went to the Barnes & Noble in Bismarck and asked the person behind the counter to find a copy of my book in the fiction shelves.
When a copy of The Hunger Bone was retrieved, my mother held up the book (she told me all this later), and said to the clerk, "my daughter wrote this book. She was a road musician for many years. She was doing research." I was redeemed! This story illustrates how the arts can not only change the future, but also the past. With art, it often happens like this—one life changed at a time. That's why the impact of the arts is so hard to document and quantify. But through art, my mother at last saw the pattern of what I had so passionately pursued in my life of music: I hadn't been wasting my life; I was doing research!
New Rivers Press performed this magic trick for me by publishing my book. When I was coming out of the lowest part of my life, stunned to silence by my own losses, they—along with others—lifted me up. Through these thousands of small gestures of generosity, I was caught up in the safety net of art. I landed on my feet. The announcement of the imminent demise of New Rivers Press mostly makes me feel shame that I didn't see trouble coming and that I'm powerless to save them now. I imagine in the coming months, we will all experience mortifications like this. One of my friends who has lost colleagues in this round of MSUM budget cuts, but whose own job has been spared, describes this as a feeling of being "gutted."
I grieve for all those who have lost their livelihoods in this pandemic, whose lives are suspended in silence and unknowns. In the coming months, hopefully we will be saved by science when a vaccine is developed to inoculate us against this terrible plague. But in the meantime, as we wait, just as before, we need our artists and humanists to record and document, to console and cajole us, to entertain us, to reflect back our experience in order to help us understand what we are going through. The job of local artists is to bring these lessons home—to show us the importance of the stories going on near us, right in the place where we live.
I learned early on that even though our lives may feel durable and well-built, it only takes a second to fall—one misstep, and you can go down, hard. If you're lucky, hands will pick you up, to spare you from being trampled underfoot. They might dust you off and ask you to tell them your story, maybe laugh along with you to take your mind off your troubles.
The hands that reached down to save me were makers of things, people who taught me resilience and the art of making do. With these cuts, not only has MSUM been diminished, but Fargo-Moorhead has also lost something invaluable. Yes, we need physicists and chemists, who can tell us about the nature of matter and the origins of the universe. But we also need philosophers and actors and poets, who can excavate the inner depths of human thought and experience and bring those riches back to the surface for us to realize and ponder. Today, we are all poorer. Mono no aware. Let us now praise the lush imaginations of those who know how to create something out of nothing. Let us now acknowledge the passing of a fragile and beautiful thing.
Debra Marquart is a Distinguished Professor of Liberal Arts and Sciences at Iowa State University and the Poet Laureate of the State of Iowa. She is the Senior Editor of Flyway: Journal of Writing & Environment. Marquart's work has been featured on NPR and the BBC and has received over 50 grants and awards including an NEA Fellowship, a PEN USA Award, a New York Times Editors' Choice commendation, and Elle Magazine's Elle Lettres Award. Marquart teaches in ISU's interdisciplinary MFA Program in Creative Writing and Environment and in the Stonecoast Low-Residency MFA Program at the University of Southern Maine.