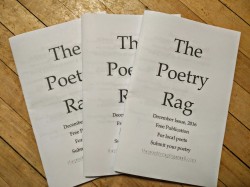 Since October, a monthly journal known as "The Poetry Rag" has been circulating throughout Fargo, Moorhead, and Grand Forks. It can be found in local coffee shops, bookstores, record stores, and other small businesses that carry free publications.
The two masterminds behind "The Poetry Rag" are its creator Joe Bertrand and editor Kendra Smith. Depending on the length of the poems, each issue contains 15 to 18 poems.
"The Rag started out of frustration," Bertrand admits. "Working with other publishers can be a real drag. I found their rules and themes created very small boxes to write in. I decided self-publishing would better suit my needs, and thought a small zine would be an exciting option. The Rag bloomed out of self-interest, but as I wrote and typed up the first issue of The Rag, I realized there must be a lot of poets in my community that feel the same way. I added submissions, and it became one of the best aspects of The Poetry Rag."
Bertrand's own poetry is tied to his music.
"When I write it either comes out as a song or poetry. I play in an acoustic duo called Brothers Bertrand, so my music has a place to go, live, and breathe. My poems were sitting in an editor's email box waiting to be read… I love poetry and I wanted to focus on it."
The Poetry Rag is about creative expression and artistic freedom, and is open to all subjects, styles, and formats. Given the high acceptance rate, most poets who submit will see their work published.
"I don't like messing with someone else's work unless we catch a typo or a misspelled word," Bertrand says. "If I edit a poem, it's double-checked with the poet and okayed by them. So, to anyone submitting to The Rag, write it the way you would like to see it. It will show up that way."
As The Rag is only three months old, a website is still in progress. Once it's up and running, it will be advertised in the front covers of upcoming issues.
"The Poetry Rag is for writers and opened-minded readers," Bertrand declares. "For those of you that want free artistic expression, you just found candy… All you poets out there: say what you want, write what you feel, and absolutely don't hold back!"
[Send all poetry submissions to thepoetryrag@gmail.com]