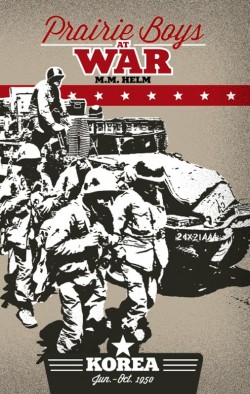 On Tuesday, Aug. 12, a book launch for the historical narrative "Prairie Boys at War: Korea, Volume I: June – October 1950" will take place at Studio 222 in Downtown Fargo from 6 to 9 p.m. The event will include hors d'oeuvres and a cash bar.
Local author M.M. Helm, also known as Merry Helm, first set out to write about North Dakotans in the Korean War; but in the process, her scope broadened to include the entire upper-prairie region. This first volume of the Prairie Boys series chronicles the first four months of the war from the perspectives of soldiers from South Dakota, Nebraska, Iowa and Kansas, among others.
In addition to being an award-winning writer, Helm is a documentary filmmaker and an historian for the 24th Infantry Division Association. Her past credentials include screenwriting and producing history-based radio stories for Prairie Public Radio.
So far, this book has been met with praise. Tom Pantera of Northwestern Oklahoma State University claims, "Merry Helm has done [these soldiers] the highest honor — she gives them a chance to tell their stories… fascinating stories, told in vivid, propulsive prose." Retired Lieutenant Colonel Shirley J. Olgeirson of the National Guard adds, "Helm is doing the work of angels to capture this history, and it is a great tribute to the legacy of each man… Helm tells these powerful stories with compelling insight."
Upcoming volumes of Prairie Boys will cover the Chinese intervention (1950-1951) and the outpost wars (1952-1953).
IF YOU GO:
M.M. Helm's "Prairie Boys at War" book launch
Tues, Aug. 12, 6-9 p.m.
Studio 222, 222 Broadway, Fargo
FREE, open to the public