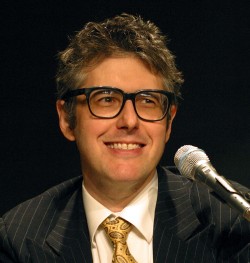 He's one of those celebrities that is simultaneously an absolute superstar among public radio listeners and pretty anonymous to the rest of the population.
Ira Glass, host of the Chicago Public Media (distributed to more than 500 stations via Public Radio International) program This American Life, will bring his soothing, forever-young voice and deadpan cadence to the Fargo Theatre stage this Saturday night. He'll share some of his favorite moments from the show and convey the essence of the recorded radio program in a live performance.
Since 1995, Glass has produced more than 500 episodes of the critically-acclaimed program, telling riveting -- and often very funny -- stories that relate to a different theme each week.
Earlier this week, Glass reached the High Plains Reader and shared his thoughts on the evolution of radio, the programs and hosts he admires and clarified his terms for quitting the radio business.
High Plains Reader: So the theme for this Saturday's show is "Reinventing Radio." I'm just wondering how you'll approach the subject. Will you offer a prescription for the medium's rehabilitation?
Ira Glass: I will offer a prescription for the medium and anyone who doesn't follow my prescription is doomed to failure. I'm being facetious. I mean I do have things that I think definitely work for our show and I'll be talking about those. Basically, (Saturday's) show is a combination of me telling stories from the radio show and talking about why we make the radio show the way we do. And it's a mix of very favorite funniest clips and great stories that have been on the air and other stuff, too. I stand on stage with an iPad and have sound and music and recreate the sound of the show around me as I speak.
HPR: People are listening to more audio than ever before even though carmakers are phasing out terrestrial radio, what kind of moves do you think organizations like PRI (Public Radio International, which distributes This American Life) will have to make to remain competitive since the audio marketplace is so crowded these days?
IG: Truthfully, for shows like our show and Radiolab and Fresh Air, we're in good shape as all that changes because the kinds of things we do are things that people seem to want to download and listen to. So if radio goes from a model that isn't live listening but is more like people downloading and listening to stuff, we're fine. In fact, at this point, a third of our audience is people downloading. It's 1.8 million people on the radio and 900,000 getting the podcast. We're not unusual as a public radio show when it comes to that stuff. Lots of shows are doing very well. Part of it is that when radio is good, there's an intimacy to it that is very much like other things on the Internet like a blog. The aesthetics of the Internet are just somebody talking to you one on one and I think that's what radio does when it's good as well.
HPR: As a storytelling medium, why is radio so special?
IG: Radio's special because it's very personal. There's no pictures to distract you and the sound of somebody's voice when they talk emotionally about something that happened to them is gripping. You know we're built for that to pull us in and somebody speaking emotionally from the heart, the sound of their voice carries so much information. So radio has all that going for it. It's one of those things that was widely understood to be good for in the 20s and 30s when it became a mass medium that people were listening to is that was a great medium for telling stories. And one of the things that's weird about radio today is that there's so little real storytelling happening on the radio. So one of things we're trying to do is trying to tell stories in a way that seems contemporary and doesn't seem like a 1940s radio drama, which is what Garrison Keillor does so well.
HPR: You mention Garrison Keillor. Who are your heroes in the craft of radio?
IG: I think Garrison's amazing. I think he's really amazing at what he does. And watching him do it if you ever go to the live shows is kinda stunning to see how he's doing it from memory. He writes his monologues but then I think he just has a photographic memory or something close to it and to watch him do the show he's just talking and it's amazing. I could never, ever do that. I'm working from notes and scripts when I'm on stage or when I'm doing the show. So I'm a fan of his. The people who I tend to feel the strongest about are the people who are doing work that is closest to what we are doing on our show. I think the guys who do Radiolab are amazing and I feel very competitive with them and I know they feel very competitive with our show. I'm a huge Terry Gross fan. I'm a huge Howard Stern fan. I like On the Media. I think it's a really beautifully edited show.
HPR: What are the elements that make a mind blowing-radio story? What is required to make the cut at This American Life?
IG: The stories that we put on the show are in a way these super traditional stories. There's a character that you can relate to and stuff happens to them and you want to find out what happens next. So the plot of the story has to be surprising and the character has to be somebody who you can relate to and it should drive at some idea about the world that is also surprising. It helps if it's funny. It helps if it's emotional. All those things are important. These are the traditional things that make any story good. This is as true for an episode of any TV show as it is for our show.
HPR: This American Life uses both fiction and non-fiction. What would you say are the virtues of each?
IG: I'm glad you asked that question. Well the first virtue of fiction is talking animals. In any situation where there can be talking animals I think they should be in a story. Just straight up. I think that makes any story better. And generally, when we do fiction, the fiction that we do has the feeling of good non-fiction where it feels like it's documenting a person or a situation in a way that feels very much like we learn about that person. And the non-fiction that we do has the structure and uses and the devices of a good work of fiction -- or even a bad work of fiction, I don't want to puff it up too much -- where there's plot and characters and scenes and things change and people change and we watch that happen.
HPR: After 18 years of This American Life and at age 54, is retirement even in the back of your mind or do you plan on going forever like (legendary Chicago broadcaster and author) Studs Terkel?
IG: I don't have retirement in mind. I like making stuff. It's fun -- to make stories and make a show, so I think I'll continue probably as long as I'm physically capable of it, that's what I'm going to be doing. It's not like I have any other talents or special desires to do anything. I'm doing the thing that I like doing the most. I'm lucky enough to have a job where I get to do the thing I enjoy most so I can't see any reason to stop except for illness -- or death. I do plan to stop making shows after I'm dead. I'm totally am not going to make any more shows after I'm dead. It's definitely a plan I've thought through thoroughly -- no more shows after I'm dead.